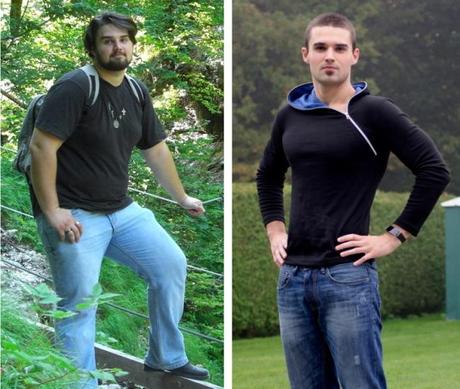 Before and after
Here's a story about a long struggle ending in success… by doing the opposite. A story about regaining health and losing weight – by eating MORE.
Christoph in Austria sent me his story about how he finally kept the promise he had given his mother:
The Email
Hello Andreas!

My experiences with LCHF… sorry for this long long email…

I was overweight my whole life. At 12 years my weight was 92 kg (200 lbs) at 175 cm (5′ 8″). My life – full of useless diets – started back then. In August 2009 I was 18 and finally reached the top… I weighed 125.8 kg (277 lbs) at 187 cm (6′ 1″). My mom – she was a nurse at a hospital – was so worried about my weight because she had to deal with strokes and heart attacks every day at work. She had a small weight problem too, so we decided to change the situation together.

We started doing Weight Watchers. It was okay for me to eat all that whole-grains-stuff but I really felt hungry all the time. After 6 months I managed to lose 20 kg (44 lbs) and felt great but then it stopped. When I suddenly regained 2 kg (4.4 lbs) in one week I still remember the promise I gave my mom: "Don't worry! I will get my dream-body!"

I still remember the evening when my brother came and told me: "… mama has died…"

One year passed. I wasn't able to do any sports but tried to keep up with a "healthy" lifestyle. I ate lots of whole grains and almost no fats but I finally regained 15 kg (33 lbs). I was desperate… but in March 2011 I decided to give it another try. Again I started doing Weight Watchers and again weighed 102 kg (124.8 lbs) some months later. Then this strange plateau happened again. I didn't lose any weight for months, on the contrary, I started regaining some weight again. At that time I rode my bicycle for about 16 hours a week (!!!) and ate around 1500 calories a day… I'm not lying! I swear it…

Finally, in January 2013 – my weight loss still didn't continue – I made a radical decision and started eating every 2 days. I ate around 2000 calories on one day and nothing (only water and tea) on the second. Finally I could drop my weight down to 90 kg (198 lbs). When my weight loss again got stuck I decided to do exactly what the medical guidelines tell me to do. So at least 60% of my calories came from carbs (especially whole grains) and less than 30% from fats. My weight didn't change and I started feeling horrible. I had those extreme cravings for chocolate and stuff like that. When I couldn't resist it anymore I ate lots of donuts and pieces of cake… and I regained 3 kg (6.6 lbs) in one week…

That evening I decided to try the very opposite – even if it kills me – and googled the words "low carb".
After a while I found this wonderful page called DietDoctor.com and it lead me to names like "Gary Taubes", "Stephen Phinney", "Robert Lustig" and yeah, of course, "Andreas Eenfeldt" etc….

I started doing Freeletics (it's like Crossfit) but still was eating lots of carbs. I gained muscle – Weight Watchers lead to an enormous muscle loss – but I also gained fat… then I started LCHF. After 10 days of feeling horrible – I had quit smoking and this felt exactly the same way – I suddenly felt that energy inside of me. I ate 3000 calories a day and my weight dropped. I couldn't believe it. I was eating 80 % of my calories from fat and almost no carbs (30 g a day)… so I stopped counting my calories and ate what I wanted to…

Now in October 2014 my weight is 79 kg (174 lbs) and my body-fat percentage dropped to 9 %. I've got a six pack!

This means I've lost 46.8 kg (103.2 lbs). Without LCHF I would have regained it completely. I know it. I still eat what I want and don't gain any weight. My cravings are completely gone now and I feel so great!

Thank you, Andreas! I finally kept my promise to my mom… I have my "dream-body" now…

Keep on fighting, Doc! The paradigm shift will come, I know it!

Nice greetings from Austria,
Christoph

P.S.: My grandma is now doing LCHF too. Her blood-pressure is normal now and her diabetes medication is gone now!
More
LCHF for Beginners
How to Lose Weight
Diabetes – How to Normalize Your Blood Sugar
More health and weight success stories
PS
Do you have a success story you want to share on this blog? Send it (photos appreciated) to [email protected]. Let me know if it's OK to publish your photo and name or if you'd rather remain anonymous.