Hey Loveys,
Welcome to Thursday! Tomorrow is Friday!
Ok I have to admit, I came across "Keeping Up With The Kardashians" on Netflix, so it's playing in the background. Do you find that when you use your brain full force all day, you don't mind watching mindless television when you get home? That's totally me. But then again, I've always loved mindless tv... guilty pleasure!
So... I basically can't walk right now. Workouts this week have been a little bit intense. Yesterday I got to work and Jenny was HIGH on espresso and said she wanted to ask our Trainer Friend if he'd put us through a workout since it was her last few days in the office. Obviously he agreed and then after lunch we made our way upstairs to the weight room. I really wasn't feeling it. I felt weak. I felt tired.. but I did the workout the best I could, with only
a ton
 a little complaining. It started with squats, and chest presses, and pull-ups and crunches. Basically it was a circuit that we did 3 times... HOWEVER, the most intense part of the workout was when I had to climb a flight of stairs 6 times wearing a weighted vest. It was fun though and I knew it would KILL my lower body. We snapped some photos to show you :)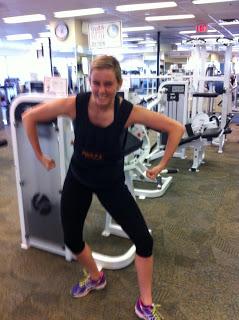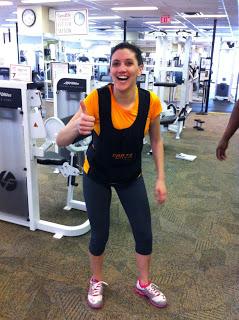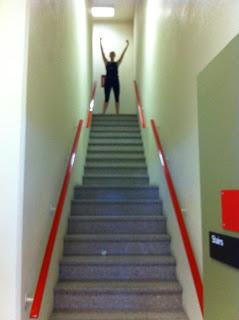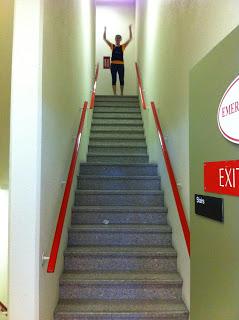 Hahaha. That was the flight of stairs we had to run up 6x. It was either run up each stair or walk up 2 at a time, so I opted for 2 at a time each time I did it. I was dripping sweat at the end and totally forgot to stretch after, and I think that's part of why I'm so sore today.
Regardless of how sore I was, today I went for a run outside. I took the advice of the lovely ladies that commented on my last blog post and didn't look at the time, I just ran and walked when I needed to. Turns out I'm still damn slow but I'm blaming this instance on my legs being sore from the intense workout yesterday. I ended up doing about 6km in 38 minutes. Barf.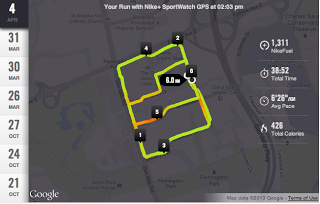 Lately I've been trying to eat a mostly vegetarian diet. With that being said, to a vegetarian it's probably not "mostly" in the least. To me however, it's a lot more vegetarian than ever before (with the exception of being an actual vegetarian for 3 years). I've been SO loving and SO looking forward to my green shakes in the morning for breakfast. I think it totally sets up my day for success in terms of nutrition. This morning in my green shake I had a banana, strawberries, a baby cucumber, spinach, vanilla Sun Warrior protein, flax seeds, ice and organic coconut water. It was SO so so so so good. 
I first thought when I gave up meat for breakfast that I'd be hungry all morning. I haven't felt like that since I started having green smoothies! For lunch I've been having a small serving of meat, and only raw vegetables. For my snack I've been having only fruit and coffee/tea. I will also have a small serving of meat for dinner and either some raw veggies or baked kale (my favourite). I'm actually really feeling amazing and my skin has cleared up! Woohoo!! Go green smoothies! :)
So today I decided to take part in "It's Ok Thursday!" which is a weekly blog post link up that is hosted by Amber over at Brunch with Amber & Neely over at
A Complete Waste of Makeup
. Basically, I'm going to tell you what I'm ok with as of now. Each week I will post points of the previous week, but since this is the first week it's going to be generic. Here goes my first try!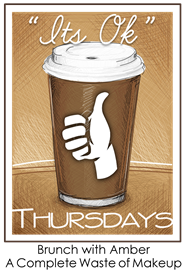 * that I want to hibernate on my couch with a book and my tea until the summer arrives.
* that I bought "Stress Blocker" tea recently to try calm myself during the day.
* that I'm going to have to come to terms with the fact that I can't run as fast as I used to... it sucks, but it's reality.
* that I wore smelly clothes to run outside in today because I haven't done laundry all week. Lol.
* that I can laugh at myself for wearing smelly clothes to run outside.
* that I hate talking on the phone.
* that I enjoy watching The Kardashians.
* that I hate my Blackberry, but that's a given.
* that I sometimes wish I wasn't doing school part time, but then I remember that's just lazy me talking and school is always a good thing, no matter what.
* that my bum folds over my leg, that I have "junk in the trunk".
* that I REALLY love hot dogs.
* I drink wine because it's classy.
How have your weekends been so far? What are you "ok with" today?