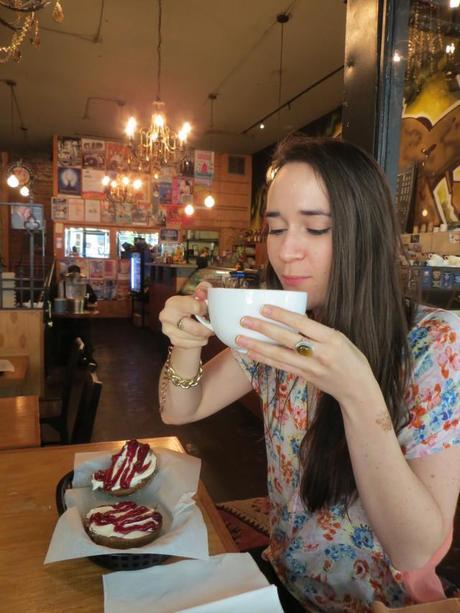 Surprise! I'm back from a trip I didn't announce. Yeehaw.
The day before I flew home, I received an email from one of my favorite bloggers/humans out there in the interwebs, Miss Stephenie Harrison of the blog Twenty Years Hence. If I haven't gushed about my love for this blog and the talented people behind it, let me do so now. As far as quality of writing and photography and design goes, this blog is outstanding and surpassed by few (if any, hehe). Not only that, but Steph has been warm and friendly with me from day one and what more could a gal ask for in a fellow blogging friend? And what's more – we both love food and all things grub. So why did Steph email me? She wrote to inform me that an interview I did for their amazing feature Chewing the Fat has gone live. I am over the moon to be part of their blog, so you should go check out my piece on their blog as I talk all things food, booze and yummy things.
So… where did I go anyway?
Well for the past few months, I was (for lack of better word) badgered by my dear, dear friend Gisela to go visit her in Seattle. I met her a few years ago in Madrid and we clicked over iced coffee and Swedish vacuum cleaners. My Swedish friend had been in Seattle for a month studying English and had hopes of doing a road trip around the region after her final exam. I felt pretty wiped out after India and (possibly) nearly dying so I was reluctant to jump at another trip. Yes, it's true. There I said it. Eventually, her persistence wore me down… and I'm glad it did.
To start off with the stories, and in tandem with the post I wrote for my friends Steph and Tony, here it is. The good stuff. What I ate in Washington.
Cherry Street Coffee House
So this coffee shop might be a chain, but I don't care. The bagels were tasty and the coffee cup was the size of my head.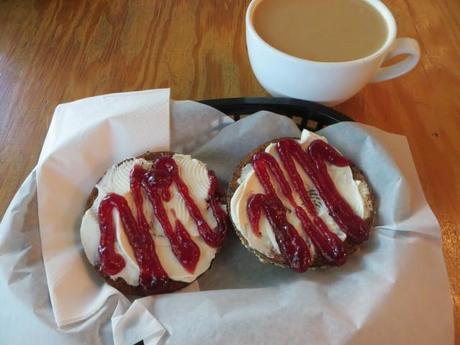 2. Molly Moon's Homemade Ice Cream
Because I don't think you really need to see the aftermath of the sushi train restaurant we destroyed, I'm going to skip straight ahead to the ice cream that topped off our first full day together in Seattle. I had Earl Grey and huckleberry, while Gisela had salted caramel and apricot. *slurp*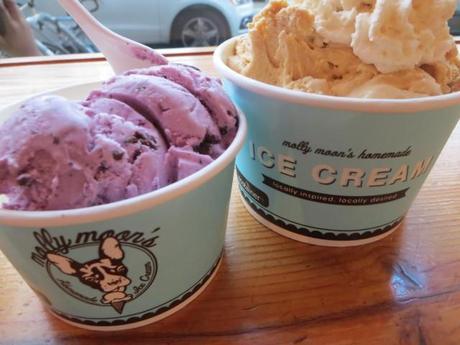 Rock Creek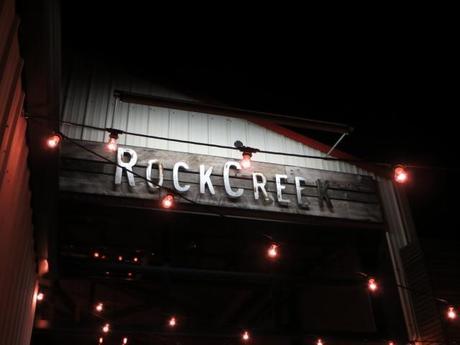 Typical – I was too hungry to remember to take photos of everything I ate.
This was a delightful find on Fremont near our motel a few blocks away. We tried local beer and had a few shared dishes: Chioggia and golden beet salad, pickled onion, Oregon hazelnuts, ricotta salata, arugula; Wild Carolina White Prawns St. Helena, brown butter, lemon, rosemary, Anson Mills heirloom grits; Hawaiian Tombo Tuna Crudo, Walla Walla sweet onion vinaigrette, crisp bonito and sesame pickles, shiso … and yes I copied and pasted this from their online menu. Don't judge me.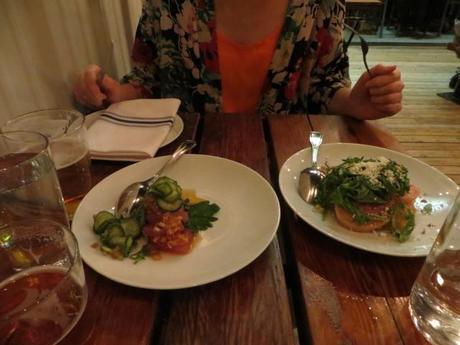 Mosquito Fleet Chili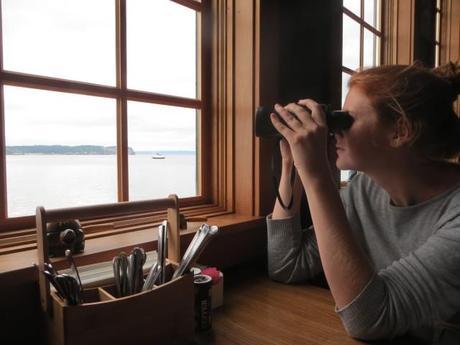 After we left Seattle, we headed to Whidbey Island. One of our stops was in the delightfully charming town of Coupeville. We found our way to this little restaurant on the water, and we were drawn in by the killer view and the binoculars at our table. There we each killed a plate of mussels. Please see before and after, below.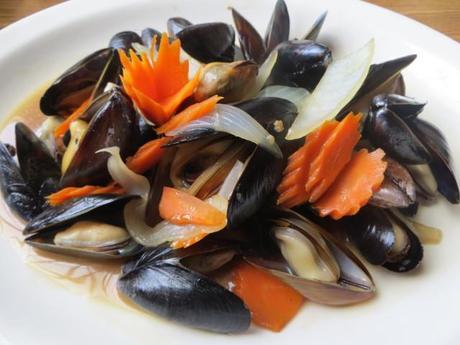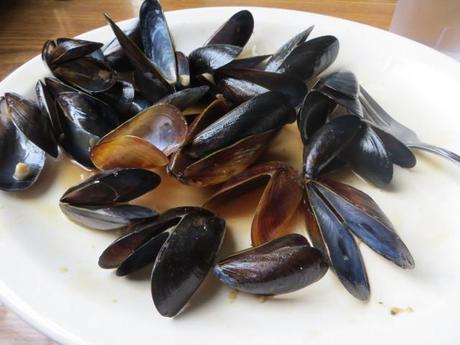 Shrimp Shack
Oops, I guess I was (once again) too famished to take a photo of my food when it came… but I did remember to take a photo of the roadside shack on Whidbey Island while I waited hungrily for my basket of fried shrimp.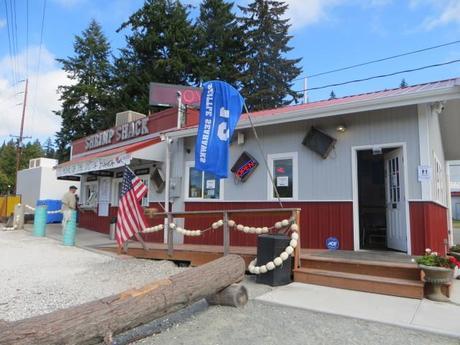 Fountain Cafe
When we found ourselves in Port Townsend and realised how cute it was, we spent the better part of an evening wandering around and taking photos of the Victorian houses. We went down one street, and like a moth to a flame, Gisela floated to this warm little cafe. She stood gaping at its warm interior and admired the menu and entertained thoughts of dinner. I love Scandinavians for their 6th sense of cozy cafes, for places with soul. Because of Gisela, I hardly got a toe in a place that was short of having soul and life.
When we returned, I had a Rasputin beer and (quite possibly) the best meal of my life. I don't say that lightly. I was struck by its deliciousness and forced to slurp and chew slowly as I made my way through this dish called "
Scotch Fettucini
". When the server asked how we were enjoying our meals, I told him it was disgusting, and he was quick to return cheekily that I would do my best to manage. And manage I did – with simple ingredients like smoked salmon, leeks, green onion and fresh garlic in a cream sauce with a hint of Scotch, how could I not? The server told us the story of how the dish came about. The owner of the restaurant had been sitting at the beach one night with a friend, some smoked salmon and a bottle of scotch carrying them through the evening, and she just thought, "I just wish I had some cream and pasta…"
Genius.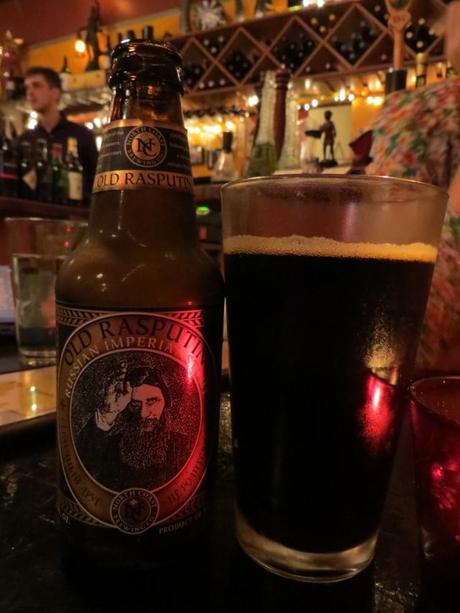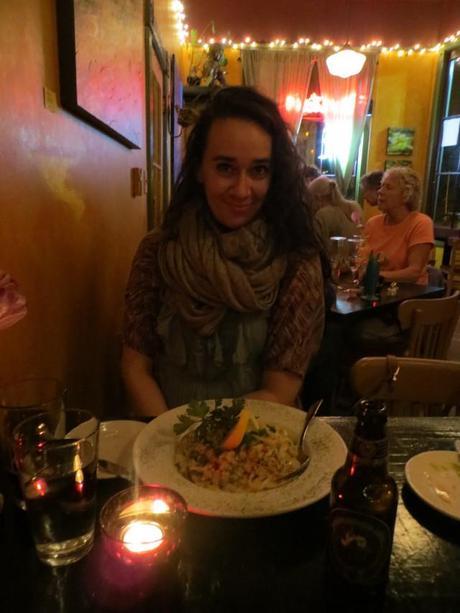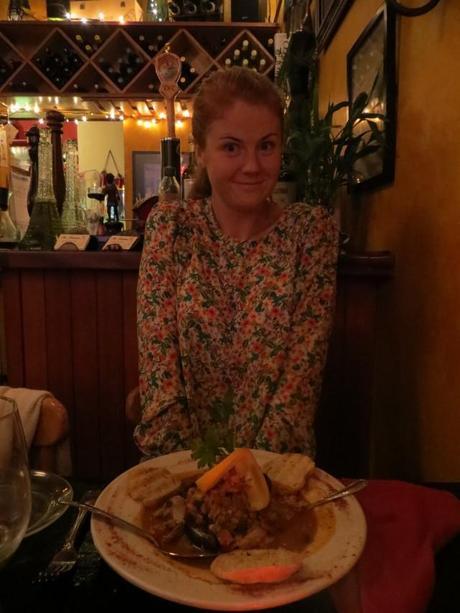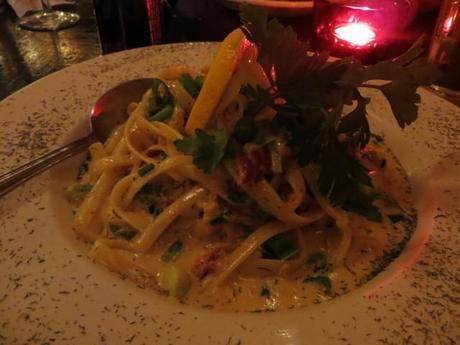 Hiking and a footlong…
We all know hiking and camping are not up there on my favorite things list, but it was important to Gisela to experience some of Washington State's Olympic National Park. While I easily could have spent my day differently, it is nice to have friends like Gisela who take me to the forest and don't force me to sleep on the ground. In the end, I was glad to have spent the day like that, surrounded by tall, towering trees, fresh air and the soft sounds of water slipping over rocks. And even though a lot of the hikers we passed were pretentious jerks, the day was refreshing and good for the soul.
At the top near Deer Lake, I ate this: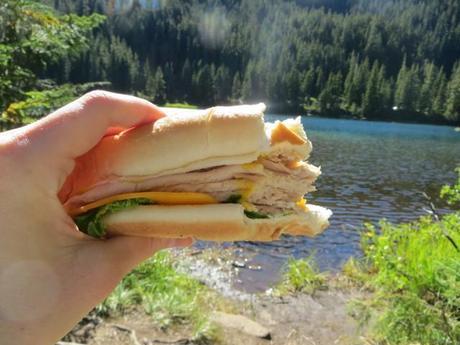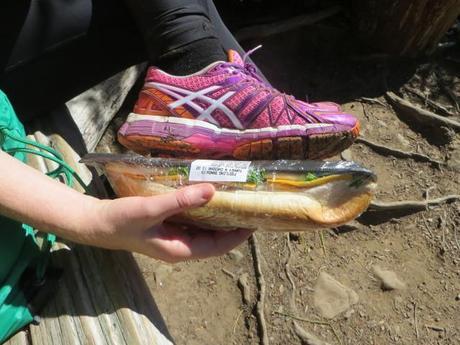 Next Door Gastropub
This place was a real shocker. After a day of hiking, we ended up in Port Angeles. We left to find dinner sometime around 9:00, but to our dismay, most things that looked good (or to Gisela, as if they had souls) were closed by 9:00. We went into one restaurant just as they were closing, and the server recommended we find Gastropub ("up two street lights and down a few blocks on the right"), so we did. I wasn't expecting much from this small town, but I was once again blown away, just as I had been in Port Townsend. I had a burger topped with bacon, fig jam, stout dijon and arugula and life-changing onion rings.
Gisela ate this: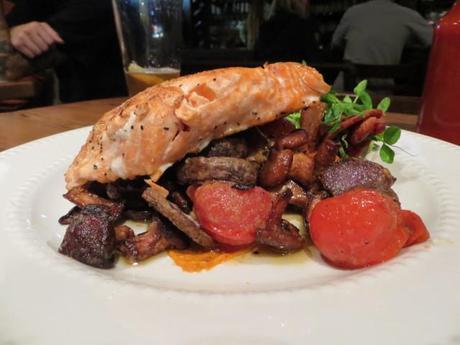 and this was my winning dish: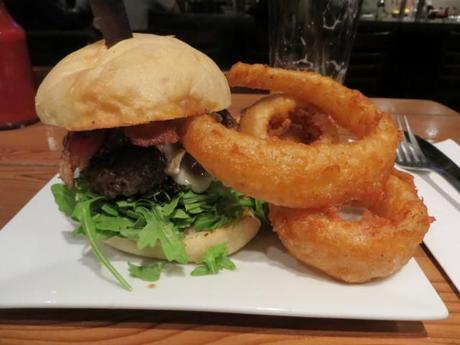 Just kill me now so I can die happy.
Granny's
With a name like this, how could you not want to eat there? This side of the highway treat was breakfast for us when we left Port Angeles to go to Forks (yes, where Twilight is set, and yes there will be more on Forks later…).
Much of the trip for Gisela was "the movies" for her. You know, all the American stuff. Roadside diners were one of them, so I'm glad we found this gem.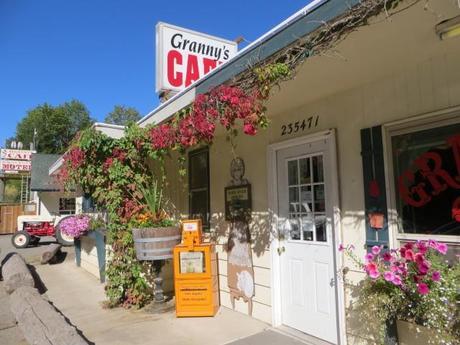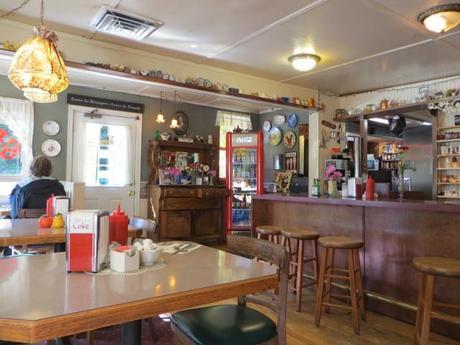 Gisela had some epic French toast, and I had eggs, breakfast sausage and toast. The classic breakfast. Oh yeah, and don't forget the bottomless coffees.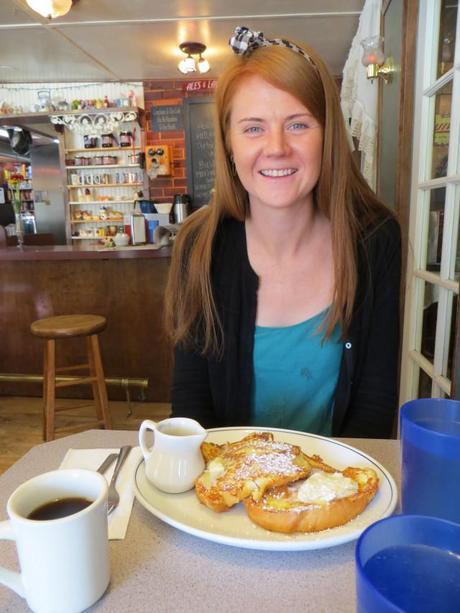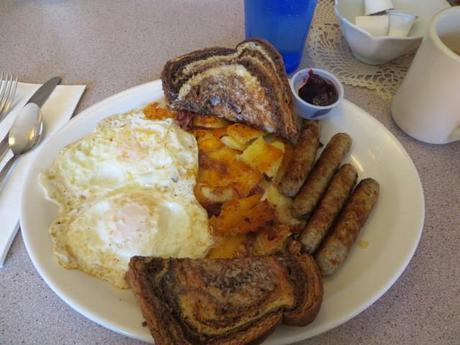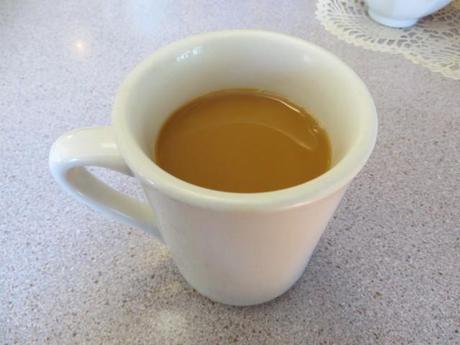 Lake Quinault Lodge
I'm a sucker for old lodges reminiscent of Dirty Dancing and fancy rich people on vacation, so when we found this place, I knew we had to splurge for dinner, and Gisela, my friend in food and travel, needed no convincing. We shared warm fresh rolls and butter before I had a caesar salad and a chilled lemongrass Thai soup, and she had ribs. I also had a beer on the lawn beforehand, and that was heavenly.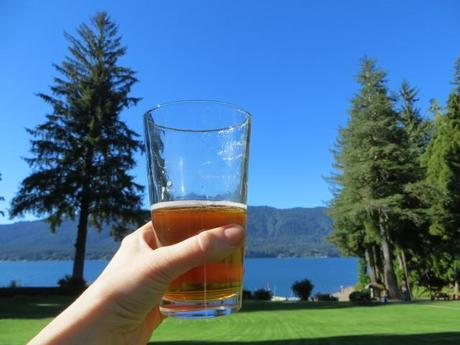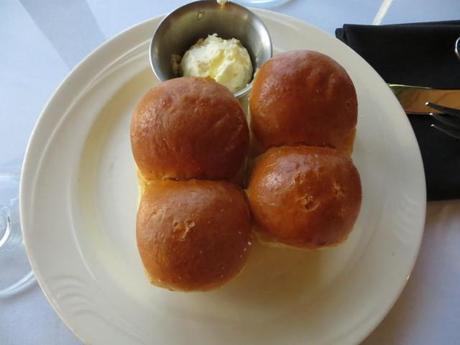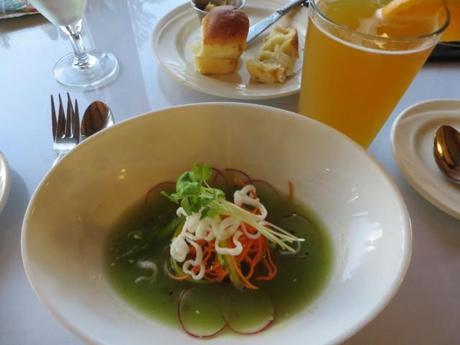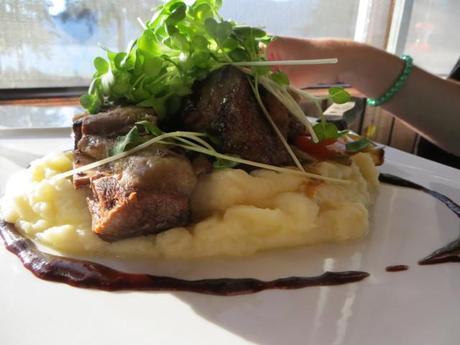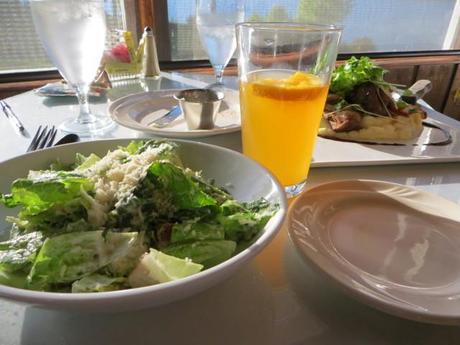 Bailey's Bakery & Cafe
On our last day, we thought we'd devour some oysters in Oysterville. When I saw that such a place exists as I examined our map, I immediately dropped a pin and told Gisela that I voted to go there. We were disappointed when we were informed we couldn't get raw oysters anywhere. Apparently because the temperature was still too warm, the bacteria content made them inedible raw, which is how we wanted them. Instead, we found Bailey's Bakery & Cafe, ate coffee cake and peach pie and sipped iced coffees and spent the afternoon writing postcards.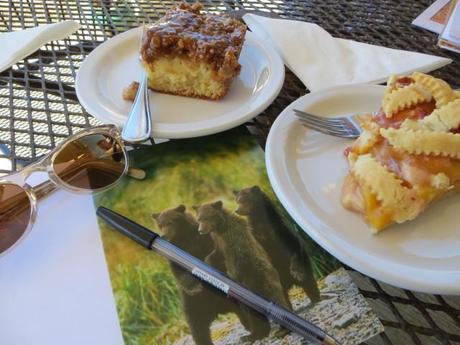 Olympic Club – McMenamin's Pub
I live for places that ooze Prohibition era and the 1920s and 30s. When I read about the Olympic Club, a converted brothel containing a pub, restaurant, cinema and billiards, I knew this was next on my list after Oysterville. We stopped in Centralia to visit this place with a tunnel underground where alcohol was smuggled during Prohibition and enjoyed our last dinner together. The train periodically rumbled by outside behind the building, and I felt myself transported as I munched away, this time on cedar plank salmon with hazelnut and cranberry butter, sautéed spinach and sweet potato fries.
The picture is a bit dark, but I think this speaks to the mood of the place.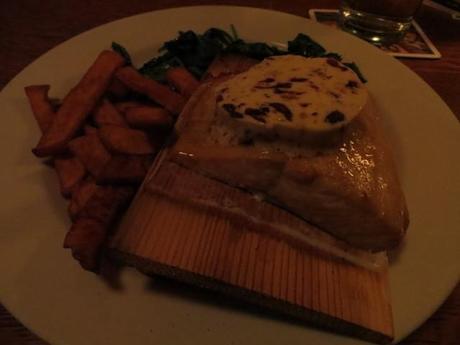 After we checked into our final hotel, we picked up a 6 pack of Harvest Pumpkin Ale and settled in for a cozy evening of beer and TV movies. We packed and prepared ourselves for our final day of travel the next day – to the airport.
_______________________________________________________________________________
What's the most delicious thing you've eaten recently? Tell me in the comments below!
Also, don't forget to like my Facebook page and follow me on twitter and Instagram so we can stay connected.
One last thing… I've been given the go-ahead to republish Part Three of the Indian Curse. So with a bit of time and some edits, I will get around to doing that.