I am someone who travels quite a bit when not bogged down by work - be it vacations, family & friends weddings and parties, weekend trips or even business trips! And what unnerves me about travelling is packing my personal care stuff - all those makeup and skincare. I either go hunting for travel sized jars to spoon out some from the full-size products or go spend a fortune on travel-size everything!
Hydropeptide On-The-Go Glow Travel Kit has solved the skincare problem for me with its great travel size products in a classy silver pouch armed with anti-aging warriors even on the go!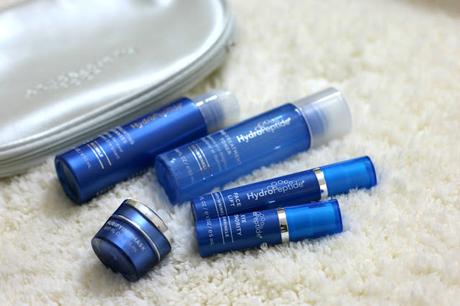 HYDROPEPTIDE ON-THE-GO GLOW TRAVEL KIT
Keep skin looking fabulous wherever you go with the On the Go Glow set. This collection combines five of our award-winning products into an easy to follow regimen and conveniently packaged in a limited edition HydroPeptide travel clutch.
The On-The-Go Glow Travel Set consists of the following products â€"
- Exfoliating Cleanser
- Pre-Treatment Toner
- Purifying Mask
- Eye Authority
- Face Lift
Did you know Hydropeptide is one of Katherine Heigl's (of Grey's Anatomy fame) favorite brands? I get really excited when a product that I use is endorsed/loved by celebrities themselves (not as ambassadors!)
Personally, I think this travel size kit is a great way to try out different products at one go from a high end brand like Hydropeptide. Its easy to test products and also one can opt for full size only for the ones they really liked or that worked for them.
This kit is a skincare regimen in itself starting from cleansing, toning, masking to eye and facial care. All the products in the kit can easily last for a couple of weeks, barring the mask which is good for 2-3 uses only. All products in this kit are award winners!
The brand's products are formulated without parabens, sulfates, phthalates or any kind of harmful ingredients and is also gluten-free, cruelty-free and contain no synthetic fragrance.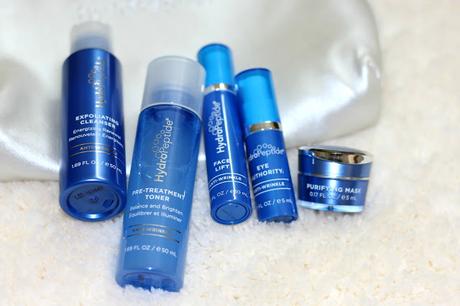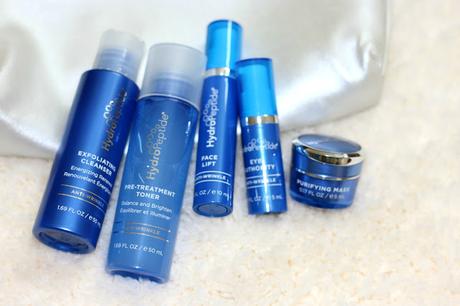 Let's take a look at each of the products individually.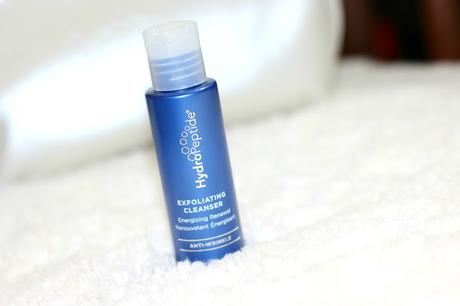 This cleanser is formulated with various peptides, 10% glycolic acid and jojoba beads. An interesting combination of chemical and manual exfoliants!
It has a mild citrusy fragrance, that is a great pick me up in the mornings. It doesn't lather but leaves the skin feeling squeaky clean. The jojoba beads are mild on the skin too.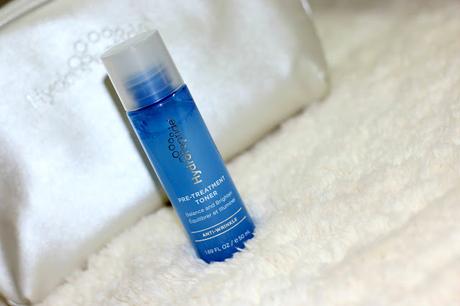 An award winning product from the brand, this toner is formulated with various peptides, Vitamin C, 5% lactic acid (AHA), licorice, green tea and citrus stem cell extracts.These ingredients are formulated together not only to just tone the skin prior to moisturizing, but this product can help in mild exfoliation of the skin surface, balance the pH of the skin and prepare it for absorbing skincare goodness and also work on pigmentation.
The toner too smells mild citrusy like the cleanser and can be used both day and night. My skin looks fresh and clean when I use this toner and doesn't feel stretchy at all.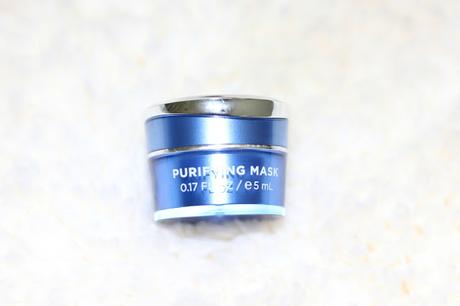 A combination of amazing peptides alongside enzymes, kaolin and bentonite clay make up this Hydropeptide Purifying mask. While the clay draw out impurities from the skin and control sebum production, the enzymes and the peptides work on their anti-aging agenda. The caffeine in the mask freshens up the skin and helps firm it.
The mask imparts a slightly tingling feeling upon application and did not dry out completely even after 10 minutes of application. It didn't dry out my skin unlike other clay-based masks and left it refreshed, clean and plumped rather.
EYE AUTHORITY
News is that this product has won 5 awards in all! I was so excited to give this a shot on the fine lines under my eyes. Peptides are known to help with fine lines, crow's feet and wrinkles around the eyes. It is the broken chain of peptides and collagen that actually cause these eyecare issues. It also has hyaluronic acid, ceramides, crushed pearls and a component called "hesperidin" that works on dark circles.
The fragrance is same as the cleanser/toner, but much milder in this eye cream. Its lightweight but heavily hydrating. Works well under makeup too and doesn't crease. For now, it plumps my eye area well and the crushed pearls in the cream act as light diffusers to brighten the eye.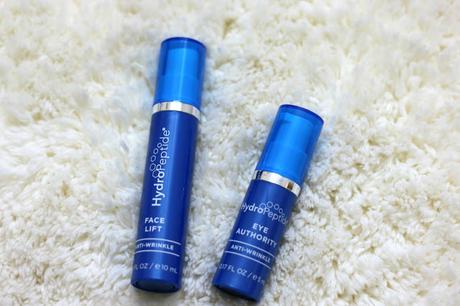 FACE LIFT
This product consists of cocktail of nine types of peptides that work together to get you a vast range of anti-aging benefits. It is also loaded with hyaluronic acid (hydration, elasticity), antioxidants (fight free radicals) and Vitamin C (brightening).
This cream is again lightweight but heavy on the hydration department. Did not break me out and kept my skin plumped up all day without any dry patches.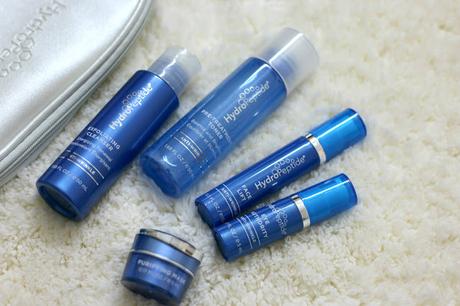 Overall, this a great anti-aging kit with amazing award winning products in travel sizes. All products are made of scientifically proven ingredients, that actually work!
*PR Sample.Honest Review*