Hello everyone!
It's Wednesday, and that means it's time for a Hump Day Hairdo!
Last night I put my hair up in a messy bun out of laziness before promptly falling asleep, and this morning I woke up to a really awkward haystack hairdo. Luckily though, today is not look cute day (you know, those days where you plan out your outfit and do your hair all nice?); I have a rather long drive back from from Cleveland, so the hair is getting out of my face.
Today's look is super simple, but still cute.
I like to call it the Lazy Fishtail, for days where I am just too lazy to do anything else.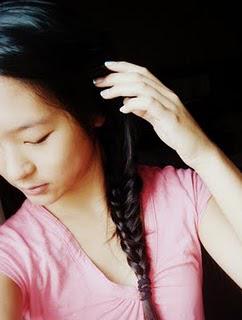 It's just a simple fishtail braid, and I made mine really messy because hey, it's called the lazy fishtail for a reason ;)
Once I'm back home and settled (this was my last trip of the summer), I can start doing some actual Hump Day Hairdos again, and hair product/tool reviews :)
Let me know if you have any requests!
Happy Hair Day!
Love,
Belle