If you're staying in because of the weather (to those who are staying away from floods or taking a day off work) you might as well make the best of it and pamper your hair like I did yesterday, hop over to a nearby  Human Nature outlet (Sucat/QC) and pick this up.  I got mine at the baby Rustan's Grocery in Ayala Alabang beside Cuenca football field.  You can imagine how surprised I was to see it on the shelf alongside a batch of Human Nature Shampoos and Conditioners!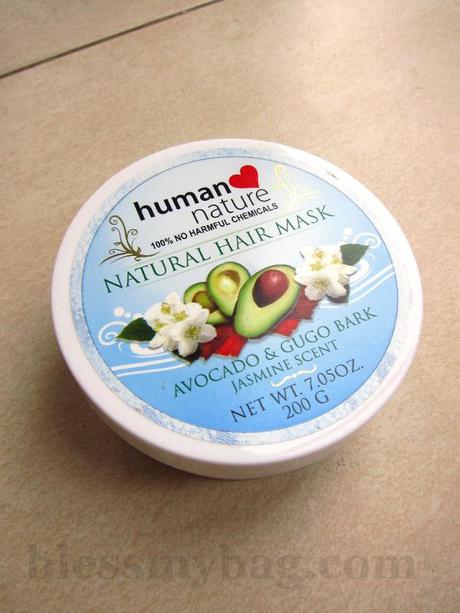 This thick and creamy organic hair mask by Human Nature is so nice I keep opening the pot to inhale its jasmine and rosemary goodness, even Dad who is a scent fanatic said it goes straight up your nose in a good way, so there's 1 vote from the men!  I got the 200g pot  from Rustan's grocery but you can also get it from the HumanNature website here and there's a smaller size option, a 50g pot for Php99.75.  The bigger pot I got carries 7.05 oz or 200g of hair treatment and natural aromatherapy in one pot.  I'd say it's probably good enough for 3 treatment sessions for long hair (past the shoulder blade) and about 4-5 sessions for short hair (above the shoulder).
Directions state: "After shampoo smooth on damp hair and wrap with a warm towel or shower cap to maximize benefits.  Leave on for 30 minutes then rinse off completely."
I actually recommend having someone massage your scalp for the home salon experience which is supposed to be completely swathed in this hair mask cream during the 30 minute waiting period.  I didn't follow the exact directions.  I took a bath and what I did was once my hair was soaking wet I squeezed the water out and preferred not to use shampoo before the treatment to see how this works without any interference from preceding chemicals.  With the product in my hair I used tolerably hot water during my bath (not on the hair, just on me) while soaping the rest of me to create rising steam in the bathroom and I lengthened my bathtime to about 20 minutes massaging my head then combing the product through and detangling gently from my scalp to the ends until I thought I was ready to rinse with cold water.  I love how the ingredients made my scalp feel as if there was menthol in it,  there was a natural cooling sensation coupled with the scent experience of Jasmine and/or Rosemary, not everyone might like the woodsy floral type of scent but I absolutely love it because it smells real and I had absolutely NO allergic reaction whatsoever afterwards.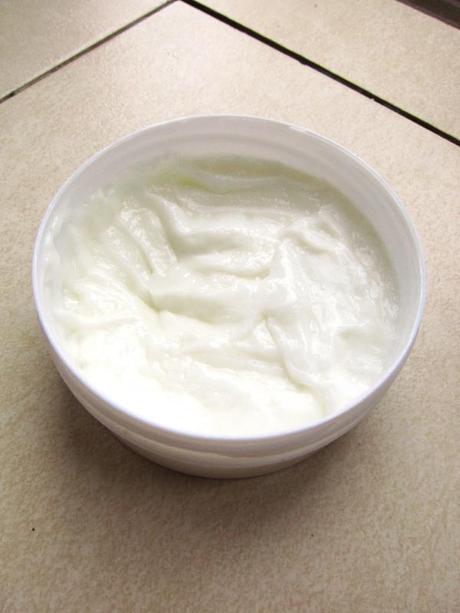 The hair results I knew wouldn't be naman like some hair miracle or anything like that especially since I have color highlights which obviously dry out the strands, BUT my hair showed  a boost of body, spring and noticeable shine and smoothness a day after treatment, my wavy ends got all twisty and my scalp lost the itch.  Basically my hair was being itself again. For anyone else I'd suggest use a really mild organic shampoo before the treatment like this one which I tried from SG which I also saw available in Robinson's department store personal care areas.
This is how much was left after my first use…the product was about 3/4 of an inch from the top before I dug in.  I've been trying to stay away from mostly chemical hair treatment creams.  The supermarket shampoo aisles are flooded with treatment pots from various big name brands now, the pot/jar is a more convincing container when it comes to deep conditioning treatments.  I'm not saying that those don't work or give results, it's just that I'm staying away for now because of my hair fall and scalp condition (climate change) plus the rashes that appear on the side of my face when I use some synthetically fragranced hair products.
This Human Nature hair mask has NO parabens, phthalates, SLS/SLES (Sodium laureth sulfate, or sodium lauryl ether sulfate), formaldehyde or other toxic substances.
It's made of:
Water
Cetrimonium Chloride (from palm/vegetable oil)
Cetyl alcohol (from coconut)
Gugo Bark extract
Avocado oil
Honey Extract
Virgin Coconut Oil
Jasmine essential oil
Gluconolactone (Natural Preservative)
Rosemary Essential Oil
Vitamin E (tocopheryl)
Vitamin B5 (Panthenol)
Sodium Benzoate
It's a relief to read an ingredients list I actually understand, of course there were the scientific name equivalents of these in the list at the back of the pot but the layman's labels of the ingredients were included.  This is an affordable hair spa treatment and I can feel that it's a hair product with personal touches literally made with love by relocated communities who enjoy their livelihood thanks to Gawad Kalinga and Gandang Kalikasan.  It's also still great that it's available in retail I'm assuming at Rustan's groceries pa lang.  You can also find Human Nature products at your local Beauty Bar outlet.