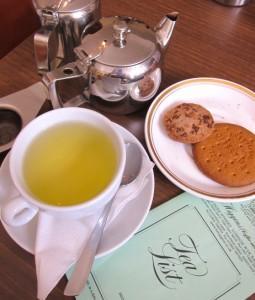 Chamomile Tea
HR Higgins
MayfairSomeone should make a film about HR Higgins Coffee Man esq.. The tale of how he started his coffee roasting enterprise in wartime London is heroic stuff.
Evading incendiary bombs, showing cunning in getting a license to trade; featuring characters with one leg, and help along the way from Misses Fox and Jenkins of South Moulton Street – whose cake kitchen saved the day – makes for a fascinating and jaunty read.
I imagine Trevor Howard in the leading role…but I'm getting carried away.
The Duke Street shop remains in the family and is today run by Harold's grandson.
HR Higgins roast their own coffee and blend the tea. The passion for supplying the very finest coffee and tea available is still evident; the service is welcoming and knowledgeable. HR Higgins is by appointment to the royal household and a portrait of HRH The Queen overlooks proceedings.
HR Higgins may be a Coffee Man but they also supply the very finest tea; the choice is exceptional. I choose some Rooibos which was weighed and wrapped up neatly in brown paper packet.
The small cafe is an oasis of calm under Duke street. With the sun streaming down the light well, I watched the busy feet of Londoners rushing to and fro above. I order a pot of chamomile which came with biscuits a digestive and a chocolate chip, served from a biscuit barrel! There are newspapers to be perused and an air of quiet old-school charm.
I imagine that, having ordered the beverages for my country estate, I am enjoying elevenses before catching the next train up country from Paddington…there I go again.
Our hero's grandson still runs the business. The enterprising spirit runs in the family – HR Higgins now use social media and YouTube to spread the word. This is not quite the movie I imagined but worth a look:
---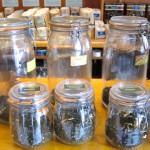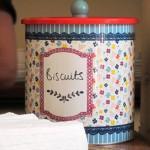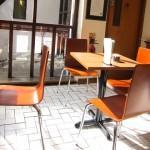 ---


Price of a Cuppa : £3.40 a pot with free biccies

Leaf or Bag : Leaf, or flowers for my chamomile

Crockery : White china

Music : None, bliss!

Service : Friendly

Food : Cake and biscuits

Kitty says: A wonderful place for quality caffeinated beverages
Address: H. R. Higgins (Coffee-man) Ltd.
79 Duke Street, London W1K 5AS
Website: HR Higgins
---
If you enjoy HR Higgins, you may also like: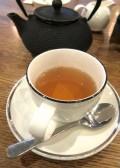 National Gallery
Dining Rooms

Postcard Teas
Mayfair

Les Deux Salons
Trafalgar Square
---
Find More Places for a Cuppa – Tea Map of London:

Tea Map of London
---
Invite your friends for tea at HR Higgins: