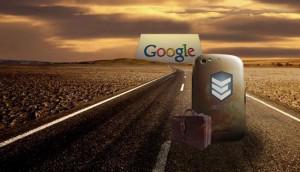 The HP team responsible for Enyo will be leaving the company and will start at Google shortly. For those who are not familiar with Enyo, it is the webOS's HTML5-based application framework that debuted on the TouchPad. According to The Verge, not the entire team will be leaving, but a key man is leaving: Matt McNulty, the man in charge of the project.
With this departure, the future of Open webOS is unclear. This team is the core supporters to HP's open source strategy going forward, and now it is very hard to say if this action will delay or not the release of version 1.0 for  late 2012.
What Google would do with the team is unknown at this time. Nevertheless, there are some logical spots for this new asset to land: Android or Chrome Development Team. Regarding Android, is clearly visible that they would fortify the development lines on the Android platform, where Matias Duarte (Android's design chief) will wait with arms wide open.
Another option is to join the Chrome development team, as they must continue to enhance web applications and who better than the people behind Enyo.
As a result of the news, HP has had a press release stating that the development roadmap of webOS Open remains intact:
We're pleased with the traction Enyo has gained to date and plan to continue its development along with the open source community. The Open webOS project is on schedule and we remain committed to the roadmap announced in January.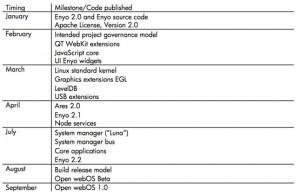 Enyo WebOS Roadmap
Via | webosNation | The Verge