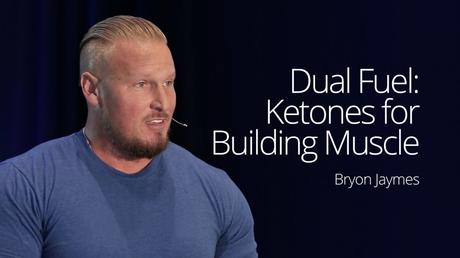 19 22:17

In this Low Carb USA talk the body builder Bryon Jaymes talks about using ketosis for building muscle and feeling good.
Note that while Jaymes does not talk much about supplements in this talk, he works for a company that sells supplemental ketones. We have no collaboration with this company, just like we have no collaboration with any supplement company.
While supplemental ketones may possibly improve physical and mental performance under certain circumstances, they are a very expensive and highly transient way to reach ketosis. Furthermore, supplementing ketones does not lower insulin or blood sugar, and it does not increase fat burning. Thus it hardly helps with weight loss or type 2 diabetes reversal.
To experience the full benefits of ketosis we recommend using a ketogenic diet. No products required.
Watch it
The full 22-minute presentation is still interesting. Watch it on our member pages, including captions and transcript:
Dual Fuel: Ketones for Building Muscle - Byron Jaymes
Start your free membership trial to watch it instantly - as well as over 160 video courses, movies, other presentations, interviews, Q&A with experts, etc.
The next conference
The presentation is from this year's Low Carb USA. It's the top low-carb conference in the US. Next year's conference will take place on August 3 - 6, 2017 in San Diego. Sign up now for an early bird discount (50% off).