How to Pick the Best Nightwear
When we buy a pair of jeans we usually spend quite some time choosing the right cut, color and style to suit our needs. The same goes with shoes and just about any other item of clothing. Finding clothing to fit our unique body shapes is one thing; finding a style that reflects our personality is another. Why is it when it comes to nightwear, most people usually don't give it a moment's thought? On the whole people tend to view nightwear as an afterthought and just buy the first thing they see.
But we should give nightwear the respect it deserves. These items of clothing keep us cosy, make us warm and can make us look feminine and sexy too. Perhaps it's time to make more of an effort to find the perfect nightwear to suit your needs?
But what do you need to consider?
Nightwear and the home
Will you be wearing your nightwear alone or with a partner? Are you planning a holiday where you'll be sharing with a friend? Is this something you'd like to wear at home whilst relaxing in front of the TV with a hot cuppa firmly in hand? If you plan to wear your nightwear with a partner then you might want something a little sexier in style? Look for fabrics such as soft lace and feminine touches such as bows and ribbons which add an element of cuteness to the style. If you're taking your nightwear on holiday with your mates then pajamas are always the best bet; a silky baby doll just wouldn't feel appropriate in this situation. If you wish to relax at home then cotton pajamas /loungewear is by far the best choice.
Lounging around has never been so stylish with this chic black DKNY nightwear set: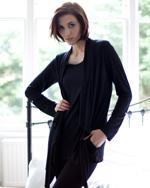 Throw over a satin robe to enhance the luxury: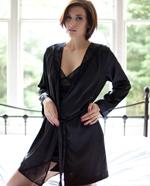 Comfortable nightwear
Do you have sensitive skin? Do you find it hard to sleep? If your skin reacts to certain fabrics then stick to 100% cotton nightwear, this is both easy to wash and easy to wear and will feel nice against your skin. If you tend to overheat in your sleep then silk will keep you cool whilst feeling luxurious too.
This Bodas silk camisole is simply divine: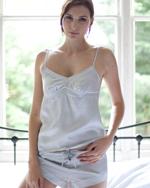 It would make a classic addition to any stylish wardrobe.
Stylish nightwear
Are you more of a style-over-substance girl or do you always opt for comfort? Perhaps you want to find nightwear that offers style and comfort? The good thing about modern nightwear is that the designs have been adapted so that nightgowns can now be functional as well as feminine and pajamas are now available in a wide variety of fabrics and styles.
Crisp, stylish, functional, this classic nightwear stands out from the crowd: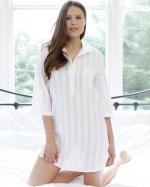 Expensive or cheap nightwear?
Whatever your budget you're bound to find suitable nightwear that will fit your purse-strings from bargain to designer - how much do you want to splurge?
A budget nightdress has never looked so good: