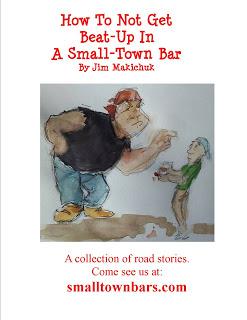 So I finally put my indiegogo.com website up for my book of the same title as above. Had to rush yesterday to get everything right, still a few errors. But we've raised $660 in 18 hours.  You can click on smalltownbars.com  
Here's the front cover, there will be changes, the card above is for handouts.
We're hoping for $2500, of which I will see hardly any as I have to pay the artist who drew pencil sketches and a formatting person, I can't do it, and someone to make the front and back cover.
So go have a look at it, there's a lot of stuff to see, videos, photos, illustrations and more. 
Will get back to movies in a few days.