Amazingly delicious and ready in few minutes Vegetarian Tortilla Soup is a good starter for your dinner. Nutritious, tasty, healthy and comforting soup is wholesome. It is perfect to warm your heart with fresh tortilla, spicy flavors and topping of cheese and avocado. Prepare the soup with recipe given as follows.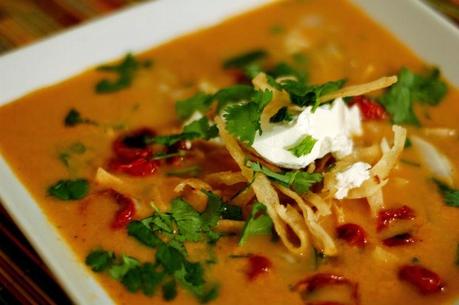 Serving: 12 Preparation Time: 20 mins Cooking Time: 50 mins
Ingredients
2 tbsp vegetable Oil
1 package frozen Pepper and Onion stir fry mix
2 minced cloves of Garlic
3 tbsp ground Cumin
1 can crushed Tomatoes
3 cans chopped green chile Peppers
4 cans vegetable Broth
Salt to taste
Pepper to taste
1 can whole kernel Corn
12 ounces Tortilla chips
1 cup shredded Cheddar Cheese
1 peeled, pitted and diced Avocado
How to make Vegetarian Tortilla Soup
Step 1:
 Heat oil in a pan, then add pepper and onion stir fry mix, garlic, and cumin, and cook until vegetables are tender.
Step 2:
 Add tomatoes, chile peppers, broth, salt and pepper, then simmer for 30 minutes.
Step 3:
 Add corn into the soup and cook for 5 minutes.
Step 4:
 Transfer this soup into the serving bowls, then add tortilla chips and top with cheese and avocado.
MORE RECIPES HERE