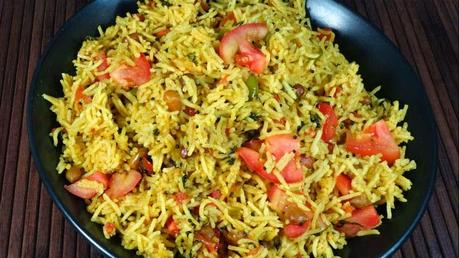 Recipe Of Tomato Rice
Lip smacking, spicy and yummy lunch-box recipe is delicious. The south Indian style tomato rice has tangy flavor of tomato, capsicum, green chilli, samber powder and coriander leaves. The recipe of tomato rice is as follows.
Serving: 1 unit
Preparation Time: 10 mins
Cooking Time: 30 mins
Ingredients
1 cup Rice

2 large chopped Tomatoes

1 diced green Capsicum

3 tbsp Oil

1 tsp Mustard seeds

1 chopped Green Chili

1/4 tsp Turmeric powder

3 tsp Samber powder

1&1/2 tsp Salt

1/4 cup chopped Coriander leaves

2 cups of Water
How to make Tomato Rice
Step 1: Wash and soak the rice in water for 15 minutes, then drain the water and set aside.

Step 2: Heat oil in a pan and add mustard seeds to it.

Step 3: Add tomato, green chilli, turmeric powder, capsicum, samber powder, salt and coriander leaves to it.
Continue Reading... Tomato Rice Recipe