Easy to make Tofu Tacos giving the taste of numerous ingredients, flavours and spices is good. Robust filling packed in tacos shell is worthy for light lunch or dinner. This vegetarian version of tofu tacos won't let you miss its meaty version. The recipe of this appetizer is given as follows.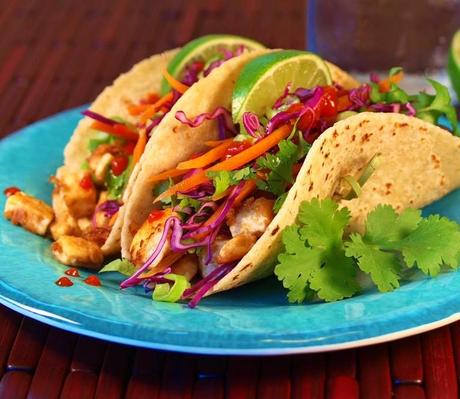 Serving: 10 Preparation Time: 10 mins Cooking Time: 20 mins
Ingredients
1 package crumbled garden herb Tofu
2 tbsp vegetable Oil
1 minced clove Garlic
1/2 cup chopped Onion
2 tsp Chili powder
1/4 tsp Paprika
1/4 tsp cayenne Pepper
1/4 tsp ground Cumin
1/4 tsp Salt
1/2 juiced Lime
1/2 cup Tomato sauce
1/4 cup chopped Cilantro
10 heated Taco shells
2 cups shredded Lettuce
2 chopped Tomatoes
1 peeled, pitted and diced Avocado
1 cup shredded Cheddar Cheese
1/4 cup Salsa
How to make Tofu Tacos
Step 1:
 Heat oil in a pan, add tofu, garlic and onion, and fry for 5 minutes.
Step 2:
 Stir in chili powder, paprika, cayenne, cumin, salt, lime juice and tomato sauce, then cook for 3 minutes.
Step 3:
 Stir in cilantro and transfer the mixture into taco shells.
Step 4:
 Top the mixture with lettuce, tomatoes, avocado, Cheddar cheese and salsa, then serve.
SEE POPULAR RECIPES