Have you observed that every time you visit Facebook fan page, you always land on their Wall? You might also observe this in your page. Even if you have your Static HTML application install in your page, your viewers will always land on your wall. How do like them to land on your Welcome page or on your static HTML application? Follow this simple steps below and you will guide your loyal readers to your Welcome/static HTML application in no time.
1. Login to your Fan Page.
2. Click the
Edit Page
button located at the upper right side of your screen.
3. At the left side of your screen, you can see the settings tab. Click the
Manage Permissions tab
.
4. At the Manage Permission tab, look for the
Default Landing Tab
.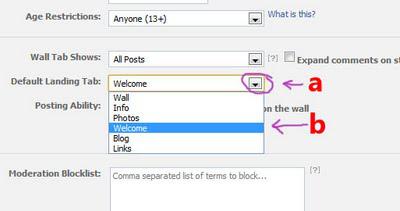 a. Click the drop down menu.b. Select Welcome.
5. Save Changes and your DONE!
Enjoy your new Landing Page. :)