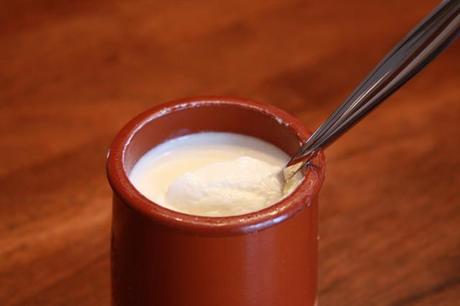 You'll need:
young coconut meat (not the coconut meat from a hairy, brown old coconut)
1/2 cup of water (do not use chlorinated tap water)
a glass jar with lid (a Mason Jar or re-used pickle jar is fine)
a blender
1 capsule of Theralac Biotherapy
What You'll Do:
Put the young coconut meat in your blender with the water
Blend until you have a smooth, consistent texture
Pour the mixture into your glass jar
Open 1 capsule of Theralac and stir the probiotic contents into the coconut mixture
Put the lid on the jar and store in a warm, dark place in your kitchen undisturbed for 24 – 48 hours
After your yogurt has fermented for a couple of days at room temperature, you can store it in your refrigerator for up to 7 days.
*Optional: To enhance the flavor and nutritional content of your yogurt, add a scoop of Greens First.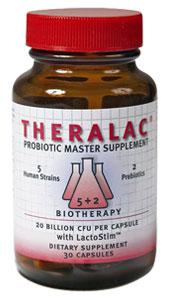 Theralac 30 caps
- 5 Human Strains + 2 Prebiotics
- Biotherapy
- 30 Billion CFU per Capsule
- With Lactostim
- Probiotic Master Supplement
Supplement Facts
Serving Size: 1 Capsule
Servings per Container: 30
Amount per Serving
Lactobacillus paracasei 5 Billion CFU
(Strain F-19)
Lactobacillus rhamnosus 2 Billion CFU
(Strain LR-44)
Lactobacillus acidophilus 10 Billion CFU
(Strain LA-1)
Bifidobacterium lactis 10 Billion CFU
(Strain BL-34)
Bifidobacterium lactis 3 Billion CFU
(Strain Bi-07)
Lactoferrin (milk) 20 mg
[CFU=Colony Forming Units]
Other Ingredients: Cellulose, Sodium Alginate, Sodium Phosphate, Silica, Grape Skin Extract, HPMC (capsule), Sunflower Lecithin + Oleic Acid (LactoStim, patent pending), Magnesium Stearate (vegetable source).
Contains No: Yeast, Eggs, Corn, Soy, Gluten, Wheat, Casein, Salt or Beef Products.
Each batch is laboratory tested to meet strict quality control standards; guaranteed at time of expiration. Best if refrigerated. Refrigerate upon arrival.
Buy 1 Bottle (30 Day Supply) of Theralac for $44.95
or
Buy 3 Bottles (90 Day Supply) for $34.95 Each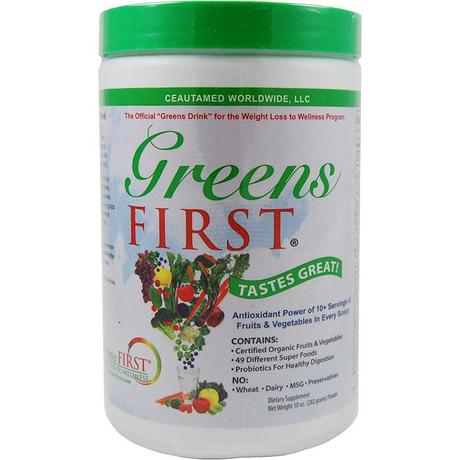 Greens FIRST Canister 282 gms
Supplemental Facts
Serving Size: 9.4 g (1 scoop)
Servings per Container: 30
Amount per Serving:
Calories 45
Calories from Fat 17
Total Fat <2g
Saturated Far <.5 g
Trans Fat 0 g
Cholesterol 0 g
Sodium 17 mg
Total Carbohydrate <6 g
Dietary Fiber <1 g
Sugars <1 g
Protein 1 g
Greens Blend-Proprietary 2500 mg
Barley Grass Juice Powder (Certified organic)
Chlorella (Japanese Cracked Cell Wall)
Spirulina, USA (Certified Organic)
Vegetable Blend-Proprietary 1500 mg
(Certified Organic)
Carrot Juice Powder, Cauliflower Juice Powder, Broccoli Juice Powder, Spinach Juice Powder, Parsley Juice Powder, Kale Juice Powder
OxiSure™ Blend-Proprietary 300 mg
Carrot Powder, Green Tea Extract, Blueberry Powder, Plum Powder, Grape Seed Extract 95%, Cranberry Powder, Raspberry Powder, Tart Cherry Powder, Pine Bark Extract 95%, Broccoli Powder, 'HiActives' Tomato Powder 2000, 'HiActives' Carrot Powder 1200, 'HiActives' Spinach Powder 700, 'HiActives' Kale Powder, 'HiActives' Brussels Sprout Powder
Fiber Blend-Proprietary 1950 mg
Oat Betaglucan (Certified Organic)
Apple Fiber Pectin, Brown Rice Bran
Lecithin (Non GMO Soy) 1800 mg
Enzyme Blend 200 mg
Bromelain Extract (80 GDU Per Gram)
Papain, Protease, Amylase, Lipase, Cellulase, Lactase
Probiotics (Dairy Free) 200 mg
L. Acidophilus, B. Longum, L. Casei, L. Rhamnosus
Sprouted Barley 200 mg
(Certified Organic)
ResveraMax™ Blend-Proprietary 100 mg
Polygonum, Cuspidatum Extract (25% trans-Resveratrol), Acerola Cherry Powder (Certified Organic), Concord Grape Powder
Green Tea Extract (Decaffeinated) 100 mg
(60% Polyphenols)
Quercetin (98% Dihydrate) 100 mg
Milk Thistle Seed Extract 75 mg
(80% Silymarin)
Red Beet Root (Certified Organic) 50 mg
Cinnamon Powder (Certified Organic) 50 mg
Aloe Leaf Powder 50 mg
(Certified Organic)
Turmeric Rhizome Extract 20 mg
(85% Curcuminoids)
Atlantic Kelp Powder 15 mg
(Certified Organic)
Licorice Root Extract 5 mg
Other Ingredients:
Stevia, Citric Acid, Natural Flavors
Suggested Usage:
Mix one level scoop with 6-8 ounces of water. Stir or shake in a closed container and enjoy one or more times a day. As part of the Meal Replacement Kit™, combine one scoop of GreensFIRST and one scoop of Dream Protein together in 6-8 ounces of water along with one complete Essentials (Omega 3-6-9) softgel. First thing in the morning is ideal!
Refrigerate after opening.
GreensFIRST contains no yeast, corn, wheat, soy protein, dairy, egg, MSG, preservatives, artificial color or artificial color of artificial flavor.
Buy 1 Canister of Greens First for $44.95
or
Buy 3 Canisters of Greens First for $34.95 Each