Paneer / Cottage Cheese is very rich and important source when Indian vegetarian dishes comes into picture. I always order at least one paneer dish whenever I go to restaurants. I feel very awesome, feeling and perfect meal when paneer is there in my menu.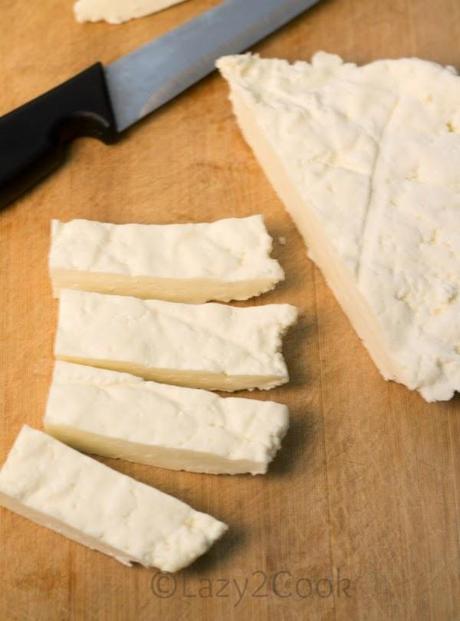 Recently I made shahi paneer, Paneer tikka, Paneer kebab, paneer Parathas and paneer pakode. I am in search of many more recipes of paneer. But as usual , as name suggest, I am too lazy too take pictures and making it in blog post. But , don't worry, I will be lazy , but consistent ;-)
So, point is, we can make paneer at home that too in 20-30 minutes and use fresh paneer in our meals. So, we avoid buying costly paneer from shop which has lots of chemicals and use our skills to give health to our family.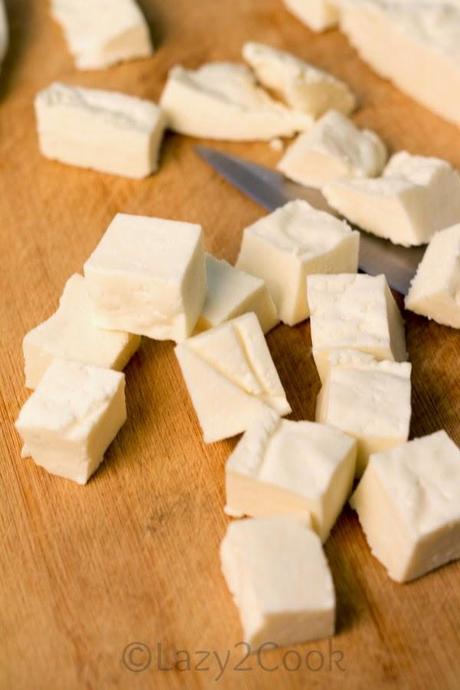 2 liter whole milk / full fat milk
1/4 cup lemon juice or vinegar

Muslin cloth
strainer
heavy object like mortar or water filled big vessel
1.Boil 2 liter milk in regular deep pot over medium flame.

2.When it starts to boil, we can see the small boiling bubbles, add lemon juice and keep stirring.

3.Milk will start to curdle and milk solids get separated from watery liquid. The liquid should look yellow and watery.

4.Put off the flame. The difference is so clear, we could see water and milk solids clearly different.

5.Put the muslin cloth in strainer and put strainer above one big pot. Pour curdled milk into strainer to remove yellow liquid.

6.Pour cold water over curdled milk solids to remove lemon taste from milk solids.

7.Gather the muslin cloth in your hand and gently squeeze to remove the excess water from milk solids.

8.Transfer muslin cloth into one plate and gently give little circular or square shape with hand.(all milk solids still in muslin cloth).The muslin cloth should be tight around milk solids.

9.Now , put heavy object like mortar or water filled vessel on top of this muslin cloth, so with the pressure on it, it will get tightened .

10.Press for at least 30 minutes and then paneer is ready to use. You can refrigerate it for 3-5 days for later use.
11.Refrigerated paneer is more firm and you can cut into cubes or triangles as you like. The leftover whey water can be used in making roti dough or any other preparations.