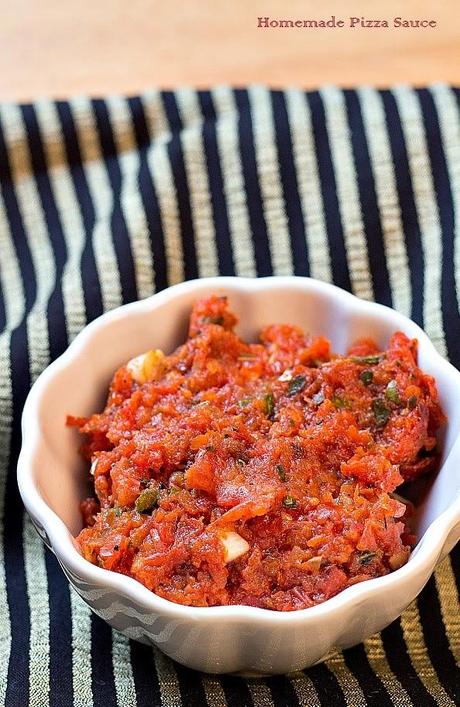 I have made veggie pizza in my new LG oven, I generally use store brought pizza sauce each time, but today I tried my hands on Homemade Basil Pizza Sauce.
And I was amazed with the taste of this sauce which is really very nice and fresh. I used my garden's fresh Basil leaves. Surely, we should go for Homemade pizza sauce for lot of freshness and health benefits to avoid preservatives. And now we tried on Homemade pizza sauce, I will prefer to make it at home, because it does not take long time , just takes lot of Tomatoes ;-)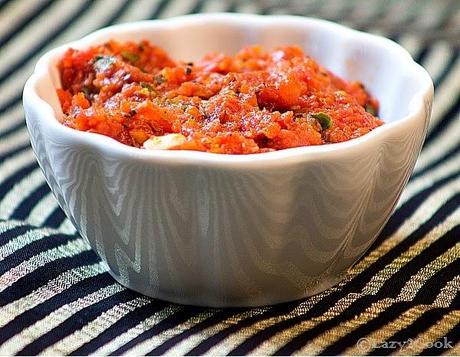 3 medium to large ripe tomatoes
4-5 garlic cloves, finely chopped
1 to 1.5 tbsp chopped fresh basil/tulsi leaves
1 to 1.5 tsp. dry oregano
2 tbsp olive oil
salt and black pepper as required

1.Rinse and then chop the tomatoes. Puree the tomatoes in a blender.

2.Heat olive oil in a small pan. Add the chopped garlic and sauté for few seconds on a low flame.

3.Add the tomato puree and sauté for 4-5 mins on a low to medium flame.
4.When the tomatoes are cooked, add chopped basil, dry oregano, salt and pepper.

5.Mix it very well and cook for 1-2 minutes on a low to medium flame.

6.check the seasonings add more salt or pepper if required.
After cooling, use the pizza sauce as a topping on pizzas or store in a bowl or in a small jar for 4-6 days in refrigerator.