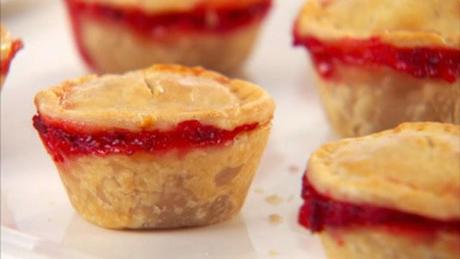 Recipe of Baby Strawberry and Honey Pies
The light baking pies has the exotic taste of strawberries, honey, lemon juice, orange zest and arrowroot. Also, you don't need to spend neither much time nor money on this pies. You may substitute cinnamon for arrowroot in the little muffins. Prepare them as snacks or for the appetizer with the recipe given here as under.
Serving: 12
Preparation Time: 20 mins
Cooking Time: 25 mins
Ingredients
2 tbsp Honey

½ tsp Lemon juice

½ tbsp Arrowroot

½ tsp grated Orange zest

8 medium hulled and cut strawberries

1 beaten Egg

Vegetable oil

2 Pie crust
How to make Baby Strawberry and Honey Pies
Step 1: Spray a 12 mini-muffin pan with vegetable oil.

Step 2: Keep a strip of parchment paper into each muffin cup and allow the excess paper to come out the sides of the cups.

Step 3: Unroll the pie crust and cut 12 circles of 2" and 12 circles of 3" of dough with the help of round cookie cutter.

Step 4: Press the circles of 3" at the bottom and side of the above muffin cups.
Continue Reading... Baby Strawberry and Honey Pies Recipe