Dear Classy Career Girl!

Have you ever blogged about posture? How you stand, sit, type, etc.? And how important posture is for our health and our professional image?
Thanks for your question!
This question reminds me of my first networking interview with Dawn Stanyon where she talked about how to effectively communicate at work. Part of our discussion was about how young professional women can have body language that projects confidence in the workplace. Dawn shared that there are many body language tricks we can learn to help communicate because the most important thing to convey confidence is great posture.
We are usually told to stand up straight, sit properly, and don't slouch but good posture is much more than that. Posture is necessary whether you're at home or at the office. Proper posture includes maintaining proper stance and spine alignment that has greater benefits than just for your health because it also affects your image at work.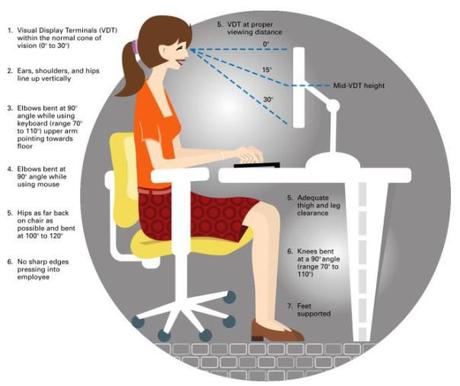 Good and proper posture has the following benefits:
Good posture improves the image you project. It makes you more attractive and professional.
Good posture helps reduce chances for neck injuries and back pain.
Good posture minimizes fatigue and pain from aching joints.  You also have the benefit of getting more air for better breathing.
Prevents from improper spinal alignment which can lead to headaches and discomfort.
Good posture improves your self-esteem.
Good posture helps your blood circulation, food digestion, air breathing, and waste elimination.

Sitting Posture
Most of us spend too much time in front of the computer which can lead to back pain and neck pain. For this reason, good posture is really important when sitting in office chairs or at your workstation. The key to avoid pain and long-term injury is to make sure that you are able to work comfortably and in neutral posture. So how can you do that?
Implement a user-friendly workspace: Adjust your office chair, your computer and desk pointing in a way that you feel comfortable. Check the position of your screen; make sure your chair is at the right height so your eyes are level with your computer monitor.
Keep your shoulders and back relaxed: Rest your wrist on your desk and keep your feet flat on the floor and refrain from placing your feet under your chair. Sit in a way that you'll feel comfortable and also professional and sophisticated.
Take a break from sitting: Every hour try to some stretching or take a walking break.
Standing Posture
You can promote a good standing posture by maintaining the natural curve of the spine.  Here's how you can maintain those curves:
Chest out, head back.
Keep your shoulders directly over your pelvis.
Tuck in your buttocks.
Position one foot slightly in front of the other and slightly apart.
Tighten the core abdominal muscles.
Stand tall and be confident.