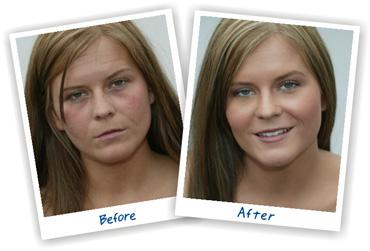 Are you tired of looking tired when you aren't really tired?  Under-eye circles can be really frustrating, especially if you have them even though you're well-rested and feel reasonably well.  Perhaps your mother or best friend is constantly telling you that you look tired and need to get more rest, and you keep having to re-assure them that you do actually sleep.  Or maybe — if you've gotten really skilled at the art of applying makeup — you are able to conceal your tired-looking dark eye circles with plenty of concealer and the perfect color of foundation!  But unfortunately, the people who see you before you've applied your "face" in the mornings still know you look haggard and old before you've applied your magic goop underneath your eyes.
What the beauty industry doesn't want women to know is that dark circles under the eyes are often an outward sign of an imbalance going on inside the body.  The good news is that there's an ancient herbal remedy for it that women have used for thousands of years to successfully get rid of eye circles for good — no makeup required.  And no need to photoshop your under-eyes in those family photos ever again!
That remedy is an herb called Hesperidin Methyl Chalcone, which is a derivative of the flavonoid hesperidin and is found in citrus fruits like oranges and grapefruit. One study documented that it works by lowering the filtration rate of capillaries; less blood flowing though capillaries close to the surface of the skin potentially means less dark bluish discoloration under the eyes. It's also thought to prevent leaking from the veins below the eyes, preventing the dark blue look from blood leaking below the surface of the skin.
Hesperidin Methyl Chalcone is also thought to support and protect the integrity of the vascular system, specifically the capillaries and veins. It has been shown to help strengthen capillaries by increasing capillary resistance, decreasing capillary permeability, and allowing vessels to dilate more easily.  This also makes it a highly effective remedy for menopausal and perimenopausal hot flushes.
Although Hesperidin Methyl Chalcone is seen as an active ingredient in many eye creams that are recommended by TIA, the scientific studies done on its effects are primarily related to oral supplements rather than topical creams and applications.
In a new herbal supplement called Warmi, hesperidin methyl chalcone is combines with maca root, a special tuber that grows in the Andes Mountains and has been used for centuries to promote fertility, stamina, and a youthful appearance.  Modern research shows that maca root is a potent adaptogenic herb that balances hormone levels in both women and men.  This reduces menopausal symptoms as well as the underlying hormonal imbalances that may be causing dark eye circles or a tired appearance.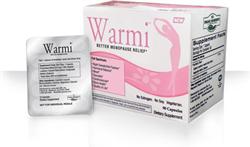 Warmi 90 Vcaps
Supplement Facts
Serving Size: 1 Capsule
Servings per Container: 90
Amount per Serving
Proprietary Blend 510 mg
- Organic Lepidium meyenii Root Extract, Hesperidin Methyl Chalcone
Other Ingredients: Vegetable Capsule, Microcrystalline Cellulose, Magnesium Stearate and Silicone Dioxide.
Suggested Use: For best results, take 1 capsule at breakfast, lunch and dinner time. Significant benefit has been noted in 1 month, improving over time.
Consult a physician if you are pregnant or nursing. Store in a cool, dry place. KEEP OUT OF REACH OF CHILDREN.
No sugar, lactose, gluten, milk, eggs, wheat, soy or animal products. Estrogen free.
Full Spectrum:
• Night Sweats/Hot Flashes*
• Hormonal Balance*
• Mood*
• Sexuality*
• Cardiovascular*
• Bone Health*
85% Organic Ingredients in a vegetable capsule
*These statements have not been evaluated by the Food and Drug Administration. This product is not intended to diagnose, treat, cure, or prevent any disease.