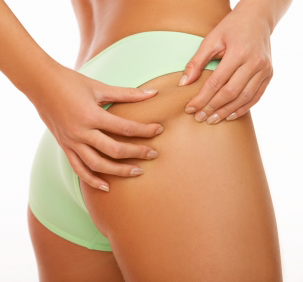 I used to have cellulite (and I was not a fat chick), but I don't have it anymore.
Presumably, this is why I am often asked how to get rid of cellulite.  Conventional "wisdom" states this:  Cellulite is genetic and normal, and there's really nothing you can do to get rid of it.  Even babies get cellulite, so it's obviously just caused by being born blessed with cute and adorable cellulite dimples and lumps all over your thighs and butt!  Lucky you!
But I don't parrot conventional wisdom here on this blog nor in the way I choose to live my life.
Cellulite is ugly and your DNA didn't intend for you to have it.  The reason you have cellulite is because you've been poisoned and your body's natural detoxification mechanisms have been overwhelmed by the steady influx of more and more poison at a faster rate than your body was designed to be able to handle.  Some people get cellulite while others don't because there is variation in single nucleotide polymorphisms (SNPs) that influence detoxification.  Babies have it because they have received toxic overload from their mothers in the womb.  (This is why it would be a good idea to do a detox before trying to get pregnant, ladies.  Avoid passing on your toxins to your baby by getting the toxins out before getting pregnant.)
Now whether you believe any of that or not, if you follow my protocol for getting rid of cellulite you will see it gradually go away.
I thought about only making this information available to my health coaching clients who are signed up for the 30 day weight loss plan, but I've decided to post the entire protocol on the blog because there's a lot of misinformation on "how to get rid of cellulite" all over the internet (mostly written by vegans claiming that meat and dairy products are to blame for making Americans so sick and fat), I have just decided to post this information for free and do some myth-busting (and a lot of cellulite blasting for cellulite-ridden readers).  So if you're ready to get rid of your cottage cheese thighs and lumpy butt, read on!
Step 1: Do Not Consume Fluoride!

The most crucial aspect of this process is to make sure you are using a healthy water source.  This means you should not be drinking tap water (and if your water is chlorinated or fluoridated, you really shouldn't be bathing in it either).  Fluoride accumulates in your bones (including the bone marrow), joints, soft tissues, thyroid gland, and even your pineal gland (your third eye).  It also accumulates in your lymphatic system and promotes the accumulation of cellulite.  The best kind of water to drink is spring water or mineral water.
Stop using fluoridated toothpaste, which does not prevent dental caries but does stain your teeth and ruin your health.
There are a few hidden sources of fluoride you need to be aware of including non-organic vegetables and fruits (pesticides contain fluoride and other endocrine disruptors, which is why they kill insects).  Washing your produce does not get rinse away the pesticide residue, so either buy organic or grow your own organic produce.  Non-organic meat and dairy products contain fluoride too because those animals eat pesticide-laden products that bioaccumulate in the animal's flesh, bones, and secretions.  Some medications such as anti-depressants also contain fluoride.
Start the process of eliminating fluoride from your food, water, and toothpaste, and then continue to step 2.
Step 2: Dislodge and Displace the Cellulite
For this step, you'll need:
Raw Reserve Green Superfood Powder: Mix 4 rounded tablespoonsful in 1 – 2 liters of water and drink daily.  (Alternatively, you can make your own fresh-pressed vegetable juice using similar ingredients — including wheatgrass, dandelion, blue-green algae, bladderwrack, aloe vera, cayenne, digestive enzymes, and probiotics.  Drink 2 liters of it daily.)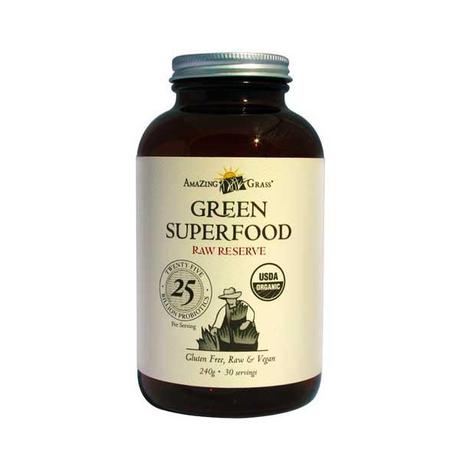 GSF Raw Reserve 8.5 oz (30 serv)
Dietary Supplement
• Gluten Free
• Vegan
• USDA Organic
Serving Size: one rounded tablespoon (8 grams)
Servings per Container: 30
Amount per Serving
Calories 25
Calories from fat 5
Total Fat less than 1 g
Total Carbohydrate 4 g
Dietary Fiber 2 g
Sugars less than 1 g
Protein 2 g
Vitamin A (as beta carotene) 3695 IU
Vitamin C 20 mg
Vitamin K 80 mcg
Thiamin 0.4 mcg
Riboflavin 0.6 mg
Vitamin B6 0.2 mcg
Calcium 50 mg
Iron 2.7 mg
Chlorophyll 43 mg
Greens Blend 5,500 mg
- Amazing Grass proprietary aquatic algae blend (Organic Spirulina, Organic Chlorella, E3 Live AFA – Organic Aphanizomenon Flos-Aquae), Organic Barley Grass, Organic Wheat Grass, Organic Alfalfa, Organic Nettle, Organic Kale, Organic Dandelion, Organic Kelp, Organic Bladderwrack, Organic Rockweed, Organic Sea Lettuce, Organic Dulse, Organic Alaria
Herbal & Support Foods Blend 1,555 mg
- Organic Maca, Organic Burdock Root, Organic Ginger, Organic Aloe Vera, Organic Cayenne
EFA Fiber Blend 700 mg
- Organic Flax Seed, Chia Seed
Probiotic & Digestive Enzyme Blend 25 Billion CFU's 255 mg
- Bifidobacterium bifidum, Bifidobacterium breve, Bifidobacterium longum, Lactobacillus acidophilus, Lactobacillus casei, Lactobacillus helveticus, Lactobacillus paracasei,Lactobacillus plantarum, Lactococcus lactis lactis, Streptococcus thermophilus, Protease(Aspergillus oryzae), Amylase(Aspergillus oryzae), Lipase(Aspergillus niger), Lactase(Aspergillus oryzae), Cellulase(Trichoderma reesei)
Bone Broth:  This is an incredible detoxifying as well as a deeply nourishing food, and its powerful healing properties are one of the the reasons why chicken soup is one of the best cough & cold remedies you'll ever find.  It helps to dislodge toxins from your lymph while flooding your body with minerals and other important nutrients.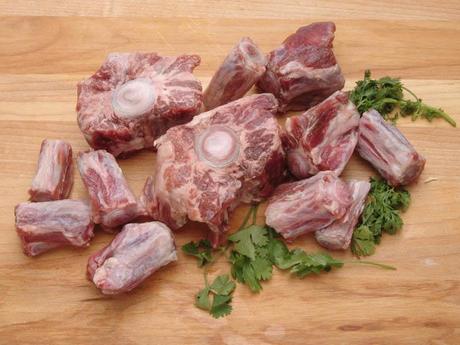 To make bone broth, use bones from organically grown animals only (and preferably those that have been grass-fed).  You can get the bones from a butcher, or look in the freezer aisle in the "raw dog food" section for frozen ones.  The idea of cooking a bunch of bones may sound kinda gruesome or cruel, but it is not nearly as gross as having a lumpy butt or cottage cheese thighs, so please don't skip this step!  Take your pick of knuckle bones, beef oxtail, marrow bones, long bones, or a combo of these.  Put a 1 pound portion of bones in a giant pot (just don't use an aluminum one) — preferably an electric slow cooker.  Add a couple of tablespoons of raw apple cider vinegar (
Bragg
is a good brand).  Fill the pot with water and cook for about 18 hours.  Drink at least 1 liter (16 oz.) of broth every day or use it in soups.
Proteolytic Enzymes: These will further break down the cellulite and get rid of it forever as long as you don't go back to drinking fluoridated water or milk from factory farmed cows and eating lots of heavily processed foods.  Proteolytic enzymes can also assist healing from traumas such as torn cartilage or strained muscle, a herniated disc, and scar tissue.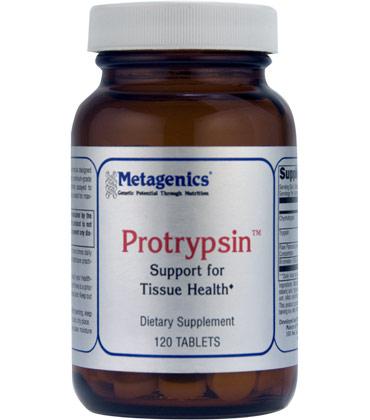 Protrypsin 120 tabs
Supplement Facts
Serving Size: 2 Tablets
Servings per Container: 60
Amount per Serving
Chymotrypsin not less than 6,000 USP Units
Trypsin not less than 6,000 USP Units
Raw Pancreas (porcine) Concentrate 100 mg
Bromelain (2,400 GDU/g) 133 mg
Other ingredients: Microcrystalline cellulose, stearic acid, croscarmellose sodium, silica, and enteric coating (deionized water, cellulose acetate phthalate, glycerol triacetate, ammonium hydroxide, hypromellose, maltodextrin, and polyethylene glycol). Contains: milk.
DIRECTIONS: Take two tablets one to three times daily between meals or as directed by your healthcare practitioner.
CAUTION: If pregnant or nursing, consult your healthcare practitioner before use. Do not use if there is a prior history of or a current peptic or duodenal ulcer. Keep out of the reach of children.
STORAGE: To help maintain potency after open-ing, keep this bottle tightly closed and store in a cool, dry place.
Do not refrigerate. Refrigeration may cause moisture condensation on the product.