Have you ever lost your important files ? Have you ever faced a situation where you forget your Pen Drive just before giving a presentation ? 
Then you must sign in to Drop Box .Dropbox is one of the leading file hosting service which is giving a 2.25GB free online storage space.
But some times this default storage limit may trouble you. If you wish to add your camera rolls to your dropbox account then you definitely need to increase your space.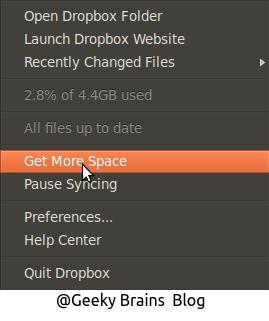 Of course you may not apt for paying options. But here is a good news that you can easily increase your Dropbox storage limit to 18GB.
To get an additional space of  2.35GB follow the instructions
         Wh

at you have to do

                               -   What you

will get
complete the getting started guide                 -    250MB

link your account with facebook                   -    125MB

link your account with twitter                       -    125MB  

tell why you love dropbox                            -    125MB

follow dropbox on twitter                             -   125MB

post something about dropbox on twitter   -   125MB

Upload your camera pictures too dropbox   -   1.5GB    
  Now there is one more option to get space upto 18GB . For this you need to refer dropox to your friends. If they accept and register dropbox  you will get 500MB storage. thats it. All you need is to invite all your friends and ask them register for Dropbox. 
To give you an idea you can see my earned space on dropbox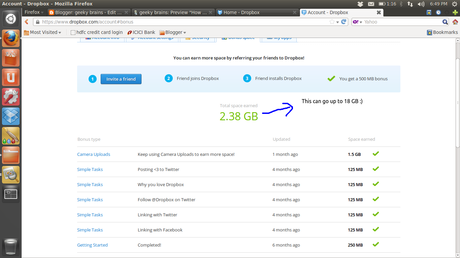 You can wonder why to earn space like this if google drive is giving 10GB by default. But DropBox has a lot of advantages compared to any other cloud  storage services . particularly the uploader for Dropbox is very good.So start dropping  all your files at DropBox.