The point of a compelling headline is to get the prospective reader engaged and ready to read your content. The impact of small headlines is enormous. It can be the difference between 100 people opening you article and 1,000,000. If your headline is subpar, your article (and your time) is a waste.
There are different philosophies to writing a headline that grabs the reader. But let's take it from the socially conscious content provider, UpWorthy, who garners millions of viewers on single posts simply from their fantastic, often quirky, headlines. Context is king and the 25 rule headline works.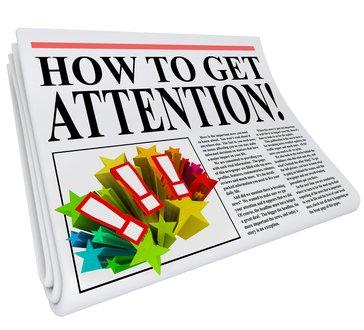 What's the Deal With 25?
Editors at UpWorthy are required to put together 25 headlines for every article they publish. Get to the point in a way that speaks to the masses. But there are rules.
Don't be too crafty: If you're a marketer promoting, a copywriter writing or a business owner tweeting, "cleverness" can be confusing.
Don't give it all away in the headline: What's the point of the reader opening the article?
Allow readers to form their own opinions.
Avoid sadness: Feel free to touch readers' emotions with excitement, anger, mystery and surprise, but nothing sad.
Shock and awe is overrated. Your mom is going to read this. Low controversy: "Baby Laughs at Self in Mirror" will generate far more social shares than something truly controversial.
It's not an easy task to write headlines while keeping these mantras in mind. Sometimes companies will test the best headlines on Twitter to see which gets more clicks and shares. Hypothetically, if a company writes "Retweet for a chance to win 500 Overnight Prints business cards" at 9 a.m., they should do another tester phrase at 10 a.m. saying, "Check out our spine-tingling business cards, and you could win some for free!" Which version generates more business wins the headline to share on other social media platforms.
Twitter Headlines
With the 140 characters and text display Twitter offers, it's time to ditch wordiness and get to the point. Use actionable words that follow the SHINE method. Twitter published data about what works:
Asking for a download: "Click here to download now," can increase traffic by 13 percent.
Asking for a retweets: "Retweet this for 10 percent off our next purchase and a chance to win Giants tickets," increases retweets by 311 percent.
The 20 most valuable words, according to social media scientist Dan Zarrella, include: "you," "please," "free," "help," "retreat," "post," "blog," "10″ and "check out."
SHINE Method
Kissmetrics's SHINE formula, offers perspective on what options you have to draw in a reader.
S – Specificity helps readers form images in their minds, which arouses interest. Vagueness has no place online, especially in the headline of any piece. Avoid subjective claims like, "The Healthiest Green is Kale." Yawn. We know it's good for you. Figures, on the other hand draw interest from the readers you want. They offer legitimacy.
H – Helpfulness speaks the issue that the reader wants information on. Your headline must clearly show the reader how the article will help them.
I – Immediacy tells the reader it's imperative they don't save the tab for later, but the article must be read right now. It's that important. Desires overpower need, so by creating emotional appeal, you are teasing the reader to open the article. The rest better be good.
N – Newsworthiness speaks volumes that haven't been heard before, or so the reader thinks.
E – Entertainment value appeals to the information grazer. Don't be a bore. It will get you absolutely nowhere.
Guest post by: Kyle Lexington
Kyle is a business consultant and freelance writer with three dogs and three kids. They all live in upstate New York.