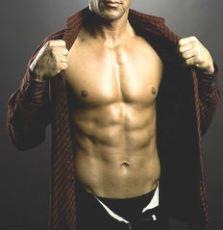 Everybody wants to build a six pack abs. Here I'm sharing  some ideas about how to build six pack abs having weight loss exercise for men,
Interval Training Exercises
Interval training exercises are specially advised for obese and overweight people. It is a more intense workout as compared to cardio and has the ability to speed up the metabolism rate without affecting your health. As per a clinical research made on its effectiveness, it was concluded that such exercises can help you burn more calories while improving the aerobic capacity. Start with 30 seconds of workout and then slowly speed up to 1 minute. Performing such exercises for 12-15 times will help you achieve your ideal weight.
Jump-roping and Box Jumps For Stamina- building Weight Loss
It is the most popular type of exercise for building up the stamina and shedding of those unnecessary pounds. It also improves the body posture and encourages momentum building with the help of different level of boxes on which you will have to jump.
Squats
Men who wish to lose weight from lower abdominal area such as thighs and improve the body muscles can perform this exercise. It may seem easy to perform, but chances are high for you to get tired in 3 minutes. You are advised to perform this exercise for not more than 10 minutes. If you have enough time and you are not much exhausted then you can do lunges as well.
Tips to Consider
While following a regular workout, you are advised to switch to a healthy option of eating.
The basic foods which contain nutrients and vitamins, fiber, iron, and calcium along with the perfect balance of carbohydrates, proteins and fast must be given to the body. Foods such as eggs, fish, chicken, seeds, vegetables, oils, pulses and soy foods are advised for quick weight reduction.
Once you understand different weight loss exercises for men and their importance, ensure that you follow them on a regular basis. If you had any kind of injury in the past then I'll suggest you to consult with your doctor and diagnose whether it is safe to perform weight loss exercises same as to in the past. Performing such types of exercises are a healthy way to lose weight and stay fit for a long time.