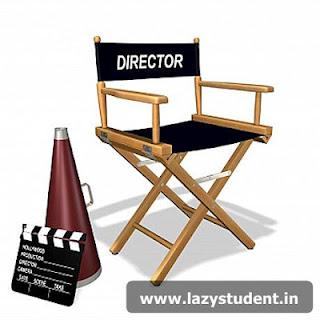 Hello friends, today i have come up with a general topic how to become a successful Telugu film director.I am very happy to share my views with you all because this post is only meant for sharing my views with you all about what are the qualities an upcoming director should have. Many of our readers are messaging me about this very topic but questioning in a different way like how to approach a director..? or how to narrate a story to a producer etc., i will deal all the above questions in my upcoming posts but for time being i want to discuss about what are the tools should an aspiring director should have because without sword we can win the war..like wise, without effort and technical knowledge we can't flourish in film industry.
Have Your Basic Graduation Degree
Don't switch back to another webpage am not going to take a lecture about this now :). But the fact is fact..what ever may be your passion according to current trends every individual should have at least a graduation degree to support himself in the current world.you. Without having a proper degree u can't survive properly and u can't get proper respect from anyone what ever may be the industry. Degree brings you the dignity to your profile...and you must know that as a film director you have to deal with 24 crafts and you should have minimum grip and basics about each and every craft since you are the leader of the cast and crew. And your education will surely help in grasping new things quickly and also helps in knowing technical details well..for example..if  you have a dream of becoming a good cinematographer then you should have minimum knowledge about science..you should know what a focal length is..how to calculate it these are all basic things to achieve all those u need education. So please have a basic degree. Because life is more precious than passion.
Go To A Film School
If possible please try to study in a film school...if u don't have a chance some how join as a assistant director under some reputed director in industry this is the second best alternative way you have so that you may gain some knowledge about film making but a small advice don't waste your time as a assistant director for years together always remember your goal is to become a director and you are learning as a assistant director that's it..once after gaining some confidence just come out and start your trails..always focus on your goal.
Give Your 100% Don't Take Chances In Your Efforts
Always remember, when your goal is high then your efforts must also be the same. Give your 100% at least for 2-3 years. Don't think about second option what you have in your hands,am sorry to say this but the truth is that Indian film industry is just equal to gambling. You may gain r you may loose but effort is a must. If you have worth someone who like to encourage new talent may approach you. We can't predict what will happen all you have to do is..be prepared and give your hundred percent until you reach your goal. If you have friends in industry that may bring some favors for you. Try very way which is possible and within your reach.
Get Your Family Support
Friends, this is very important and essential part for your film career, gain your parents confidence first because u have to sustain for 2-3 years without any income in a city like Hyderabad. Leave about luxuries, at least you should be in a position to get on with your minimum needs like food,shelter etc., for that you may have to depend on your family because chances are so low that if you go for part time job you may loose your focus on your trails. So,first think about this and take your next step.
Have Some Short Films In Your Kit
Always remember one thing, everything in life will come to you based on your talent and abilities leave about 1% who jump to top only because of luck remaining 99% will get based on their talent. So, you should project your talent in order to gain director's confidence(in case if you want to join as a assistant to him)/ producer's confidence(in order to get a directional chance). The only way for showing your talent is nothing but directing few short films with good professional touch.
Have Patience And Be Focused On Your Goal
Always remember one thing, film industry is a mixture of everything, Try to find good and in case if you face some trouble try to forget it as soon as possible, and if u don't have that courage then my advice would be get away from all these things. You should tune your heart in such an extent that it should over come all the difficulties which comes your way. Its not that easy like what you think, i know some people who thought to quit the industry after working for 15 years as a assistant director because of an insult done by the director in front of the crew. If u have strong belief in ethics then please forget about all these things and try to do some productive work.I have lots of examples like what i have narrated above. So think twice r thrice before taking a decision and please discuss with your parents. Be patient until you get your chance because i have already told you its just like a gambling..be strong and be prepared for investing 3 years of time for trails itself minimum. But give it everything.
Be Humble, Honest And Respectful With Everyone
Yes, Telugu film industry is very egoistic, you can't do all those what i said in the heading, u can't be honest...surprised...? well i will tell you one example..one of my friend worked as a assistant director under well known director for few months, my friend doesn't know how to be  diplomatic for that matter doesn't know that he should not pin point the mistakes taking place in the shoot and straight away he said the same thing to the director about the mistake what he found..from that moment he was targeted and harassed by the director until he(my friend) left the crew. But still try to be diplomatic,respect others it may bring some good for you. Don't ever be arrogant and restless it may damage your chances.
My Advice
All the above things which i have mentioned are from my own experiences and some are taken from my friends..Entering into Telugu film industry is not that easy. You should be prepared for everything. If you don't believe me just go Krishna Nagar in Hyderabad they will narrate you so many sad stories.Am not discouraging you but make up you mind strong.If you get a chance without any struggle well and good..but try for 3 years if you don't get a chance then come back and look for some other job which you like. Am telling you guys again...Life is more important than passion.If you guys have few more ideas please feel free to share with your fellow readers. Please feel free to comment.