Do you guys still remember on my previous blog post on attending Panasonic Bread Maker Workshop organised by OMY Blog? I was impressed by the functions and final bread texture bakes by the bread maker that I had ordered the bread maker from Panasonic. Due to Christmas festive season, I had waited till Jan 2015 for the stock to arrive. Finally the wait is over! I was so excited when I had finally received my Panasonic Bread Maker on the last week of Jan 2015. Been using the bread maker to bake loaf of breads for our weekday morning breakfast. So far, I have only tried baking bread loaf and can't wait to experiment different type of breads or cake using the Panasonic SD-P104 Bread Maker.
After using the Panasonic Bread Maker myself, here are my reviews based on my own personal experience:
1. Ease of Operation
It is very easy to operate the Bread Maker. Just select the desired menu, any raisin to add in and the type of crust (light or medium). With a press of 'Start 'button, all job will be done by the Bread Maker!
2. Ease of Cleaning
You will only need to wash the bread pan and blade. The inner of the Bread Maker, you can just use kitchen towel to wipe it clean.
3. Get a load of bread in just 2 hours using 'Rapid Mode'
No joke, I had tested and proven the 'Rapid Mode'. You can really get freshly bake loaf of bread in just 2 hrs using the 'Rapid Mode'. All I need to do is to prepare the ingredients and it had taken me less than 20 mins to get ready the ingredients.
However, I do hope that in future, Panasonic can design a Bread Maker with glass window such that users are able to see the baking process.
Really love the aroma of bread that fills the kitchen during the baking process.
WALNUT AND APRICOT BREAD RECIPE
Ingredients:
250g Bread flour
10g Butter
1 tsp Salt
2 tbsp Castor sugar
1 tbsp Milk powder
200ml Cold water
1 tsp Instant yeast
30g Apricot (Diced into cubes)
30g Walnuts (Finely Diced)
Method:
1. Place above ingredients (except mixed apricot, walnuts and yeast) in the bread pan.
2. Place yeast into the yeast dispenser.
3. Select Menu no.2 for "Rapid "mode, and select "Raisin" mode, next press start.
4. Once you heard a Beep sound, add in the diced apricots and walnuts to the pan.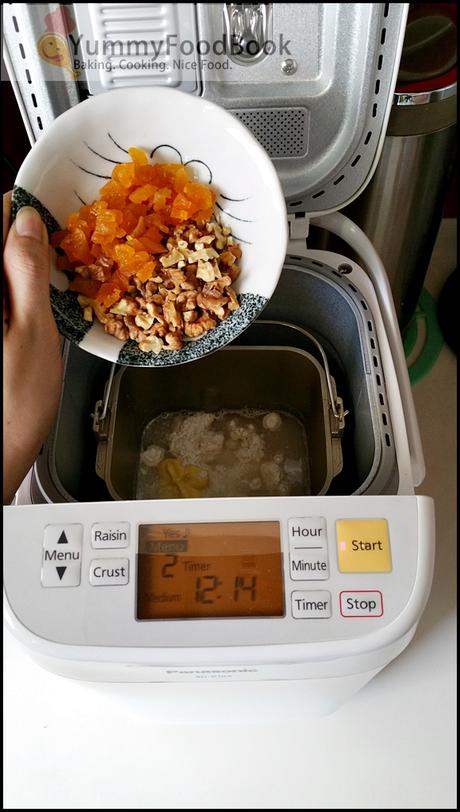 5. Close the lid and press 'Start' again, this will prompt the machine to continue the baking process.
6. Once ready, remove bread from pan, leave to cool before cutting.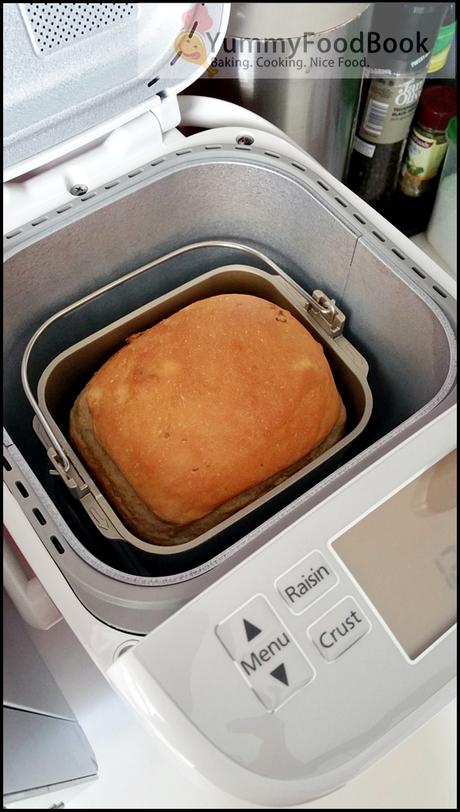 *Note: Best baked in Panasonic bread maker SD-P104
Baking time: 2 hrs using "Rapid" mode.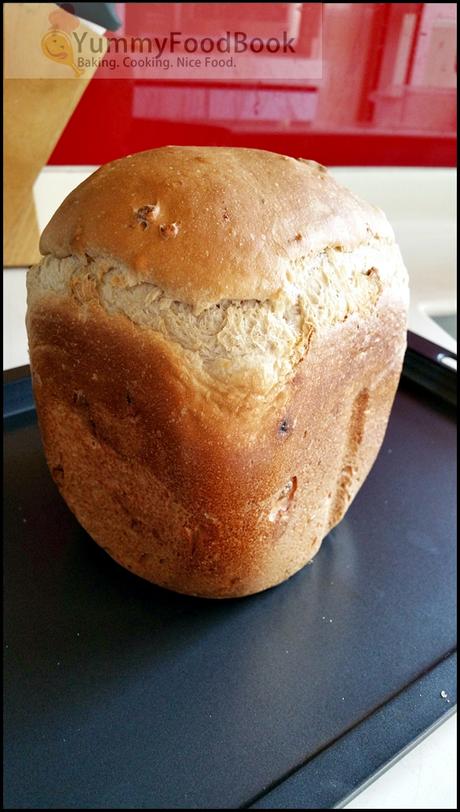 What is the best thing for baking your own bread? To me, it is the choices of adding my favorite nuts and fruits to my bread!
Happy Baking Everyone!