Hey everyone! For today's post I am sharing my 2 cents of knowledge on how to apply eyeshadow correctly. I am not an makeup expert nor do I have any professional knowledge, I am just sharing few tips that I have acquired from doing makeup and watching others. So here we go: Before we get started, here is a picture with commonly used terms for eye makeup. Hopefully this picture will make you better understand the points.

1. CORRECT MAKEUP BRUSHES :  By correct makeup brushes I dont mean the super expensive ones, what I mean is to use the makeup brushes as per your eye shape. Suppose you dont have much space between your eye lid and crease area and you are using a large blending brush you will end up over blending your eyeshadows, and vice-versa if you have more lid space and you are using a smaller blending brush you might not be able to blend enough. So be careful while picking up your makeup brushes.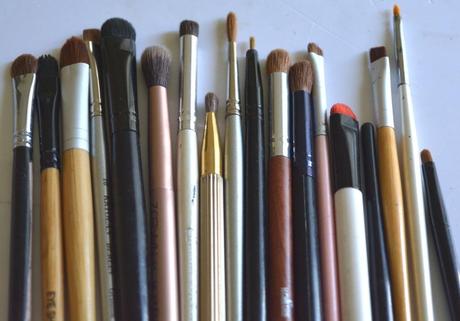 MAKEUP BRUSHES FOR EYE MAKEUP
2. EYE SHADOW BASE/ PRIMER :
This is essential to all eye makeup, even if you are just wearing single eyeshadow you need to apply an eyeshadow base. Not only will it make your eyeshadow application smoother and even, it will ensure your eyeshadow stays put and most importantly the color shows up on the lids. Also if you have the problem of eyeliner not saying on the lids for long you need to apply an eyeshadow primer or base.
3. HOW TO APPLY THE EYESHADOW ON THE LIDS :
Place the flat eyeshadow brush flat on the eyeshadow pat it on the eyeshadow and always always tap off the excess product, even if you think you have not applied much product do pat the brush and then apply the eyeshadow, start with applying the eyeshadow on the middle portion of the lids so that you ca always blend it both sides and avoid over application. Also always make sure you apply the color evenly.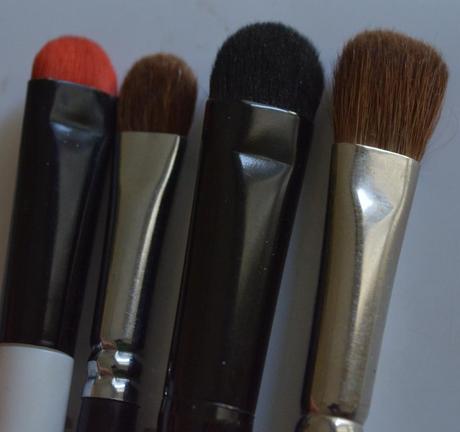 flat eyeshadow brush
4. HOW TO BLEND THE EYESHADOW IN THE CREASE :
The million dollar question. Lol!! I am not perfect at it but can surely share how I do it.  Firstly if you are a makeup beginner you need to have 2 blending brushes to make your job easier.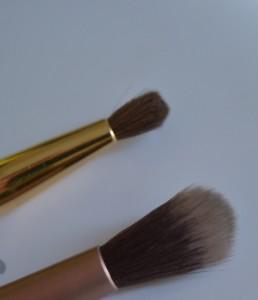 BLENDING BRUSH
Next always try to apply the eyeshadow for the lid area only till the lid area and dont extend it to the crease.  Then take your blending brush and even out the eyeshadow you applied on the lid so that there is no harsh line. Then apply your crease color (eyeshadow) starting from where your lid eyeshadow ends. Now start to blend  your crease using the second blending brush, and keep on blending till no definite line exists.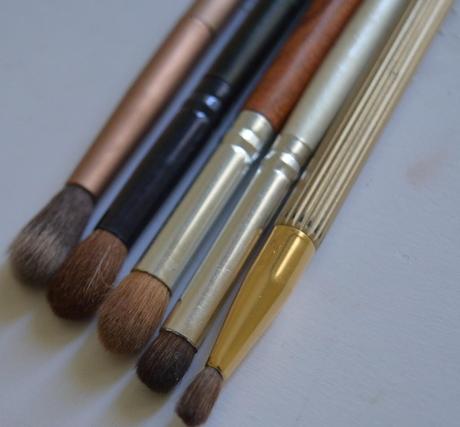 BLENDING BRUSH
5. HOW TO APPLY THE HIGHLIGHT SHADE: The highlight shade is applied under the brow bone and sometimes in the inner corner or tear duct. Now there is no rule as such to what finish od highlight eyeshadow one should use. But generally speaking, most like to use a matte highlight if the entire look is metallic/shimmery or use a shimmery eyeshadow when the rest of the eye makeup is matte to spruce up the look. 
You can use your flat eyeshadow brush to apply your eyeshadow under the brow bone area, and for applying the highlight shade to brighten up your eyes, you need to use a smaller brush,
smudger brush
is ideal for this purpose. 
I have also been asked a lot many times by friends and cousins as t how to decide which colors will gel together, which color will look nice , how to select the colors from a palette.
What I have suggested them is that if you are very confused then take the help of the internet, see images of the kind of makeup you like and then choose from it and use the same color eyeshadows . Another thing you can do (which I did and still do at times) is swatch the eyesahdows on your hand and see what colors are going well together, blend two colors to see how they look upon blending, doing this will give you an idea how the colors look together.
Lastly I would like to add that there is no makeup "rule" that you "have to have to" follow. These are some general guidelines if you are a makeup beginner or struggling with blending the eyeshadows to perfection or have trouble in choosing the colors for eye makeup. Hope you all find it useful. Until next time..
You Might Also Like
BRIGHT EYESHADOW MAKEUP LOOK FOR SUMMER 2014
DATE NIGHT MAKEUP AND HAIR : Black Smokey Eyes
QUICK AND EASY MAKEUP WITH A POP OF COLOR
LILAC MAKEUP FOR NC42 SKIN TONE
L'oreal Infallible Eyeshadow Endless Chocolate Review : Best eyeshadow for Brown Eyes
LOREAL INFALLIBLE EYESHADOW COSMIC BLACK REVIEW , SWATCHES AND FOTD
MAKEUP AND OUTFIT FOR VALENTINES DAY LOOK 5
VALENTINE'S DAY MAKEUP AND OUTFIT IDEAS Look 4
VALENTINE'S DAY MAKEUP AND OUTFIT IDEAS LOOK 1
Valentines Day Makeup And Outfit Idea Look 3
Tags:
how to, how to apply eyeshadow correctly, makeup tips and tricks, makeup tutorial