How often do low-carb fans eat non-low-carb foods?
We recently asked our members this question and got 2,278 replies. Here are the results: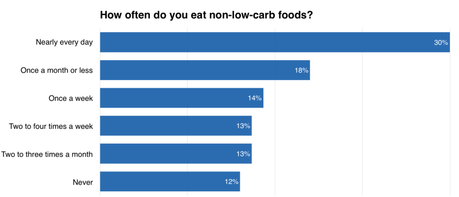 As you can see, ne in three members eat it daily, while more than half only eat non-low-carb foods once a week or even less often. I think that's pretty impressive actually.
To quickly and effortlessly get into the habit of healthy eating, take the Two-Week Low-Carb Challenge!
Earlier surveys
The Biggest Fears on Low Carb - and the Solutions
Does Low Carb Work?