hi everyone,
how many red lipsticks do you really need? for me alot, i dont know why, i don't know why i have so many but a girl can never have too many red lipsticks.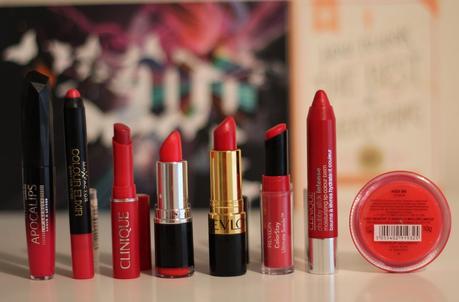 so let me show you mine:
 left to right: rimmel apocalips, maxfactor color elixir, clinique almost lipstick in luscious honey, mua lipstick, revlon lipstick, clinique chubby stick intense in mightest maraschino, mua lipbalm in kiss me.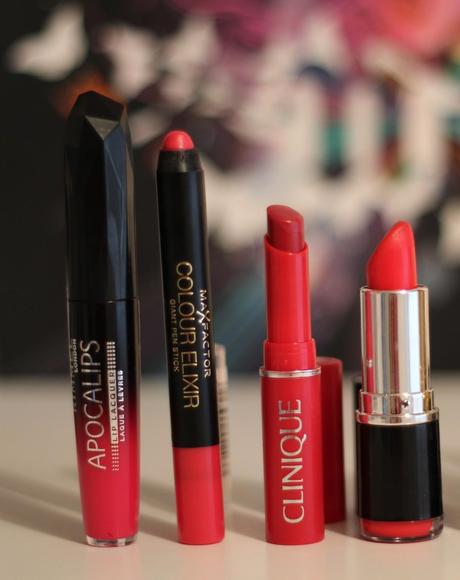 rimmel apocalips: is more of a darker pink red, it has amazing staying power and is abit like a stain so it lasts all day, in the link i show you How i wear rimmel apocalips. maxfactor color elixir: is abit more of a sheer red, alot more wearable for an everyday color if you are scared for a full red. clinique almost lipstick: is pretty similar to the maxfactor color elixir but sheer-er still, abit more like a balm then an actually lipstick mua lipstick: was the first red lipstick i got, i paired it with a lip liner to get My favorite red lip, this is a pure red lipstick.


revlon: i won this in a giveaway which is ace, it was part of the shanghai collection, again abit of a deeper red. revlon colourstay : this is similar to the rimmel apocalips as in it stays put, its like a stain on the lips, this feels differently though, its a lipstick consistency but actually sets and doesn't budge at all. clinique chubby stick intense: this again is like a pure red, it doesn't last as long as most lipsticks, it does stain a little on the lips, but it is easier transferable, not my favorite red at all but i love the colour, so i have to keep it. mua lipbalm: ive included this because it is a very bright lip balm and you can wear it on its own. It is part of their love hearts collection.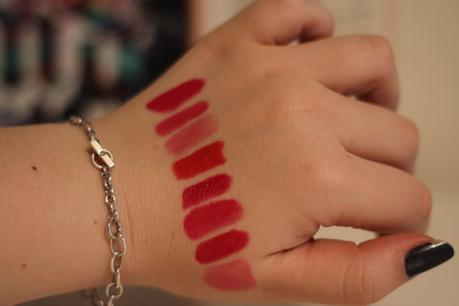 here is swatches of all the lipsticks and going from the top, the rimmel apocalips is top then in order going down. I've included a lip balm in there because it is a very red one, and you could get away with wearing it by itself, or if you want to put it over another red lipstick it just gives them a really nice glossy color.
so how many red lipsticks do you own? just the one like a normal person? xxxx