Originally posted on noonegetsflowersforchronicpain: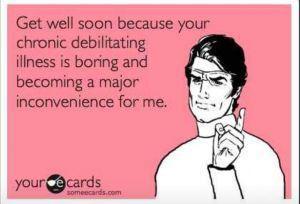 Anybody with chronic pain ever feel like this is what your friends or family are thinking? I sure as hell know I used to! I received a question last night that I felt was important and appropriate enough to write about. How to respond to people when asked: "How are you feeling?" People mean well (most of the time) but it is humanely impossible for people without chronic pain to understand what this condition is like. How many times can you say to someone: "awful, thanks." It gets old for everyone. Prior to how I manage my pain now I literally never really knew how to respond to people. I never wanted pity and I never wanted people to think I was crazy or just seeking attention. Although once I started hitting rock bottom people stopped asking how I was feeling. It was pretty obvious. Laying in a bed crying all day and drinking most nights pretty much summed up how I was feeling.
Caregivers or the people who love a person with chronic pain truly have zero clue how to help. How could they, when we ourselves are usually at a loss for what to do. My dad fought with me for ten years searching for a cure. As a parent, I now know I would do absolutely anything if my daughter was suffering just as my dad did. However, it has to be frustrating for caregivers too. One of my good friends from the Mayo Clinic who suffered chronic pain lost her husband to suicide. I will never know his exact reasons but I do know he felt so helpless that he was unable to help his wife with her pain. I am sure there were other reasons but I met this man at the Mayo Clinic and he shed many tears of frustration and loss because he did not know how to help his wife.
View original