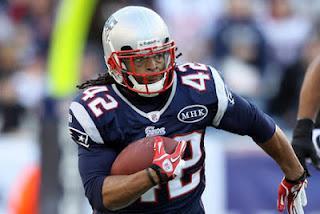 Photo: Getty Images - Elsa
- Troy Ballard
The Cincinnati Bengals were flirting with danger last season at the running back postion with the oft-fumble prone Cedric Benson floating in and out of relevance throughout the entire year.
As it became evident that Benson was not going to be re-signed, the Bengals' front office decided to take a pass on drafting a rookie back, and instead made a move for a veteran who never fumbles the ball -- BenJarvus Green-Ellis.
Green-Ellis has never fumbled the ball in his career. Never. Not once.
Considering that Cincinnati witnessed Benson fumble five-times in two games last season (I suppose oft-fumble prone is an understatement), the team was looking for consistency. That's exactly where Green-Ellis enters the fold.
Most are familiar with Green-Ellis for two reasons: the never-fumbling gig he has going, and that he was always the guy in New England that would break-out for huge runs when Tom Brady had the defense playing back.
And in summary, that covers Green-Ellis about as good as it can get. By no means are the Bengals (or any realistic NFL fan) expecting him to bust-out this season and post Adrian Foster-esque numbers, because that's just not going to happen. But, Cincy can count on 'The Law Firm,' as he has been so passionately titled, to grind out and keep consistent pressure on the defense.
In the 2010 season, Green-Ellis was handed the majority of the hand-offs in New England, and subsequently, he was able to break the 1,000 yard mark while scoring 13 touchdowns. In 2011, his carries dropped as the Patriots went with a community backfield, and he finished with only 667 yards and 11 touchdowns.
However, one number that stands out in both recent seasons for Green-Ellis is his total touchdowns.
There's little doubt around the NFL that when a goal line situation arises, Green-Ellis is the go-to guy. The majority of his touchdowns were scored from inside five-yards or less -- the man is a monster on the goal line, and should immediately improve a Bengals team that lacked a sure-fire running option in the red zone.
But don't be fooled -- Green-Ellis is just as productive outside of the red zone as he is in it. Look up the definition of 'power back' in the dictionary, and there will be a bold image of BenJarvus carrying half the defense on his back for a first down.
Cincinnati has been lacking that true three-down back for quite some time, and Green-Ellis will fill the role to perfection. During his tenure in New England, more specifically the '10 season, he showed that he can shoulder the full working load of a starter and also be highly productive.
With the added addition of Green-Ellis, and with it a consistent rushing attack, an immense amount of pressure will be taken off quarterback Andy Dalton. Last season he was forced to carry drives and go above and beyond in the passing game to sustain and hold leads. That will no longer be an issue in Cincinnati, as The Law Firm will not only be solid during the first three quarters, but he will also have the ability to close-out games in the fourth as well.
Essentially -- Green-Ellis is what the doctor ordered in Cincinnati and he is perfect fit for the system.
The Bengals front office has done an outstanding job of finding and bringing in talent that fits the mold of the team. Green-Ellis is just one of many signings and draft picks that will have Cincinnati back in the playoffs next season, and most likely, for a long time after that.
Be sure to follow Beard and Stache on Twitter @BeardAndStache, and also Troy @TroyBallards, Like our Facebook page HERE!