hey everyone,
so I've had my ombre hair for a couple of days now, and im in love with it!
i took some pictures of it yesterday when i dolled myself up, and i must say they turned out really good. So now that the color has settled abit, i will show you :D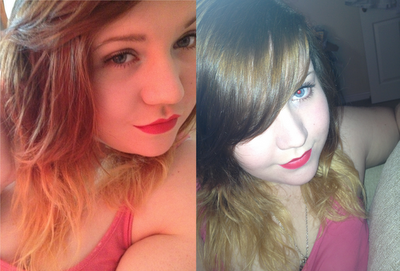 without flash                                 with flash
so in the with flash it looks abit gingery, but its not, the without flash is better, its a lovely golden blonde and blend in really well, didn't think i could do such a good job on my hair by myself, but im well chuffed :D
used on my hair:

Tresemme split remedy shampoo
Osmo intensive repair mask (can be brought at sally's for only like 4 pound, but smells just like Malibu, yum)
Tresemme split remedy conditioner just on the blonde bits
Aussie leave in conditioner, for tried stressed out locks, just on the blonde bits
Schwartzkopf got 2 b guardian angel heat protection, sprayed lots all over
John frieda frizz-ease heat defeat protective styling spray, just on the ends
John frieda full repair perfect ends deep infusion, just on the ends

well this might sound alot, but when you bleach it, it goes extremely dry so i need as much moisture as i can get on my hair now, so it drinks it up, i could of probably put more on but i am still experimenting.
all i did then was twist my hair into a low bun and left it dry naturally for awhile, then when it was nearly dry i scrunched the ends while blow drying.
on my face:

Rimmel wake me up foundation in ivory
Mua blush in shade 01
New
17 wild metallics eyes in wild silver
Maybelline eye-studio mono in 720 iced fudged 
Urban decay super-curl curling mascara
No7 amazing eyes pencil in brown for my eyebrows
Urban decay 24/7 glide on lip pencil in wicked
Mua lipstick in shade 13 (bright red)

I really love my hair, and i can't wait to see what it looks like when it is straight, but curly it looks ace, so i will leave you with some pictures of me being stupid infront of the camera, because if i can't put them on my blog, where else can i lol hope you enjoy, please tell me what you think? do you like?