Home > Lunacy, Stock Market > How big will the Kim/Trump wobble be?
How big will the Kim/Trump wobble be?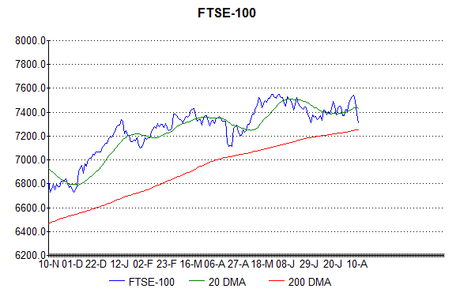 Well, firstly, the bigger dip I forecast in my last post did not materialise, but I am wondering whether it might simply have been delayed. Another of my peak patterns appeared in May (though I wasn't paying attention at the time) and this time it looks like there might be a more sizeable dip due to the tension between Trump and North Korea. (Trump threatened Korea with "fire and fury" if they didn't stop threatening the USA and the Koreans immediately called his bluff by announcing plans to fire missiles near the US territory of Guam. It looks like someone is going to have to lose face in this stand-off by backing down, but the world is worried that neither party is minded to do so). I was influenced by the conspirators last time, who like to thwart my attempts to make money speculating, but, this time, they talked me out of selling my FTSE tracker at 7,550 last week, on the grounds that the dip wouldn't be that large (although it would already have been worth selling) and so, as I am not speculating this time, perhaps they have less reason to mislead me. There is support at about 7,100 which would be my first target, and strong support between 6,800 and 6,900 which I would expect to hold, though the conspirators are adamant that the index won't go down that far. I am hoping that this dip might be the catalyst for the start of the "blow-off" final phase of the current bull run so I'd like to see a drop of at least 5% which would take the FTSE to about 7,150 so maybe my initial target is reasonable.
The FTSE was up about 25% from its post EU referendum low within a year, which is a good start on my forecast for it to double within three years of that event. It would only need to do the same again this year and next to hit my target, but the conspirators are insisting that it will double within two years, i.e. hit 12,000 by June 2018. This is not impossible if we get a good blow-off phase, but only if the index gets a move on. I am still hopeful that a peak of 12-14,000 is possible as the dividend yield of the FTSE is still quite high at 3.8%. Prior to the last two crashes it fell below 2% and that was before the current ultra-low interest rate policy kicked in, so it could go even lower this time, meaning there is plenty of scope for the index to double from here.