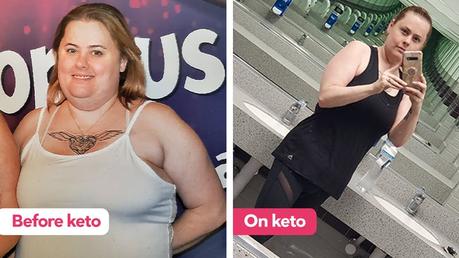 Amy suffered from a number of different diseases and was overweight and medicated. When she found keto however, she managed to turn her life around. Here is her story.
Amy's story
In December 2018, I was 250 lbs (113 kg). I had diabetes with an HbA1c of 6.8, celiac, PCOS, and endometriosis. My toes began getting a numb sensation. My blood sugar numbers were well over 200. I blacked out, and fell next to my bed, no idea how long. Fast track to January 2019 when I began a very strict keto diet.
I began at 250 lbs (113 kg). I am now 160 lbs (73 kg) working on the last 30 (14 kg).
I am off all meds. My HbA1c is a 4.9. My blood sugar numbers stay under 90. My celiac is controlled. My period is back. I have not had any endometrial flare ups.
I have lost 90 lbs (41 kg) to date. My fitness is at a much better point. My physical health has done a 100% turn around. My mental health has changed dramatically. My quality of life is better than it has ever been.
It is like I woke up one day to this completely new version of myself.
Learning to love myself again has ultimately changed my life. I would never dream of going back to the person I was before. I don't recognize that person. It is like I woke up one day to this completely new version of myself. It is like I clawed my way out of who I was to be who I am today.
That is my short story.
Comment
Congrats on your amazing transformation, Amy! Your story is a powerful example of how it isn't all about the weight. Keep up the great work!
Ready to lose the weight for good?
Our new 10-week program helps you lose weight in a healthy and sustainable way.
Share your story
Do you have a success story you want to share on this blog? Send it (photos appreciated) to [email protected], and please let us know if it's OK to publish your photo and name or if you'd rather remain anonymous. It would also be greatly appreciated if you shared what you eat in a typical day, whether you fast etc. More information: