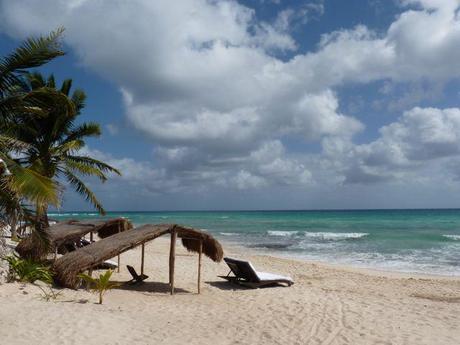 The Beach
The Riviera Maya is crammed full of hotels – driving down the 307 out of Cancun, which heads south towards Playa del Carmen and Tulum, you're greeted by signpost after signpost for hotels. So it's amazing to get to The Tides Riviera Maya, reached on a road that passes the high compound walls of other resorts, and to feel utterly secluded and tucked away. Indeed, it was only when we went for a stroll on the beach on our second day that we realised that the resort was one among many resorts along this stretch of the coast, which is tantamount to just how well-designed The Tides is.
On arriving at The Tides, we were taken on a brief tour of the resort – which was just as well, because as we wandered along the curving paths through the jungle I couldn't fathom how we were going to find our way back to the restaurant later that evening (in the end it was a lot easier than I expected). Despite all our best intentions, it was dark by the time we got there, but the grounds, lit by lanterns, were hugely atmospheric, and though we got the odd glimpse of a villa wall or a path leading down to one, it was obvious from the start that there was a real focus to privacy here.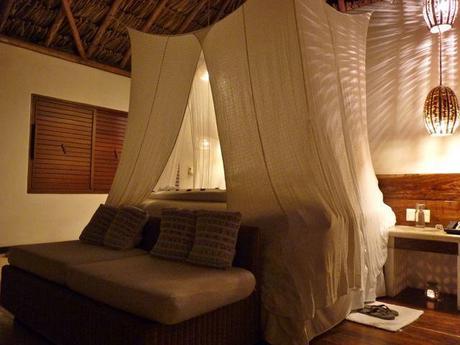 Sisal Villa bedroom
The villas really are the centrepiece of the resort. Sure, you might not have the immediate beach access of other resorts – though this will shortly be changing as The Tides finish their new Beachfront and Ocean View villas – but I'm not sure I've ever stayed anywhere that's so private; besides, the beach really isn't that far away, and you're surrounded by jungle, which is pretty special. There are no rooms, only villas, and each comes with its own private plunge pool, which feels like the height of luxury – they're big enough to actually feel like little pools rather than large baths. With their clever do-not-disturb system (you pull a rope across your path if you don't want to be disturbed), good minibar (and not too expensive for a luxury resort), and decent room service menu, you really don't have much reason to ever leave your room. Well, unless you want to spend some time on the beach or, you know, be social.
We absolutely loved our villa – we were fortunate enough to be staying in a Sisal Villas, which I believe are the same size inside as the Luxury Villas, but come with the added bonus of an additional, slightly elevated, private deck, with a double sun lounger on which to soak up the jungle that surrounds. This was the perfect place to be at the end of ten rather intensive days of traveling around the Yucatan – we were both ready to stop for a while and lounge around, reading our books and swimming. And there were lots of options when it came to lounging around – not just on our jungle deck, but also on the daybed by our plunge pool, in our hammock, on the supremely comfortable loungers by the main swimming pool (which we had to ourselves every time we used it – perfect!), on the beach, or on one of the luxurious swing beds set up in the grounds. It's almost like they didn't want us to do anything else…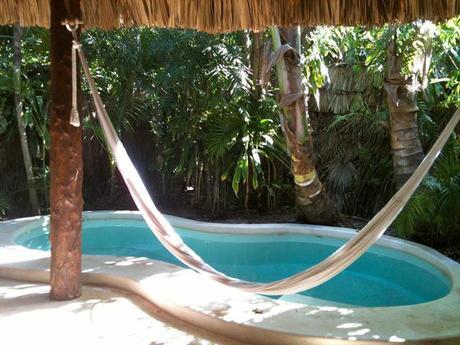 Our private plunge pool
Still, being the kind of people we are, it would've been a bit strange to not to anything other than eat, read and sleep for three days, so we also splashed out on a spa treatment. The spa menu has a great range of treatments, plus a number of couples rituals – we were just looking for something a little more straightforward, however, so opted to both have a traditional massage, but in their jungle couples suite, which has a gorgeous, secluded setting among the trees. The main part of the spa is split into male and female sections for changing, but after our treatment I was allowed to hop into the jacuzzi in the men's section with my husband, as there was no one else around – sitting in there by candlelight felt like quite a treat!
The Tides was just finishing up a number of renovations at the time of our visit, so we didn't get to experience the resort in full swing – for meals, for example, there was only one place to eat (though of course you could have food on the beach, by the pool, or in your villa), and the tequila and ceviche bar was unfortunately not yet open – but this didn't really affect our enjoyment, and I'm sure that once the resort is finished it'll be even more of a pleasure. Our first night coincided with the weekly beach barbecue, which was great – tables were set up very romantically on the beach, though we were only about half an hour in when we had to decamp elsewhere because it started to rain. The food throughout our stay was delicious; my only complaint (if you can call it that) was that after two weeks in Mexico I was in the mood for something a little lighter, and much of what was on the dinner menu was quite heavy and rich. I also would have liked to have seen a few more local snacks and dishes on the menu at both lunch and dinner – but perhaps this is something that will be solved when the other eating and drinking options are up and running.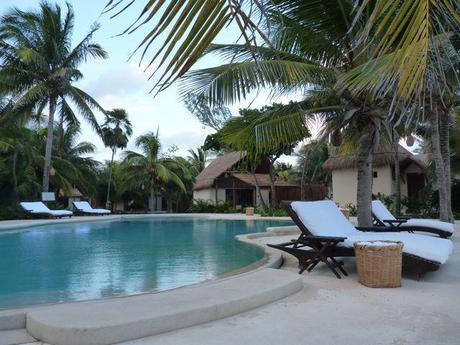 The main pool
Our three days at The Tides unfortunately coincided with rather strong winds, which meant that we didn't get a chance to have another dip in the Caribbean – the great thing, though, was that we barely noticed the wind from our villa because we were so tucked away among the jungle. The beach here is soft, white sand, but it does get a little rocky by the shore – fortunately, the resort has a private pier, from which they encourage you to go swimming; ten-minute massages are often offered here by the spa staff, and romantic meals can be arranged on the pier too. There are other resorts close by, but even if you wanted to spend all day on the beach you wouldn't find it intrusive.
I have to admit that perhaps the highlight of our entire Mexico trip occurred while we were at The Tides – and lasted for no more than thirty seconds. The jungle here is home to a number of spider monkeys – having been told this when we first arrived, I was determined to see them, but as the days went by I reluctantly realised that it was actually going to be highly unlikely. So imagine my glee as I sat by the pool and heard a crashing about in the trees overhead; looking up, I saw a long-legged spider monkey swinging his way from branch to branch. He was gone before I could take a photo, but it was truly amazing to see one of them in the wild, and will be pretty hard for any other hotel we stay at in future to beat.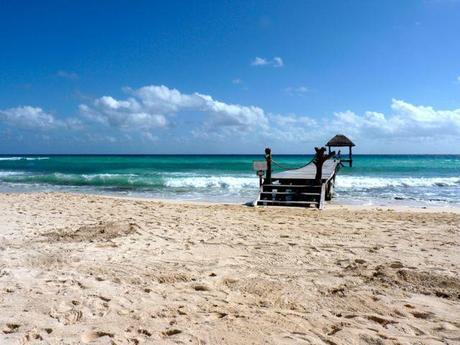 The pier
The Tides was the perfect way for us to round of our trip – three days was about as long as the two of us could manage without doing anything, but it would make a good base from which to explore more of the peninsula, and the resort does offer a number of trips – and our villa was the ideal place in which to hide ourselves away and completely relax. Everything about this place screams honeymoon, and though it is undeniably expensive, you are getting a lot for your money – not least great service, very luxurious, comfortable surroundings (the bed was one of the most comfortable I've ever slept in), and the kind of get-away-from-it-all privacy that most honeymooners only dream about. Once all the renovations are complete (which should be any day now, if it hasn't been finished already), the resort is no doubt going to be even better, and the beach villas will undoubtedly satisfy anyone who wants to be right on the beach to soak up those gorgeous Caribbean views.
In a nutshell:
We loved: The luxurious seclusion of our villa; our private plunge pool; the fantastic bed.
We weren't so keen on: The cheesy music played at meal times; having to run the hot water for a long time before using the shower.
Ideal if you want: Complete and utter privacy; cool, calm luxury; a posh resort with lots to offer.
Need to know:
The Tides, Riviera Maya, Mexico
Rates: Villa rates start at US$605 (around £385) a night, plus 14% lodging tax and 15% service charge. Check the website for special packages.
Nearest airport: Cancun (45min drive).
Go packaged: A number of tour operators will be able to put together a competitive flight and accommodation package for you; Scott Dunn have prices from £2,380 per person for seven nights on a room only basis, including flights and transfers.
You can find out more information about honeymooning in the Yucatan here.
The Honeymoon Project was a guest of The Tides; however all opinions are my own, and we paid for our massages. 
All photographs © The Honeymoon Project