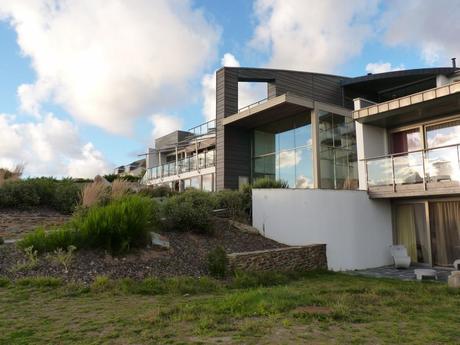 The Scarlet
The trouble with lusting over a hotel for a long time is that there's always the slight worry that by the time you actually make it there, it's going to be a bit of a disappointment. I picked out The Scarlet in Cornwall as one of the five hottest honeymoon destinations for 2011, and it looked good enough to beat off all competition from Provence and Italy for my thirtieth birthday holiday, so the hotel had a lot to live up to. And, approaching the hotel, I did begin to get worried – turning off onto the street it was on, I was surprised by how suburban it felt, with houses crammed in on both sides, and then a steep driveway leading down to the hotel. But the amazing thing about the hotel is that as soon as you're inside you feel blissfully unaware and separate from the world around you – well, apart from the amazing views of the coast and cliffs that you can appreciate from throughout the building.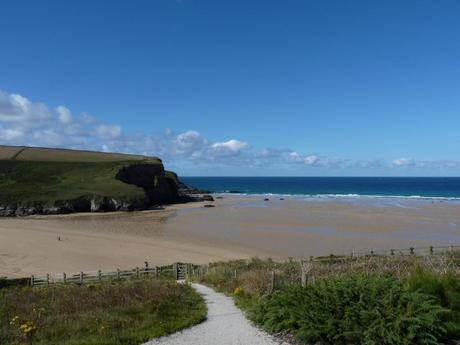 The view from The Scarlet
I can't remember the last time that Matthew and I had a holiday where we didn't do anything – in fact, that's probably because we've never had one like that. It's not that we're super-active on holiday, or devout sightseers on holiday, far from it, it's just that we're not really the sort to spend all day on the beach or sitting around in the sun – if we're going away, we like to be exploring, whether it's wandering the streets of a city until our feet ache, or seeking out the best places for local food. Hotels, however fabulous, are usually just part of the destination, rather than a destination in themselves. But it's been a busy and stressful year for the both of us, and there was nothing more we needed at this point than to just completely relax and spend some proper time together. And we couldn't have chosen a better hotel to do this in.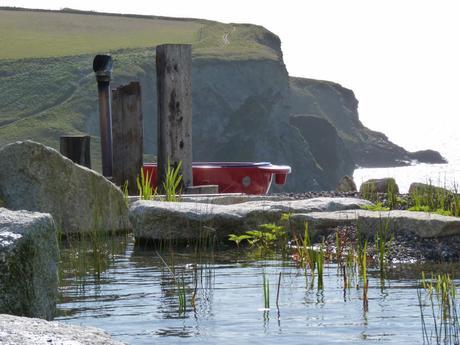 Clifftop hot-tub at The Scarlet
There are two big things about The Scarlet. The first is that it's an eco-hotel – from the solar panels that heat the indoor-swimming pool, to the soap that they encourage you to take home and their rainwater harvesting, it's obvious that this is more than just a shallow claim. And the second is the view. Now, I have to admit to being completely taken in by the hotel's website and the photos of the views they have on there, and I'd be lying if I said that I hadn't been completely swayed by them. My honest opinion? The view is even better in person (though there were a lot more people on the beach, as you would expect for August ), whether it's over breakfast, from the woodfired hot tubs, or from the swimming pool – though the best is just being able to soak it up from your own room.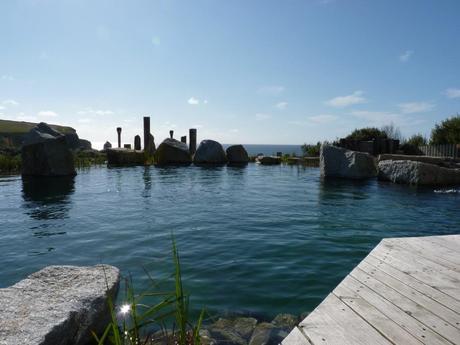 The outdoor swimming pool
The Scarlet is a lot pricier than we would ever normally spend on a hotel (being August, we paid £285 a night), but it was worth the expense. We opted for their smallest room category – the aptly named "Just Right" – and we were pleased to find that our room had ample space for the two of us. Our room opened directly onto the gardens, which was fabulous (at night, we returned from post-dinner drinks to marvel at the multitude of stars above us), with comfortable seats that were perfect for soaking up the late summer sun. The layout of the rooms is very open plan, though the shower and toilet are cordoned off by glass, so do bear that in mind if you'd rather not be quite so intimate with your other half.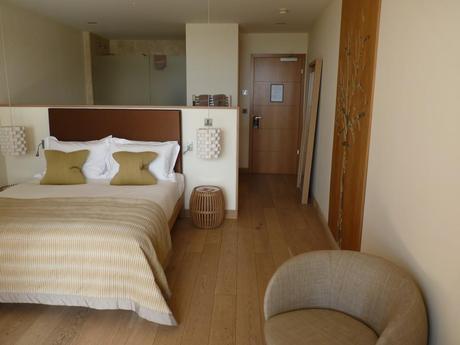 Our "just right" bedroom
You could quite easily spend a few days at The Scarlet and never step foot outside the hotel. We kicked off our stay with a go in the fabulous cliff-top hot tubs – these really are a "must do" if you're staying here, so do book in advance of your stay, and they were the perfect way to wind down (especially with a glass of champagne) and relax. We swam so much – the indoor swimming pool is small, but big enough to do laps in, and was never really too crowded – though Matthew was braver than me in trying out the outdoor freshwater pool, which looked beautiful, but at 19ºC was just too cold for me. On our first night, we ate in the hotel restaurant, which was fabulous. At £42.50 for three courses, it's not cheap, but it was really delicious – the menu makes use of local, seasonal ingredients, so our choices included scallops, cod with lobster thermidor, and duck with plums – and I'd really recommend rounding off with a coffee, which is served with some really delicious petit fours (which we obviously didn't need after three courses, but could just about find room for…).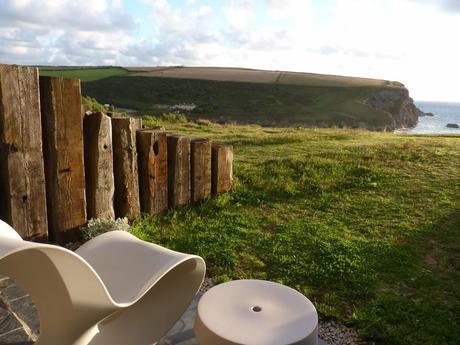 Our terrace
Despite giving ourselves up to relaxation, we did venture out to walk along the cliff path to Watergate Bay – it's a beautiful walk (about two and three-quarter miles, I think) and well worth doing for the views of secluded coves and beautiful blue sea. Watergate Bay is just a little resort settlement, with a surf school and a few restaurants and bars – after the seclusion of The Scarlet, we found it a little too busy, so we ended up heading back almost immediately, so that we could have lunch (well, afternoon tea) back at the hotel. The beach at Mawgan Porth itself (right below The Scarlet) is a beautiful, wide expanse – being August and a sunny weekend, it was pretty packed while we were there, though the further out you walked, the quieter it gets, and I can imagine it being particularly stunning in winter when it's quiet.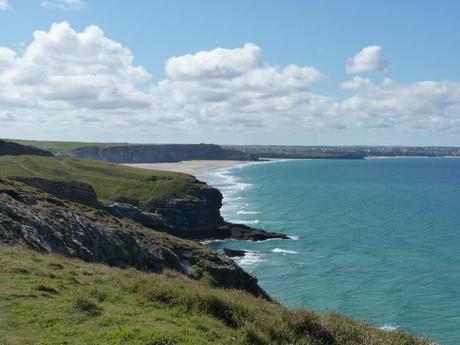 The clifftop walk to Watergate Bay
It's just eight miles along windy country roads to Padstow, which is a very attractive harbour-side village, if rather touristy. We headed there on our second night for fish and chips (not by Rick Stein though, partly because we didn't find his chippy until we were leaving the village), which we ate by the harbour, before heading back the hotel for very relaxed drinks in the library, which we more or less had to ourselves. One of the great things about the hotel is their "any time anywhere" policy – so you can order your drinks at the bar (or from your room), and enjoy them wherever you like – on the terrace, by the pool, in the library – and the same goes for their small room-service menu; we had a lovely afternoon tea on our terrace, out in the sunshine.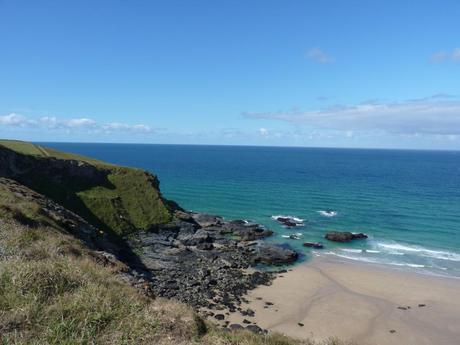 The beach at Mawgan Porth
The Scarlet also has a fabulous spa which has a good range of treatments and "journeys" – we opted for a rhassoul, which is perfect for couples. You're given your own private steam room, and left to apply a wonderfully scented salt scrub to each other. After washing that off, you then apply mud to one another, before allowing it to dry a little with the steam. The treatment ends with a rain shower, which automatically starts after about half an hour. It's just perfect as part of a stay when you're really concentrating on spending time with each other.
Two nights at The Scarlet was absolutely perfect for the two of us – at the end of it, we felt completely refreshed and relaxed (just a shame that half an hour on the Tube the next day quickly got rid of all that good work) – though I could easily have spent another day here, I think Matthew may have started itching for a decent pub (the one in Mawgan Porth isn't brilliant). But we both left longing to come back, and it's great to know that next time we need to recharge and wind-down, we know just the right place.
The details
The Scarlet
Mawgawn Porth, Cornwall
From £180 a night. We booked through Mr and Mrs Smith as members get a complimentary hot-tub session.