There's a lot to be said about those areas of cities where old and new rub shoulders – the history of the place feels more tangible, somehow. Exploring such areas can be rather thrilling, especially when you stumble across the juxtaposition of old against new – a dark-bricked Dickensian looking building, say, next to a glass and steel modern construction. So it's no surprise that I loved The Rookery, tucked down a narrow side street close to Farringdon station, just moments from countless bars and restaurants, and the heart of the City.
It's hard to shut out the noise of London, especially somewhere like Farringdon where there is so much going on during both daytime and evening, yet as soon as the door to The Rookery closes behind you, you feel ensconced somewhere quiet and private, and as though you've stumbled across one of the city's best kept secrets.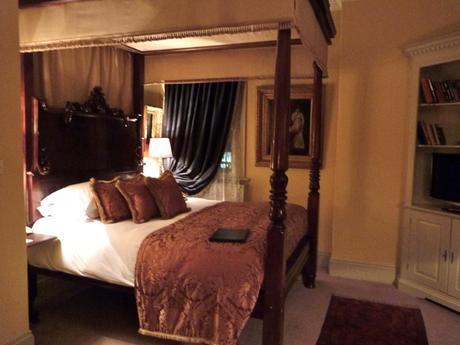 We were lucky enough to be given a junior suite - Dr Theophilus Garencières – for our stay, which was absolutely gorgeous. Somehow, the hotel manages to totally pull off a more traditional decor without it feeling over-the-top, fusty or old-fashioned; instead, it completely complements the building that houses the hotel, and creates a sense of sumptuous glamour. Our suite was very spacious – especially considering the position of the hotel – with a large living area, and an utterly glorious four-poster bed that I had to really force myself to get out of in the morning (even with a decent 12pm check-out time). Despite all this, it might have been the bathroom that stole the show, the centrepiece of which was a glorious cast iron bath, with a fabulous copper top; the perfect place for making the most of the gorgeous REN products.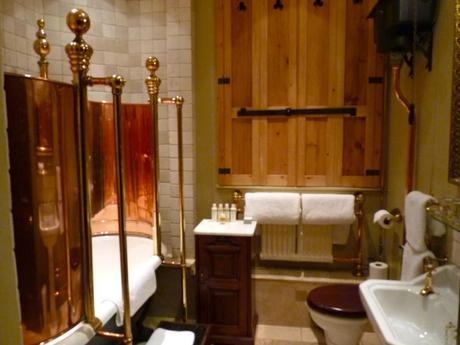 There's no restaurant at the hotel, but there is a small room service menu that features dishes like risotto and traditional pies. Breakfast (not included in the rate) is served in your room; the menu is short and rather pricey (bacon sandwich with tea/coffee and juice for £11.95), but makes an excellent excuse not to get out of bed. Truth be told, you don't need a restaurant in this part of town – there's countless good places to eat and drink on your doorstep (though you should book in advance if there's somewhere you particularly want to go), and it's easy enough to head into the West End, Shoreditch or Islington for even more options.
One of our favorite things was the honesty bar in the conservatory – sitting on the comfy sofa in this cosy room with a whisky each was the perfect way to round off our evening. There's also a small courtyard that must be lovely in summer, and which feels like a bit of a luxury in the heart of the city.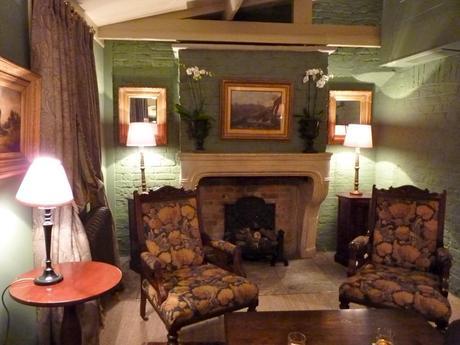 We were also able to have a look at a Club Double, the hotel's smallest room category, and I was surprised at just how favourably it compared to the suite. Yes, they're a lot smaller than a suite – as you'd expect – but they still make a great choice; though slightly on the cosy side you wouldn't feel lacking in space, and they're just as charming and beautifully decorated as the rest of the hotel. It's rare that I can honestly say that the smallest room category is really worth considering for your honeymoon, but I think that if that's the most you could afford at The Rookery, or if you wanted to spend your money on other things instead of your accommodation, then you certainly wouldn't feel short-changed or disappointed by one of these rooms, and they still perfectly capture the character of the building.
We loved our stay at The Rookery – it was absolutely charming and unique, and felt really homely, despite being so much in the thick of things. Stepping out of the hotel and back onto the main streets on Saturday morning felt like stepping out into a different world, and we felt refreshed and relaxed in a way that we don't normally feel after a night in a city-centre hotel.
In a nutshell:
We loved: The beautiful, unfussy rooms; the relaxed, homely ambience; the conservatory and honesty bar; the lovely hotel cat.
We weren't so keen on: The high prices for the limited breakfast menu.
Ideal if you want: A hidden gem in one of the most interesting parts of London.
Need to know:
The Rookery is a member of Great Hotels of the World Luxury Collection. Club Double rooms start from £198. For more information or to book, please visit www.ghotw.com/rookery or call 020 7380 3658.
Nearest station: Farringdon (Hammersmith & City, Metropolitan and Circle lines; national rail services).
Photographs © The Honeymoon Project