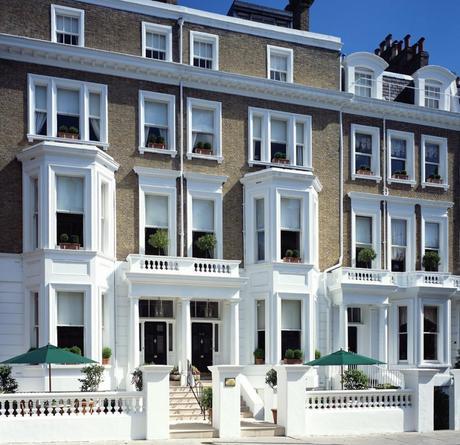 One of the things I love most when traveling is being able to really get under the skin of a destination, and there's no better way of doing so by staying in a part of town where local people actually live. This, for me, is one of the greatest attractions of staying at The Cranley, a small hotel in South Kensington – yes, you're practically on the doorstep of some of London's greatest museums, but you're also among beautiful old buildings, restaurants and pubs full of locals and, though it's a rather picture-perfect, traditional view of London that'll really appeal to tourists, it's still an area that feels lived in.
The thing that I loved about this hotel was that it felt like a bit of a secret; tucked down a side street in a gorgeous old townhouse (well, spread across three townhouses, actually), just moments from Gloucester Road tube station, it's the kind of place you could easily walk past without really knowing it was there. Even on stepping into the hotel, there's no bland corporate atmosphere – it feels more like entering a private residence, with a small, luxurious lounge, and books and whisky bottles on the shelves. We loved being offered a welcome drink (always a nice touch), especially as we were invited to enjoy it in our room – it was lovely to be able to settle in to our stay over a cold post-work beer.
Our superior double bedroom at The Cranley
We stayed in a superior double room – it's not the smallest room category the hotel has (that honor goes to the aptly named petite double), but it is the smallest sized room they recommend for two people. This is a rather traditional hotel – so a great option if you're after a quintessential British feel to your honeymoon in London – with all the rooms decorated with antique mahogany furniture and period paintings and prints; they're classically elegant and unfussy, but if you're looking for something a bit more modern then you'll probably find the hotel a little too staid. We liked our room, but it was on the small side – we only had a small overnight bag so space wasn't really an issue, but I'm not sure you'd have much space if you were traveling with two large suitcases. That said, while the room would probably feel a bit of a squeeze if you were there for a week, for a couple of days where you'll be spending a lot of time out and about exploring the city, it's perfectly adequate.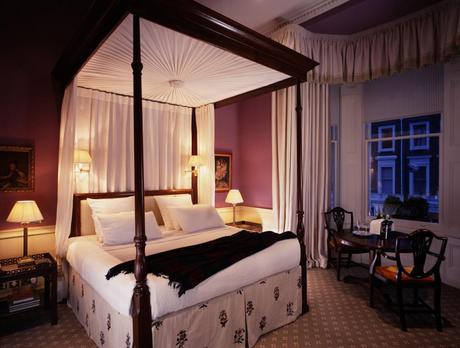 Four-Poster Room at The Cranley
But, if you're thinking of staying here, then I'd really recommend splashing out on one of their Four-Poster Rooms. Not only are they a lot more spacious (the one I saw must have been at least double the size of our room, plus a large walk-in wardrobe and a huge bathroom), they're also very romantic – and the four-poster beds are absolutely divine. In addition, they face out onto the road – it's just a side street so there's not much noise – with a view of other elegant townhouses, rather than the view of backs of houses and roofs that we had from our room.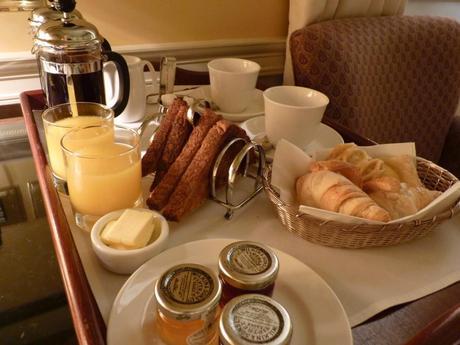 Breakfast at The Cranley
One of the things that would make The Cranley feel special for a honeymoon hotel is the little perks on offer; champagne and canapés are served between 7 and 8pm every evening, and again you can enjoy them in your own room – perfect if you're unwinding at the end of the day, or getting ready to go out for dinner. Likewise, breakfast can be served down in the lobby, outside (if the weather is nice), or in your room; there's something very decadent about having fresh coffee, juice and croissants brought to your door first thing in the morning. There's no restaurant on site, but that's no great loss seeing as you have countless options on your doorstep, and there is a small but decent room service menu available, should you not fancy going out.
We enjoyed our brief stay at The Cranley – it was quiet and secluded, yet still felt very much in the thick of things. If you want a touch of old-fashioned British luxury, and can shell out on one of their larger rooms, this is a great choice for a London honeymoon hotel.
From £149 a night.
The Honeymoon Project was a guest of The Cranley. First and third photos courtesy of The Cranley; others are my own.