To me, the West Country is one of the most romantic places in the UK – I think it's the combination of wild moorland, windswept beaches and fabulous food (I may have a bit of a cream tea problem….), and it has an undeniable charm throughout the year, even in the coldest, darkest months. So, when we were invited to stay at Merlin Farm Holiday Cottages, I unsurprisingly jumped at the chance – the cottages are just outside Mawgan Porth, which we'd visited before when staying at The Scarlet, and we had fallen in love with the wide stretch of beach there, scenically sheltered between the cliffs.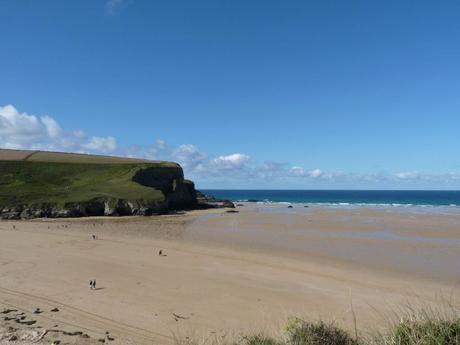 Mawgan Porth Beach
Arriving at Merlin Farm, down windy farm tracks, was like discovering a little hideaway. There's six cottages here, of which the three Eco Cottages are the most luxurious options (and thus the best choice for honeymooners), opening up onto expansive countryside views, and they feel blissfully tucked away from everything. We were staying in Porthcothan, one of the Eco Cottages, and were immediately impressed by how slick and modern it was inside – and, best of all, how private it felt; even with a cottage on either side of us we weren't ever aware of other people being around while we were there.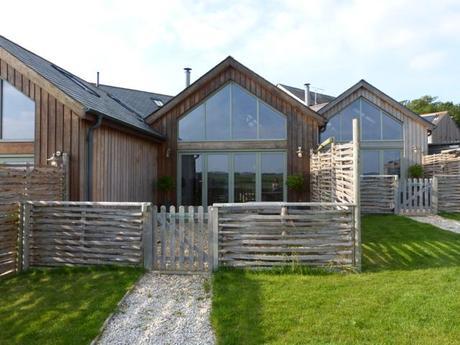 Porthcothan Eco Cottage
The cottage has been so beautifully equipped and designed that it felt very much like staying in a luxury hotel room, but with all the benefits of self-catering. The kitchen was definitely one of the best equipped and well-designed of any self-catering property I've stayed in (having a cafetiere for breakfast coffee was a huge bonus), and we loved the fact that it was open-plan with the living and dining spaces as it meant that one of us could be cooking and we could still be all together in the same room (especially important now that we're traveling with a little one!). The bathroom was nicer – not to mention bigger – than a lot of hotel bathrooms, with a fantastic, large walk-in rain shower, a luxuriously big bath, and REN toiletries (my personal favourite).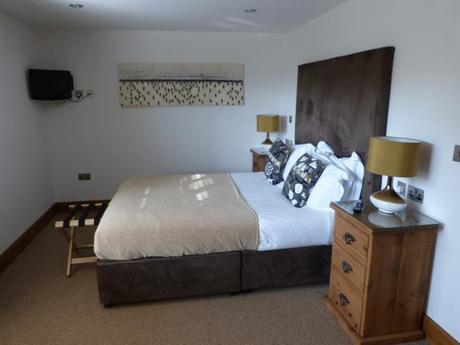 The master bedroom
Most of the cottages, ours included, have two bedrooms – the large, very comfortable master bedroom was downstairs and the spacious twin bedroom (with en-suite) was upstairs. This is obviously great news if you're honeymooning with children, but it can easily be shut off so that you don't feel like the two of you are rattling around a huge space if you don't need the additional room, which was nice. At the front of the property was a large private area that would be perfect in warmer months for dining, relaxing and just breathing in the fresh country air and soaking up the views.
Another thing I really loved about Merlin Farm was that although it felt very grown-up and smart it was also incredibly child-friendly. We were traveling with our five month old and she absolutely loved it – it was a really comfortable space for her, and having a high chair there for us to use was really handy (even if she didn't want to stay in it for long!). Other child and baby facilities are available, but if you're traveling with a little one then it's well worth booking Constantine which is the most baby-friendly of all of the cottages, coming equipped with everything you could possibly need, from a pushchair to a mini food blender and plastic plates and cutlery – ideal if you don't want to have to lug loads of stuff away with you.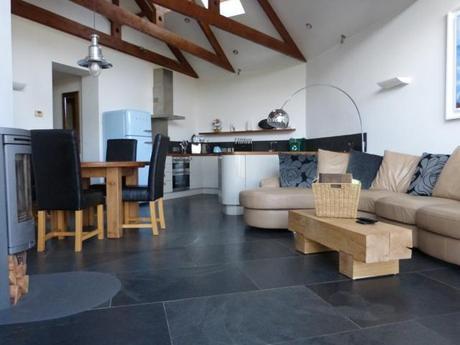 The living space
For us, this was the perfect place to really kick back and relax for a few days. Though there's not much more to it than the beach, Mawgan Porth is almost equidistant between Padstow and Newquay – Padstow is a lovely place to wander around and enjoy a pasty and a pint by the harbor – and there's plenty of other places within an easy drive to explore. Best of all, it's just a short walk through woodland to get to the beach, and having that on our doorstep felt like a real privilege. Even though it was a bit blustery and overcast while we were there, we couldn't think of a better place to be – it was lovely to come out of the cold into our lovely warm cottage and be able to cosy up on the huge sofa, and I can imagine that it's even better in winter when you can make use of the wood burning stove.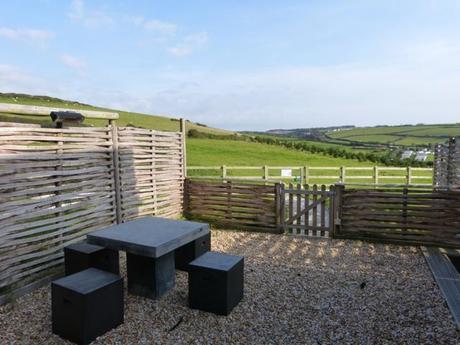 View from Porthcothan Eco Cottage
The great thing about the Cornish coast is that it can feel like you're somewhere other than home, so honeymooning at Merlin Farm makes a fantastic option if you're looking for a beach honeymoon without breaking the bank or having to travel for hours and hours. I've stayed in a lot of self-catering places over the years and have rarely come across somewhere so beautifully designed and thought out, and which works for both couples and families as a wonderful countryside retreat.
In a nutshell:
We loved: Everything about the cottages, which were super luxurious but very comfortable; the eco-conscious attitude; the milk, tea and biscuits provided on arrival – a great welcome.
We weren't so keen on: Having to drag ourselves away.
Ideal if you want: A sophisticated self-catering property among beautiful countryside, with easy access to the beach.
Need to know:
Merlin Farm Holiday Cottages, Cornwall, UK
Rates: The Eco Cottages sleep four and start from £850 per week, with a 15% low occupancy discount for just 2 people (not applicable in high season). Short breaks (Mon–Fri/Fri–Mon) are at 65% of the weekly rate. Cheaper accommodation options are also available, see website for details.
Nearest airport: Newquay (2.7 miles)
The Honeymoon Project was a guest of  Merlin Farm Holiday Cottages; however, all opinions are my own.