Last year, I featured the gorgeous Ponta dos Ganchos resort in Brazil as a room with a view – looking at that image, it's not hard to see why. So I was delighted why Nancy Brown (who makes divine-looking cupcakes as part of Brown Sugar Cupcakes) sent me this fabulous review of her recent stay here. If you're after a honeymoon resort that's drop-dead-gorgeous, you won't want to look any further.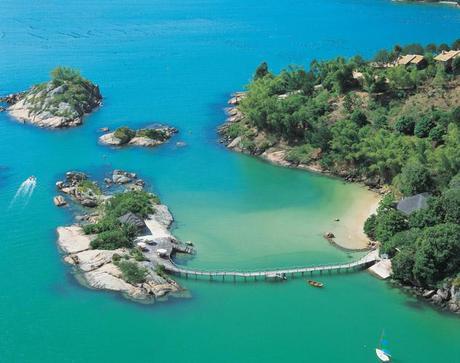 If you're looking for a relaxing private island paradise, Brazil – with it's samba-loving, carnival-going population – probably isn't the first place you'd think of going. However, within seconds of hopping on the golf buggy that was to take me to my room at the idyllic Ponta dos Ganchos resort in the southern state of Santa Catarina, my mind was made up – this was heaven!
Situated on a secluded private peninsular off the island of Florianoplis, and home to just 25 freestanding suites that all overlook the sea, this adults-only hideaway gives the word luxury a whole new meaning. And if it's good enough for former guest Beyonce Knowles, it's certainly good enough for me!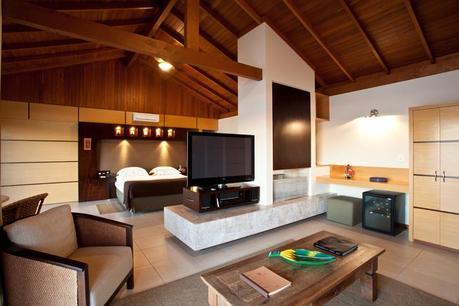 My jaw dropped as the buggy driver opened the door to my super-luxurious home for the week. The huge, open-plan room was amazing and featured a hot tub and steam room (yes, inside the room!), a double rain shower, a huge telly that swivelled so I could watch it from the sofa in the lounge and the bedroom, and a massive bed with memory foam pillows and a therapeutic infra-red mattress that heals as you sleep.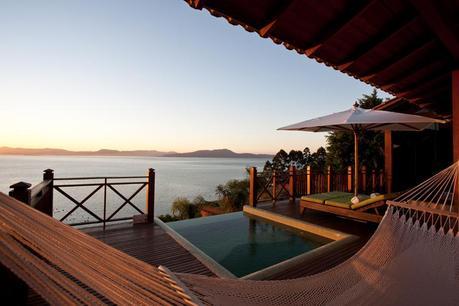 Outside on my private deck I couldn't resist a dip in the infinity plunge pool, before enjoying the sunset and amazing sea views from the comfort of my hammock. Paradise just doesn't get much better than this, I thought – and that was before I'd experienced breakfast, Ponta dos Ganchos style!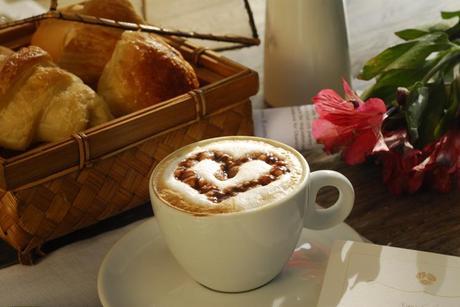 They say breakfast is the most important meal of the day and this was certainly the case here, as I enjoyed a different ten-course tasting menu every morning! Delights included a kale, ginger and Sicilian lemon shot, warm canapé-sized sandwiches, a goats' cheese omelet and French toast, rounded off with a personalised cappuccino with my name or a sweet little picture drawn onto the foam in chocolate.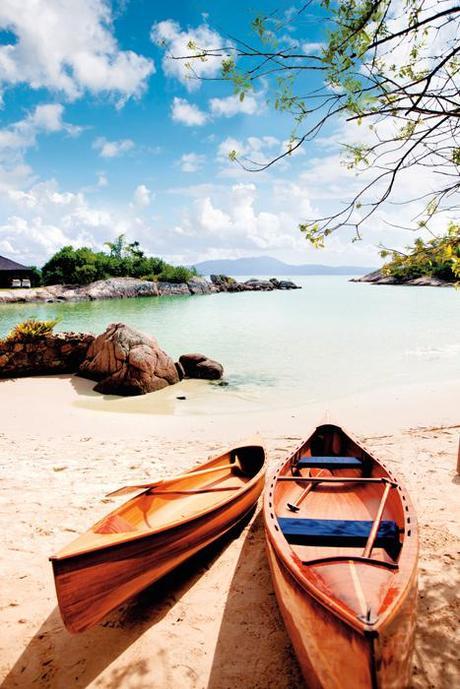 By day, top up your tan or go exploring. I took a walking trail to Praia de Fora and relaxed on a beautiful deserted beach. I also boarded a retired fishing vessel for a sunset cruise, complete with a tour of the resort's off-shore oyster and mussel farm. The next morning, after all that exertion, I enjoyed a gorgeous massage at the Christian Dior spa, where the open-air pavilions overlook the sea.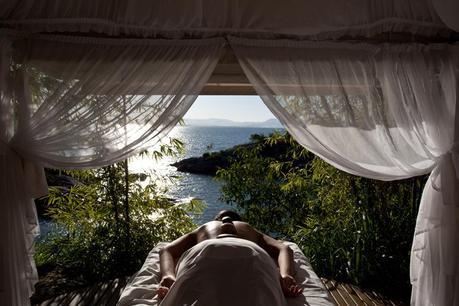 After dark, get the golf buggy down to the Beach Restaurant, with its big open balconies that look out to sea, or eat the freshest seafood barefoot at tables set in the sand. There's also a romantic private island which seats one couple per night for dinner – book well in advance to avoid disappointment. The menus change daily here and, if you're a fussy eater like me, the chef will whip you up any dish you like.
With its idyllic setting, staff who can't do enough for you and a beachy vibe that can't be beaten, this relaxed rainforest retreat is one of the most beautiful places I've ever stayed. When Beyonce sang that she was Crazy In Love, it could well have been about Ponta dos Ganchos.
Need to know
BritishAirways fly from Heathrow to Sao Paulo from £919 return.  Book internal flights to Florianopolis with TAM. Room rates at Ponta dos Ganchos start from £476 per room per night, including all meals.