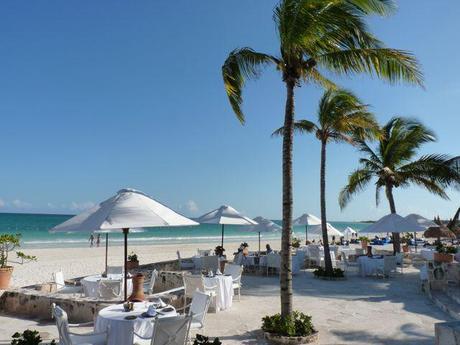 The restaurant at Maroma
We were utterly fed up with traveling by the time we reached Maroma. Driving, even along the straightforward route to the hotel, on unfamiliar roads in a brand new country was the last thing I wanted to be doing in the dark, least of all after an comfortable 11 hour flight and only four hours of sleep the previous night; so I think it's pretty fair to say that I was pretty frazzled by the time we pulled up at reception. This was the most expensive night of our holiday, and we were arriving in the dark, two hours later than we'd expected – how much were we really going to enjoy of it? And then we stepped out of the car, handed over our keys (I've always wanted to do that!), and were greeted with "Welcome home". Oh, and handed a much needed margarita.
Now, the cynical Londoner in me initially balked at such a greeting. This wasn't home! This was a very, very fancy hotel. But within hours – moments, really – Maroma and its staff had worked its magic on us, and by the end of our too-short stay, it seemed like the most appropriate greeting. There are many things that make Maroma great, but it's really the staff that make it what it is – everyone was incredibly friendly, but without being obsequious in any way. In all the hotels I've stayed at, I've never quite experienced anything like it – so many of the staff greeted us by name (when we checked in we had to give both of our names, and everyone called us either by our first names or Mrs Emma and Mr Matthew), even after just a few hours there, and various people made a point of coming up an introducing themselves to us – and it was obvious that they weren't just doing that because I was a travel writer. Having to chat to managers and staff can be a little off-putting – especially on holiday, when you might just want to be left alone – but here it felt very natural and not at all forced, and helped create a very homely atmosphere.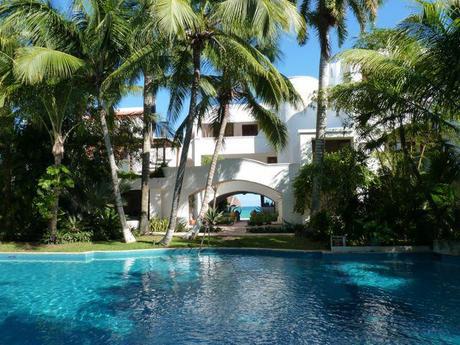 Main swimming pool
The main building at Maroma was original a private residence, which the owner gradually started opening up – and expanding – for guests. This really shows in the intimacy of the resort, and in the fact that it doesn't feel very resort-y – for people like Matthew and I, who wouldn't normally choose to stay in a resort, that was no doubt really intrinsic in our enjoyment. The property fronts Maroma Beach – an absolutely beautiful stretch of white sand beach – and though there are a number of other resorts nearby, Maroma is quite spread out along the beachfront, so you don't feel hemmed in at all; we were surprised just how long the resort's stretch of beach was, and it was great to wander out of our room and onto the beach in order to get to the restaurant for breakfast.
The grounds at Maroma are really beautifully laid out, and in such a way that feels very natural and not at all manicured – paths wind through the jungle vegetation as butterflies flit past you, buildings are low and set back a bit so they don't ruin the natural beauty of the place, and it's all just very peaceful – but without feeling like you can't talk. Arriving during the day, the archways of the building give a tantalising glimmer of the too-turquoise-to-be-true Caribbean Sea – you'll be hard pressed not to get straight into your swimming costumes once you see it. At night, however, the lack of a view doesn't make arriving here disappointing, far from it – the grounds are lit with candles along the paths, so it's incredibly peaceful and atmospheric – we instantly felt like we were a million miles away from where we'd been that morning (grotty Gatwick) and like we'd arrived somewhere very special.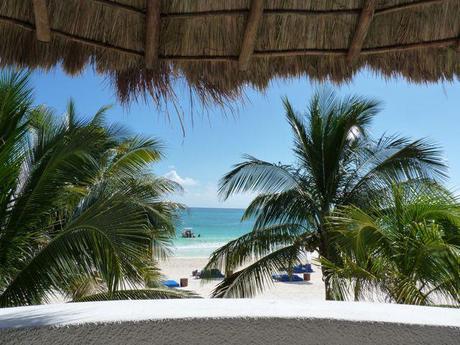 View from the Master Suite
We were fortunate enough to stay in a Master Suite – a huge, oceanfront room that had a large open-plan living room, a balcony that looked onto the beach, and a beautiful, canopied bed. It was a gorgeous room that felt very luxurious, but in a soothing, understated way, with traditional touches to add a Mexican feel. Waking up to the sound of the waves after a great night's sleep was, of course, pretty special, and I could have stayed out on the balcony for hours, watching the waves roll in. Obviously, you pay a significant amount more to stay in this room category, but this is an Orient Express hotel, and so you can be sure that even if you stay in the smallest room category  you'll enjoy the same kind of luxury, if not space.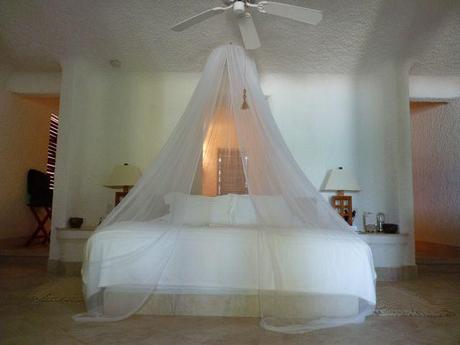 Master Suite
It's the special touches that mark hotels like this out from the rest – we loved the aromatherapy turn down; you tick a box before your evening turn down to indicate what aromatherapy oil you would like, and when you return from dinner you can light the tea-light below the oil and benefit from the soothing fragrance. When we checked in, we were asked what time we would like coffee to be brought to our room – a great little wake-up call, and it was nice to be able to savour our coffee in the previous of our own room.
The hotel was very generous in letting us stay for as long as we wanted the following day, so though we were only there for one night, we really felt that we were able to experience what the resort had to offer, aside, unfortunately, from the complimentary snorkelling trip that each guest is able to take (which was a shame). The beach, well-equipped with rather luxurious sunbeds, was the perfect place to lose a few hours – and the sea was just the right side of cool for a swim, and beautifully clear. There was a small swimming pool outside our suite (shared with the other suites in that building, plus a gorgeous main pool set in the main courtyard, and a couple of other pools dotted around the resort.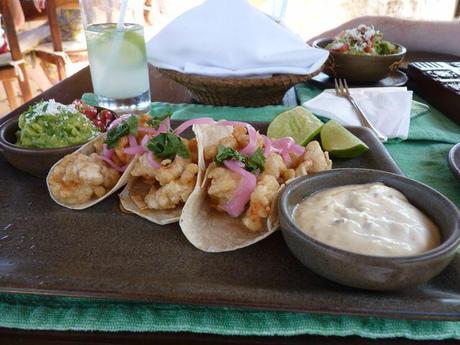 Shrimp tacos
Our first night in Mexico couldn't have started in a better way – we were treated to a romantic private dinner on the beach. This was incredibly special – if you have the opportunity to do something like this at Maroma or anywhere else on your honeymoon then it really is worth splashing out. Our table had been set up at the end of a "path" (the sand had been smoothed down), lined with torches, and was lit by candlelit. In front of us, the sea crashed gently onto the beach, while above, thousands of stars glittered in the night sky. We were asked if we wanted seafood or meat – we chose seafood – and were presented with four courses of absolutely divine food that combined local and Mediterranean flavours. It was an incredibly special experience, accompanied by the resort's fabulous margaritas (which were the best we had in Mexico). During our main course, a small fire was set up, and two comfy beach chairs set around it – we chose to have our dessert in front of the fire, and then lingered there over a coffee and then a tequila, which was served with a delicious sangrita (made with tomato juice and spices). We discovered, thanks to our waiter, that tequila is meant to be savoured, like a whisky, and each sip is complemented by a small bite of lime before hand and a sip of sangrita afterwards.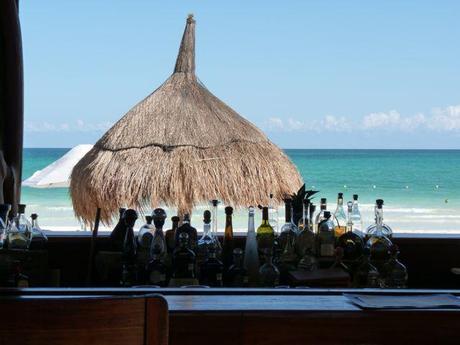 Beach bar
We also ate breakfast and lunch at the resort (the latter in the fabulous beach-front bar), both of which were excellent – the beer-battered shrimp tacos especially stand out in my mind – and I was rather excited to see that in the afternoon a man served ice creams to guests on the beach, which is a great touch. The resort also has a traditional-style Mexican restaurant, La Cantina, which twice-weekly offers an opportunity to try local specialities, alongside homebrewed beers and tequilas, and accompanied by local music and dancing. We weren't there on the right night to experience this, but we loved the look of La Cantina, and this forms part of the resort's "Mexican Immersion" programme, which aims to bring a bit more local culture to guests.
Another highlight of our short stay was our trip to the spa. Now, I'm a big fan of spa treatments and will happily go and lose myself for an hour or so in a nice spa, but Matthew had never had a spa treatment before so was a little nervous. We were booked in for a couples massage, which was held in a large, private treatment room – both of us were given a massage (by different masseurs and on separate beds), and afterwards we were left to enjoy the jacuzzi that had been set up for us. It was a really fantastic massage (I speak for both of us here!) and really romantic and special – I'd highly recommend having a couples massage on your honeymoon. The spa really nicely designed to create a really calm, very natural space, set among the vegetation and feeling tucked away from the rest of the resort; if we'd had time, we definitely would have spent longer making use of the facilities and just soaking it all up.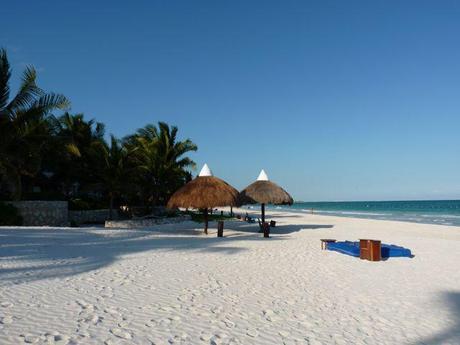 Maroma Beach
As I've said before, Matthew and I aren't really the kind of people to have a resort-only holiday – but, leaving Maroma, we questioned whether this was the kind of place that could potentially change that. There's no doubt that it is an expensive resort, but I felt that it was an expense that was more than justified in the quality of the service, the surroundings, and the standard of accommodation and facilities. With a car, you could easily use the resort as a base to see more of the area, but there's certainly enough to do here for a good few days without getting bored. If you're thinking of Mexico and are looking for somewhere really special, then I completely recommend Maroma – and I'm not exaggerating when I say that it is the nicest place that The Honeymoon Project has had the pleasure of reviewing so far.
In a nutshell:
We loved: Far too much! But especially the ambience and the staff – both were absolutely spot on.
We weren't so keen on: Having to leave.
Ideal if you want: An utterly beautiful beach; understated, unstuffy luxury; an intimate but relaxed resort; a fabulous spa; friendly staff.
Need to know:
Maroma Resort & Spa, Riviera Maya, Mexico
Rates: A deluxe Garden View room starts from around £398 per room per night plus 24% VAT per room per night; rates include daily a la carte breakfast and one snorkelling trip per person.
Nearest airport: Cancun (35min drive)
Go packaged: A number of tour operators will be able to put together a competitive flight and accommodation package for you; cazenove+loyd have prices from £2400 per person for seven nights, including flights, breakfast and a snorkelling trip per couple.
You can find out more information about honeymooning in the Yucatan here.
The Honeymoon Project stayed at Maroma Resort & Spa on a discounted rate, which include a complimentary dinner and complimentary couples spa treatment. 
All photographs © The Honeymoon Project