New York City is one of those places that I could never tire of, and the great thing about repeat visits is that you feel less and less inclined to do the touristy sights and more and more inclined to just wander around and soak it all up. On our most recent trip, we were in the city for just four nights, and so though self-catering would normally be our first choice, we opted to stay in a couple of hotels to test out what the city had to offer.
Situated in midtown Manhattan, just a couple of blocks from 5th Avenue and a few more from Central Park, you'd almost expect a hotel of Hotel Elysée's calibre to be extremely modern to match the gleaming high rises that surround it. And it's not that it wasn't modern – all the mod cons that you could want, namely free wifi and an iPod dock, were there – but it has a distinctly old-fashioned (and I mean that in the most complimentary way), European charm. With only one hundred rooms, it's certainly not a huge city hotel by any stretch, and from the minute we entered (through the doorman-opened doors), we were made to feel at home.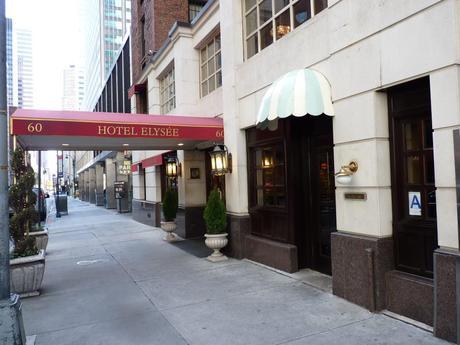 In the interest of complete honesty, it's important to point out that this is the kind of hotel – in terms of decor, that is – that wouldn't normally be top of my list to stay in. I was concerned that the rooms would be a bit out-of-date and fusty for my liking. And yes, Hotel Elysée is undoubtedly traditional in its design, but it's in no way fuddy-duddy – its old-fashioned sensibilities bring to mind a more luxurious age, and provide a real retreat from the busy city outside.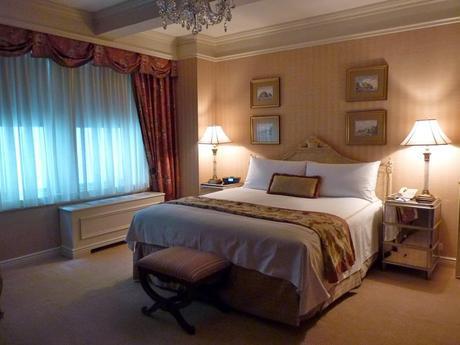 Now, I've been lucky enough to stay in a few suites in my time, but the suite we were given at Hotel Elysée really blew me away. For a start, it was bigger than our (fairly spacious) flat here in London (and yet only had one bedroom to our two), and every time we opened a door we discovered something new – another cupboard, a big walk-in wardrobe, a kitchenette… The bedroom alone was huge, and had ample space to relax in, but having a separate (and even bigger) lounge really was a luxury, and it was lovely to return in late afternoon and recharge on the sofa before heading out for the evening.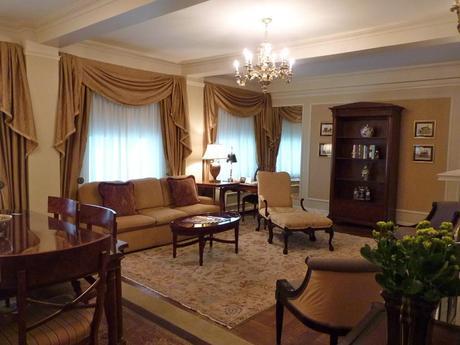 One of the highlights of staying at Hotel Elysée is the fantastic Club Room on the second floor, which has plenty of places to curl up in (perfect if you can't splash out on a suite), with views out over the street – and there's a small adjoining library, too. A complimentary Continental breakfast is served in the Club Room in the morning (especially good if you'd rather save your pennies for other meals), and throughout the day you have access to tea, coffee and biscuits. In addition, from Monday to Friday the hotel has an "evening reception" here with free prosecco, wine, cheese and other snacks – it's a lot less formal than the title sounds, and it was really enjoyable to grab a drink (or two) before heading out to dinner. These are really great perks, I thought really help make this a fabulous choice for honeymooners – who doesn't want free fizz throughout their honeymoon?
So, the important question – what about the location? Having only ever stayed downtown before (in Chelsea and the Lower East Side), I was a little wary of whether I'd enjoy the city as much from such a midtown location. But in fact, it was great. We were able to spend more time in Central Park than we had last time (last time we were knackered by the time we'd walked all the way up there), and even headed in on a couple of different visits – hardly a hardship when the trees are bursting with blossom. In addition, we were just a short walk from Grand Central Station which meant that we finally made it to the Oyster Bar (definitely recommended and worthy of the hype), and still found exploring the rest of the city as easy as previously. True, we're big walkers, so we didn't really mind (though our feet cursed us) that on our first day we walked from midtown all the way down to the start of Chinatown and back, but when we headed out that evening to Blue Note in Greenwich Village, it was really easy to just jump on the subway all the way there (and back once we were done). Sure, it's not quite as gritty an area as say other parts of the city are, but  you don't have to go far to find a bit of that, and there's so much on offer up here – not to mention many many world-class museums (oh, and a whole load of shops) – that it's not a hard trade-off.
In a nutshell
We loved: Our absolutely huge suite; the Club Room (especially for a glass or two of prosecco); being able to walk everywhere easily.
We weren't so keen on: The fact that we forgot to try out the raved-about bar next door.
Ideal if you want: To feel tucked away in the heart of the city; classic elegance with modern sensibilities.
Need to know:
Hotel Elysée, 60 East 54th Street, Manhattan, New York City; nearest subway: 5th Ave/53rd St
Rates: From £188–£345 a night for a deluxe room, depending on time of year and not including taxes.
Nearest airports: New York JFK and Newark Airport
The Honeymoon Project was a guest of Hotel Elysée; however, all opinions are my own
Photographs © The Honeymoon Project