It's fairly safe to say that my love for nice hotels stems from starting my career working as a copywriter for a luxury travel company. Pouring over pictures, brochures and websites for sumptuous hotels day after day, I'd leave work with my head full of private plunge pools, canopied beds and amazing locations. One of the things that really stayed with me from my time at the company was the handful of hacienda hotels in Mexico's Yucatan Peninsula; so, when we booked our trip their last year, I made sure we factored in one night at the hacienda I'd most wanted to visit: Hacienda San Jose.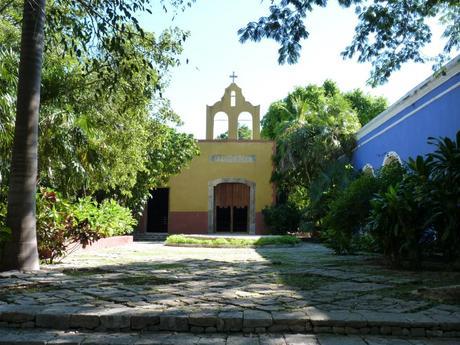 Hacienda San Jose is situated about forty-minutes' drive east of Merida; we stopped here for a night between Campeche and our stay at The Tides Riviera Maya, which nicely broke up the otherwise very long journey. It's so tucked away that we were beginning to be convinced that we'd missed the turning when we finally saw the signpost to the hacienda, and the grounds feel amazingly secluded and rather exclusive.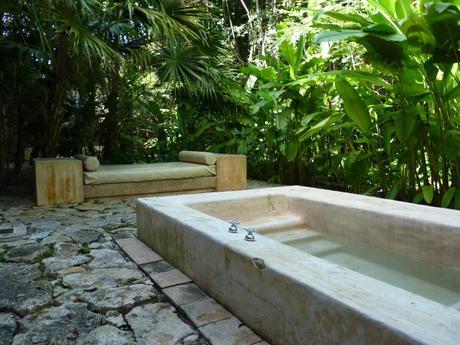 We had booked a Junior Suite, primarily because it offered more space and a private terrace with a plunge pool, but we were surprised to find when we got there that the plunge pool was more like a large outdoor bath, and one that we had to call reception to have filled (I was expecting it to be more along the lines of what we had at The Tides). In addition, the outdoor terrace, though large, wasn't very private – fortunately, there was no one in the room next to ours, but if there had been then we would've felt a bit self-conscious to use our plunge pool if they were using theirs, as the foliage wasn't really enough to give any sense of privacy.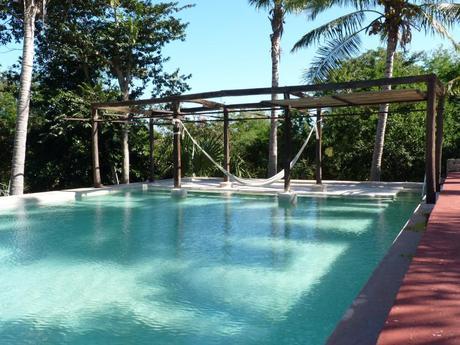 The hotel's main swimming pool is gorgeous, with a hammock romantically strung up at one end, and a few comfy loungers from which to soak up the sun. We arrived just before sunset, and decided to relax after the long drive with a swim – lying on our backs in the water, with the sky turning a dusky pink and the stars gradually coming out, was truly magical. Unfortunately, the pool wasn't lit, and neither were the paths back to our room, so we had to beat a hasty retreat when it started getting properly dark, otherwise we would have stayed for much longer.
We ate dinner in the hacienda's restaurant – it's a bit too much of a drive to go out for dinner, though the hotel would make a good base from which to explore the surrounding area. The restaurant had a lot of potential to be atmospheric, with one side open to the grounds, and a fan-spun bar, but we found it to be a bit soulless (and the bar was incredibly dark!). This probably had a lot to do with being the only people eating there that night, but a great hotel should be able to create atmosphere through different ways – even something as simple as candles and lanterns dotted through the grounds would have made a huge difference. The food was very tasty, with a decent mix of local and international flavours – in particular, my black bean soup was delicious, and the cocktails were excellent (if very potent – I definitely had a margarita headache the next day). Prices were high, especially compared to what we were used to paying in the local towns, though that's in line with what you would expect with a luxury hotel.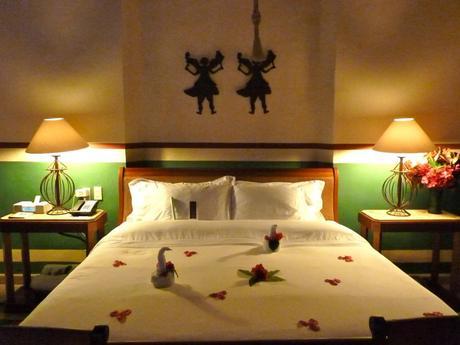 Our suite was incredibly comfortable – the bed was undoubtedly one of the nicest we slept on on the trip – and really beautifully decorated. The nature of these old hacienda buildings means that the rooms can be quite dark, but that does add a certain ambience, and in the mornings you can fling open the doors and windows to let in the sunlight. We loved the terrace out front, which had a couple of chairs, a table, and a very relaxing hammock, and it was the perfect place from which to soak up the surroundings.
There's no doubting that the hacienda has been beautifully restored – the brightly-coloured buildings look fabulous both inside and out, and we enjoyed exploring the grounds to discover little nooks and crannies, and marvelling at sense of the hacienda being tucked away among the jungle. But unfortunately it really lacked any kind of ambience, which is such a shame when you have such wonderful surroundings, and we essentially came away feeling rather disappointed. This wasn't helped by the fact that when we came to check out, the hotel tried to charge us again for our stay (we had paid when we booked through Mr & Mrs Smith as we had used a gift voucher) and it took a good half an hour to rectify the situation, even though we had proof that we'd paid (and despite the old adage that the customer is always right…). Would I stay there again? No, unfortunately. But do I regret staying there? No – because I had really wanted to stay there, and fundamentally you just can't know what a place is going to be like until you stay there.
In a nutshell:
We loved: The extremely comfortable beds; the swimming pool; the beautiful restoration of the buildings.
We weren't so keen on: Having to call someone to fill up our plunge pool; the lack of ambience in the restaurant and bar; the problems we had on check-out.
Ideal if you want: To experience a beautifully-restored old Yucatan hacienda.
Need to know:
Hacienda San Jose, near Merida, Mexico
Rates: Superior rooms start at £175 a night, not including breakfast. We booked our stay through Mr & Mrs Smith, which entitles members to receive a free American breakfast.
Nearest airport: Merida (40min drive)
You can find out more information about honeymooning in the Yucatan here.
All photographs © The Honeymoon Project.