The trouble with honeymooning in a city is that you often need to find that balance between comfort – because you're likely to be doing a lot of walking – and style – especially if you're heading somewhere like New York or Paris – and those two things don't always feel like they go so easily together. So I've come up with two rather different ideas here – a fun, casual day time look, and a much sleeker evening look that's perfect for painting the town red.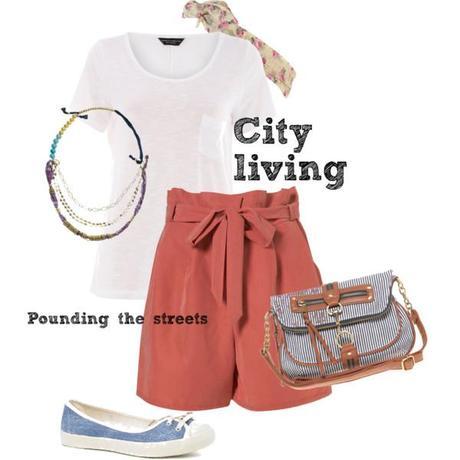 Headband: Topshop (£10); t-shirt: Dorothy Perkins (£12); necklace: Monsoon (£22); shorts: Topshop (£36); bag: Asos (£25); shoes: New Look (£9.99).
I've got to admit by being completely influenced by my own recent purchases here – and to being rather head-over-heels for paper-bag waist shorts at the moment. I love the dusky apricot colour of these ones, partly because it's a colour I could never get away with wearing closer to my face, but also because they're really comfy to spend a day wandering around in, and they look especially cute teamed with a tucked-in white t-shirt. If you're spending a day exploring a city then you'll want a bag that's big enough for your camera and guidebook – I'm a big fan of a satchel, and I love the stripes of this one (and the fact that it's only £25 – bargain!). Push your hair back with a cute headband to stop it from getting too mucky in the city air, add a colourful necklace, and pop on a pair of comfy shoes – pumps like these are perfect, but I also love these sandals from Topshop. Just a word of warning: if you buy new shoes, make sure you wear them in before your honeymoon, otherwise you'll end up with blisters and rather unattractive feet (it's happened to me far too often).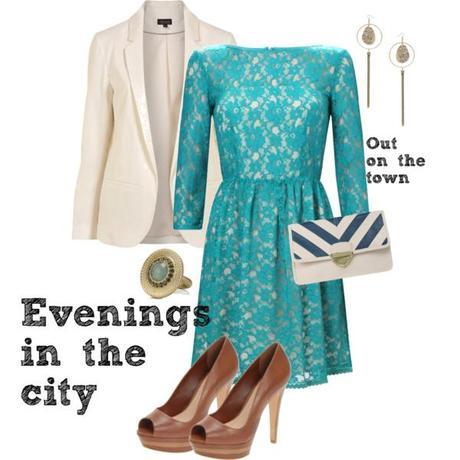 Blazer: Topshop (£60); dress: French Connection (£110); earrings: Topshop (£14); ring: Monsoon (£16); bag: Dorothy Perkins (£18); shoes: Aldo (£100).
If for the day time look I was influenced by my own purchases, here I've been influenced by what I'd like to buy. This lovely green dress from
French Connection
(also available in a fabulous shade of blue) is just gorgeous, and the perfect, bright shade for an evening out. Coupled with a smart white blazer, some statement jewellery and this great little clutch, it's ideal for a special evening making the most of your city honeymoon – whether with a fancy dinner, drinks in a sophisticated bar, or just soaking up the city over an ice cream. I've got to be honest – these shoes would be too high for me, but I absolutely love them; they're bang on trend, and the colour looks great against the green, and will tone the outfit down so that you don't feel overdressed wherever you end up.