I may be a city girl through and through, but I love getting out into the countryside, especially in the UK. I put together this week's inspiration very much with a honeymoon stay at a country house hotel in mind, bearing in mind many of my favourite things – a luxurious hotel, long walks across fields and hills, leisurely pub lunches, and a well-deserved afternoon tea somewhere scenic.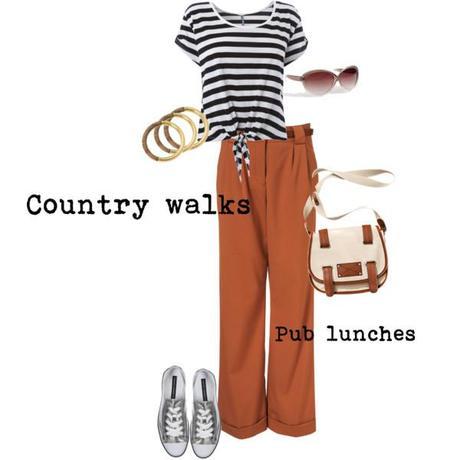 T-shirt: Peacocks (£18); sunglasses: Anthropologie (£18); bangles: People Tree (each: £15); trousers: Topshop (£45); bag: H&M (£6.99); shoes: French Connection £21).
Now, of course, the trouble with honeymooning in the British countryside is that the weather is horrendously fickle – so, just to be safe, I've chosen trousers for the day time look. Being wide-legged, however, they'll keep you nice and cool even if the weather is in your favour, and you can be assured of being comfortable no matter how long you're walking for, while also looking stylish. Team them with a cute top, a cool pair of sunnies, and a comfy pair of shoes – these look a little smarter than a regular pair of trainers – and add some chunky bangles to stop it from being too casual. The bag is an absolute steal – and just big enough to house your money, suntan lotion and a small brolly, just in case.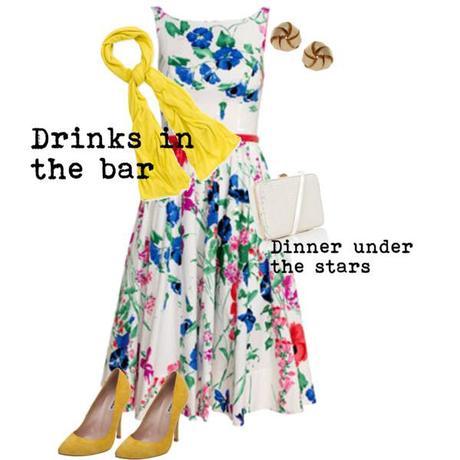 Dress: Monsoon (£95); stole: Monsoon (£18); earrings:
ASOS
(£8); bag: Warehouse (£28); shoes: Dune (£75). I've got a thing about yellow at the moment – there's lots of gorgeous shades out there at the moment, and it's such a wonderful, summery colour. Unfortunately, though, it just doesn't suit me. But a great pair of yellow shoes, like these, are a fab way of still incorporating the colour, and this pair from Dune are just gorgeous. I think they look great with this cute floral dress (well, you are in the countryside, after all), and matched with a yellow stole for when the evening gets a bit nippy. Keep jewellery fairly subtle so that you don't overdo it – this pair of studs are just right – and a smart little clutch for all your essentials. This is definitely a bit too dressy for dinner at the local pub, but if you're staying somewhere flash (and wanting to kick off, or finish up, with a drink or two at the bar), or if you want to head out somewhere special, then an outfit like this is just right.