Going on honeymoon is a great excuse to buy a new swimsuit, and these days it feels easier than ever to find that perfect one- or two-piece for your hols. If you're heading away on honeymoon this summer – or even if you're not (it pays to look now before all the summer clothes disappear) – you'll find some fabulous options available to suit all tastes and body shapes, even if the weather outside isn't really obliging with swimsuit-inspiring weather. The high street is always my first choice for swimwear – not least because I don't ever feel like I have enough swimsuit opportunities during the year to justify a big splurge, but also because there are some really great items on offer, which can  make you feel a million pounds, even if you've only spent twenty. Here's my pick of swimsuits and bikinis from the high street this year – none of which will set you back more than £40. So you might even want to splash out on more than one…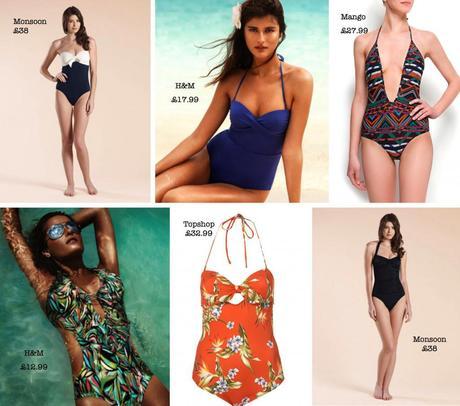 Clockwise from top left:
This playful Monsoon swimsuit has a great 1950s feel about it – I especially love the striking contrast between the cream and the navy. £38.
I'm really loving these swimsuits for their retro feel, and this lovely one from H&M brings that right up to date with this perfect, bright shade of purple. £17.99.
If you're up to being a little more daring in your cossie, this Mango swimsuit has a fabulous, very trendy print but won't make you feel like you're exposing too much. £27.99.
Keep things simple, but still sexy, with this halterneck option from Monsoon – perfect paired with a wide-brimmed hat. £38.
This Topshop cossie screams Hawaii – but it'd be a great, fun option for any beach holiday, and equally lovely with a pair of shorts thrown over it. £32.99.
If you want to make a statement with your swimsuit, then try this striking, very fashionable one from H&M – its open back will knock 'em dead when you're on the sand. £12.99.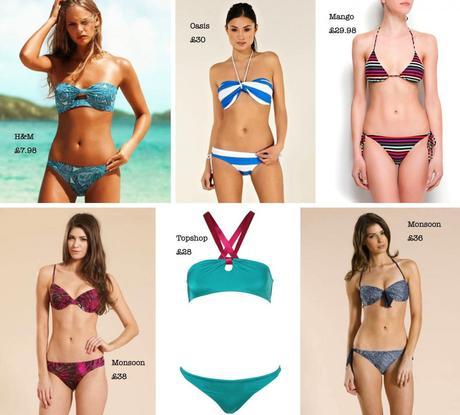 Clockwise from top left:
The paisley print of this H&M bikini gives it a bit of a 1970s feel, but the slightly unusual cut of the top ensures it remains absolutely up-to-date. Top £3.99, bottoms £3.99.
You can't go wrong with nautical stripes on a bikini – this one from Oasis looks perfect for lounging about on a yacht in the South of France. Top £16, bottoms £14.
The combination of bold colours and black stripes in this bikini from Mango means that it manages to remain fun but sophisticated. Top £14.99, bottoms £14.99.
If you prefer your colours a bit more muted, navy makes a great choice – complemented on this one from Monsoon with a great print and ribbon ties. Top £20, bottoms £16.
Carry this season's block colours on into your swimwear with this brilliant jade bikini from Topshop – I love the contrast against the pink straps. £28.
A great choice if you need more structure to your bikini, this vivid-print bikini from Monsoon has moulded cups to keep you supported. Top £22, bottoms £16.