Following on from last week's pick of high-street swimwear, today I'm sharing my favorite designer swimwear choices. There's no doubt that designer swimwear is expensive, but if you can afford to splurge and want something really special, which fits great and is made to last, then buying designer is definitely the way to go. And if you're going to do it at all, then when better than on your honeymoon? Choose something that's stylish but not so trendy that it'll look out-of-date next season and the money you spend now will be well worth it in the long run.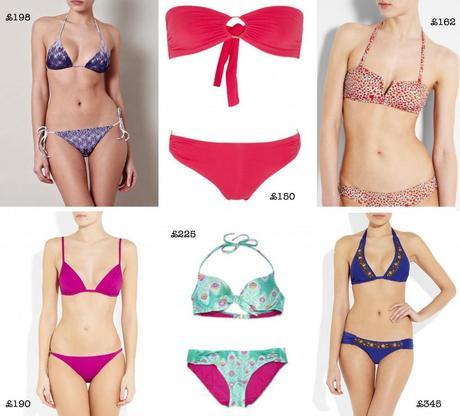 Clockwise from top left:
This is classic Missoni print bikini from Matches is in a gorgeous shade of purple. £198.
Melissa Odabash makes some of the loveliest swimwear around – this bandeau bikini from net-a-porter is a lovely pink. £150.
The red of this Diane von Furstenberg bikini from my wardrobe.com ensures that the leopard print on it is anything but trashy. Top £82, bottoms £80.
I love the gorgeous blue of this bikini from net-a-porter, strikingly offset by the bronze embroidery. £345.
Underwired bikinis are a great choice if you need a little more support, and the peacock print of this one from Matthew Williamson at style-passport is really lovely. £225.
Another great option from Melissa Odabash, this fuschia triangle bikini from net-a-porter will really make you stand out. £190.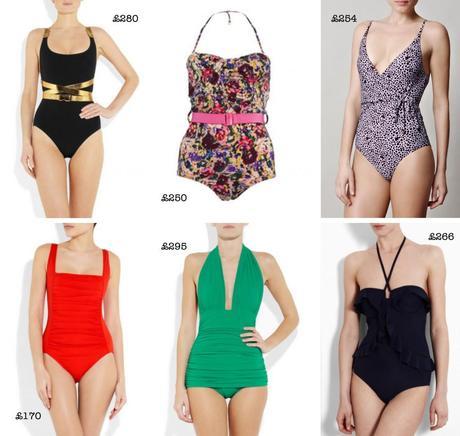 Clockwise from top left:
This might just be my absolute favorite swimsuit of the lot – the cut of this one by Michael Kors from net-a-porter is really sexy, and made all the more striking with the gold banding. £280.
Channel 1950s poolside style with this floral swimsuit from style-passport - the pink belt is a really great touch. £250.
There's a lovely understated sophistication to this Diane von Furstenberg swimsuit from Matches – the tie at the waist gives it a really great shape. £254.
You can't go wrong with navy if you're looking for a sophisticated swimsuit, and this is a really gorgeous option from my wardrobe.com – the ruffles just give it a bit of an edge. £266.
Another retro-style swimsuit, this net-a-porter halterneck is in a particularly fetching shade of green. £295.
I love the straight neckline of this swimsuit from net-a-porter and the ruching on the bodice, which takes a classic design and stops it from being boring. £170.