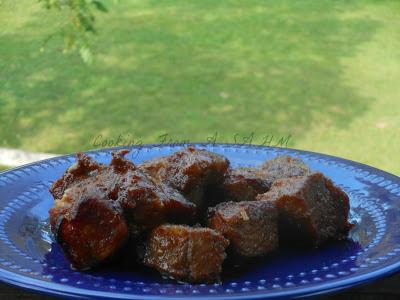 Honey Lime Chipolte Boneless Pork Ribs
2 packages of boneless Pork Ribs Sauce:1 C Honey1/2 C Water4-5 T of Lime Juice1-2 T of Chipolte Seasoning
In a sauce pan put your honey water, lime juice and seasoning. Heat it to a boiling, stirring occasionally. Lower the heat and cook for about 15 minutes. Then let it sit. Chop your ribs in to squares if you want and put it in a pan. I cooked it in a dutch oven. Pour the sauce over it. Cook at 350 covered for 3 hours. Uncover and cook for an hour. ENJOY!