By 
Amanda Formaro
I really do enjoy making bread, so when I started seeing recipes around the Internet on making homemade hamburger buns, I knew I wanted to try it. They really were delicious, but I'll be honest. It's not something I'm going to do every single time I make hamburgers. I wish I had the time to do that, but alas, with everything going on in my life I just don't. I suppose if I were more organized, I could, and you might be! But I'm not. :-P
Rating: 
5
Prep Time: 
10 minutes
Cook Time: 
30 minutes
Total Time: 
40 minutes
Yield: 
8 buns
Serving Size: 
1 bun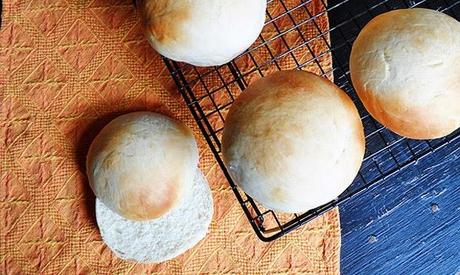 Homemade Hamburger Buns Recipe 
Ingredients
2 tablespoons SAF instant yeast
1 cup plus 2 tablespoons warm water (110° to 115°)
1/3 cup vegetable oil
1/4 cup sugar
1 teaspoon salt
3 to 3-1/2 cups all-purpose flour
1 tablespoon butter, melted
Instructions
Preheat oven to 425 F. Line an insulated baking sheet with parchment paper.
In a large bowl, proof the yeast in warm water with the sugar.
Add oil, salt and enough flour to form a soft dough. You may use all the flour, I did.
Turn onto a floured surface; knead until smooth and elastic, about 3-5 minutes by hand. Do not let rise. Divide into 8 pieces; shape each into a ball. Place 3 inches apart on baking sheet. Cover and let rest for 30 minutes.
Brush tops with the melted butter. Bake at 425° for 8-12 minutes or until golden brown. Remove from pans to wire racks to cool.